The Knight Rider Blog – "Its Time, Lets Roll!"
Posted On January 2, 2019
---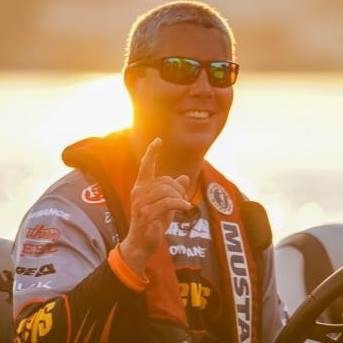 Looking ahead can be critical to success. Looking back can be important as well.
As do many professional bass anglers, 2015 Forrest Wood Cup Champion Brad Knight spends plenty of time in the woods during the offseason. Hunting is a way to rewind and refocus. Plus, there are the tangible benefits.
"I went to New Mexico and I killed a really nice elk with my bow," says Knight. "That's all we eat around my house. We don't eat beef. We just pretty much eat the things that we kill, so that was good."
Of course, hunting is not so much about the killing. "Deer season was really good. I hunted in Texas. I hunted in Canada a couple of times. I never did shoot one, but that was my preference. I was holding out for better opportunities. I had a chance to kill a new personal best several times but it still wasn't what I had set my mind to. I had a great experience; great time in the outdoors.
"Being outdoors is really just a re-set, kind of a way to refocus my mind, to think about the year that passed and the year coming up. It was successful on that front, if not getting to shoot one. But that's not really the main, primary deal anyway.
"It's just therapeutic for me to be out there."
When Knight looks ahead to 'the year coming up' he notes that the 2019 tournament season starts very soon – the FLW Tour kicks off on Sam Rayburn Reservoir January 10. He is preparing accordingly.
"It's kind of strange that we're starting out so early, being there the first week of January. Normally we start in mid-February in Florida so it's going to shake everything up a little bit.
"I just got my new Phoenix bass boat in so I'm getting that dialed-in, getting all my graphs installed and getting my engine broke-in. I got all my new rods and reels from Lew's so I'm spooling those up."
If luck can be defined as the point where preparation meets opportunity, then Knight needs only for opportunity to smile on him in order to have some luck this season. He has addressed the preparation aspect. Thoroughly. For instance, "I'm going through my Red Eye Shad boxes – I've got 3 or 4 of those lined up – and I'm going through every one of them, making sure all the hooks are in good shape, none of them are rusty and all the points are in good shape.
"I have a system for how I set my crankbaits up. I have 12 colors. I have 5 of each one in a box. Two will have hooks. The other 3 don't. My parents have a pool where I tune my crankbaits. I hand-tune each one to make sure they run perfectly, the two with hooks on them, so I know if I reach in the box, I can pull out a 1.5 square bill, or a 2.5, on game day without having to tune it on the water. All that work is done in advance.
"I try to think of everything I can control myself and take control of that variable. That doesn't always equal success, doesn't always equal tournament wins, but at least it's one thing I know that doesn't hurt me. I'm doing everything in my power to stay on top."
One thing beyond Knight's power is the Tour schedule. "Doing this as long as I have, I don't really get too worked up about what the schedule is. I'm going to fish regardless. I don't have many preconceived notions. I'm just going to show up, work as hard as I can at each one of them and see where I am when the smoke clears."
Knight will drive his new F-350, Lance camper on top and Phoenix boat in tow, to Texas "a couple days early. I just want two or three days to sit in my boat and look at everything and get my mind right and focus on the season."
He feels like high water levels on Rayburn will level the field for visiting anglers who must begin the season against a stout slate of Texans who have signed up for the Tour this year. "We could have us an old school fishing derby!"
Then again, Knight thinks the concept of a 'homefield advantage' is overrated anyway considering today's technological advancements that reveal, in a matter of hours, secrets that locals may spend years learning. "I have two events that are within an hour drive of my house, on Cherokee and Chickamauga. That doesn't mean anything this day and time because everybody is so good, they can spend 3 days of practice and figure out what I know from a lifetime of fishing here."
Knight points to his Lowrance electronics as an example of the power and knowledge available to all bass anglers these days. "We have a new Live unit that I'm really excited about. The Active Imaging feature uses a new transducer that has excellent clarity at really long range on your Side Scan. Live View is going to be a game-changer for us as well. I'm excited to put that into play."
Another advancement that will help Knight be efficient on the water and, surprisingly, within the relatively roomy confines of his Lance camper is his new Mercury Pro XS 4-stroke. "The new Pro XS – I just had a chance to take it out the other day and I was blown away at how that thing performs, plus, being a 4-stroke, I don't have to worry about carrying oil any more. I stay in a truck camper, so every inch of space is spoken for. Being gone for 3 or 4 weeks at a time, that's 8-to-10 gallons of oil that I don't have to keep up with. That sounds minimal, but that frees up a lot of space for me."
Knight likes a couple of other things about the Pro XS as well. "It's a lot quicker and more fuel efficient, which is another advantage. It's going to be fun to get out there and run that thing up and down the lake."
One aspect of this past offseason Knight won't miss is all the drama that circulated around the addition of MLF's Bass Pro Tour and the associated roster changes at B.A.S.S. and FLW.
"I think after the turbulent offseason we had with the new trail and everybody switching around, I think everybody's just ready to get back into the groove of fishing. Everybody's kind of over the drama that was the offseason and everybody's ready to get back to doing what we do. And that's catching fish and enjoying ourselves and seeing everybody again. Let's rock and roll and get back to work.
"It's here, on us now."
---