The Cold Front Advantage – How Luke Estel & "Chopper" Won the Anglers Choice Tournament Trail Classic on Guntersville
---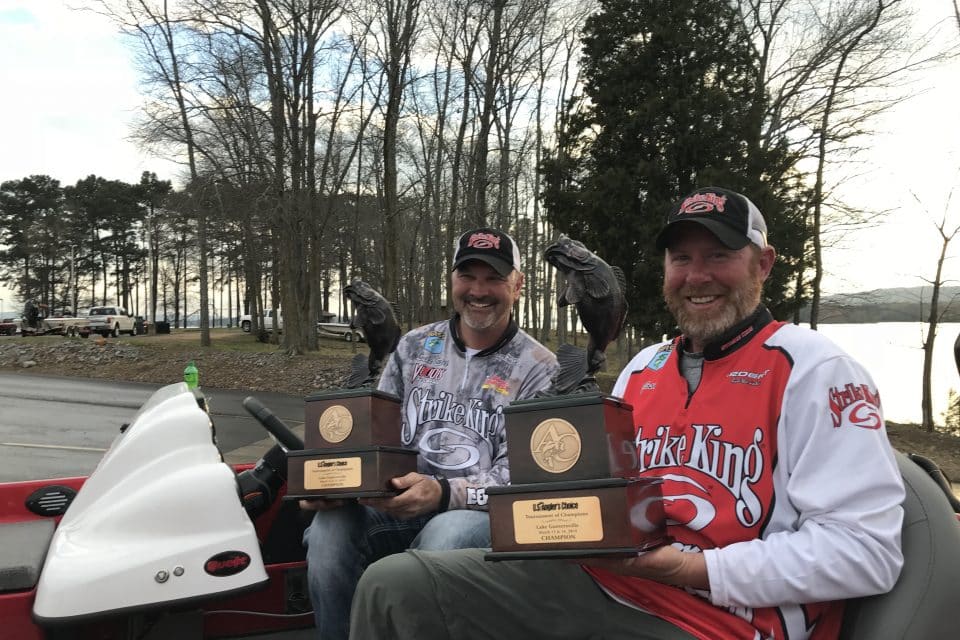 Story & Photos Courtesy of Luke Estel
You always hear fishermen talk of how their fish moved on them due to a cold front moving in before a tournament. During the Anglers Choice Classic held on Guntersville Lake this year, it proved just the opposite for my partner and me.
     Josh Jackson (Chopper) and I made our way down to beautiful Lake Guntersville for the Anglers Choice Classic last week. We would get five days of practice in before the tournament started.
     We made it on the lake Friday evening and started searching. We were looking for tall grass on the back side of the river bank near spawning areas. At our second stop Chopper lost a stud on a spinnerbait and I followed it up with a chunky four pound fish on a Strike King Red Eye Shad Tungsten 2-Tap. We left that spot and idled down another hundred yards where we put a couple more nice keepers in the boat. One day of practice down, one good spot.
     Saturday the rain came in and there was an ABT tournament with 200 over boats and three other smaller events going out of Goose Pond. The lake was crowded but we kept hunting. We flipped some boat docks catching a few small keepers but realized we needed to locate some bigger fish. We headed back out toward the main lake where we immediately caught three big fish including one over six out of some tall grass. Day two down, another good spot.
     Sunday, the weather stayed about the same with the water temp holding between fifty one and fifty two degrees. We caught a few random fish throughout the day. We located another small stretch of tall grass at the end of the day and they were stacked in there. We could literally catch them every cast, and they were good ones. It was incredible how many fish were in such a small area. Day three over, another good spot.
     Monday the sun came out but the wind was bad. We checked another spot just south of the loaded up area we had found the day before just to see if we could get an early bite. It didn't take long as we caught four nice fish in a matter of minutes. The wind picked up so we opted to stay back in pockets the rest of the day looking for some shallow fish. We never found the right ones. Day four and we added to our eventual milk run.
     Tuesday the cold front had come in and the water temps hit near fifty.  The sun was out and a nice breeze blew down the lake. We found a small stretch with some deeper grass and began to catch them good. I had switched to the new Strike King 4.0 square bill because it was able to reach the deeper grass and it was working.  Day five and things were looking good. The water temp was staying the same and it seemed like the fish weren't going anywhere.
     Wednesday was half day practice and we again found some more fish in the same type of spots so we knew the five areas we had found should hold up in the event.
     Day One – We were boat number fourteen and blasted out to our first spot. I ran right to my first way point and shut the boat down. Chopper picked up his rod and took a cast. As I was taking my life jacket off, he boat flipped the first keeper of the day into the boat. In five minutes we had a nice limit in the boat. I was throwing the 2-Tap in Royal Purple and Chopper was throwing the 2-Tap in Royal Red.  We stayed there about an hour culling up our weight to around fifteen pounds. We ran to our second spot where I caught a four pound fish off the 4.0 and one other nice keeper. After an hour there we decided to head to our best spot to see if we could upgrade. It didn't take long before we started hammering on them. Within a half an hour we caught thirty bass including a seven, and I don't know how many fours. It was incredible. We backed off of it trying to save it for the next day. We had time to run one more of our areas and I quickly boated another giant six. At the weigh in I knew we had over twenty but I wasn't prepared for Rick Byrnes to call out, " 25.27 pounds!" As happy as we were sitting in ninth place, I knew we had our work cut out for us the next day. We were going to have to keep our foot on the gas if we were to have a chance at winning.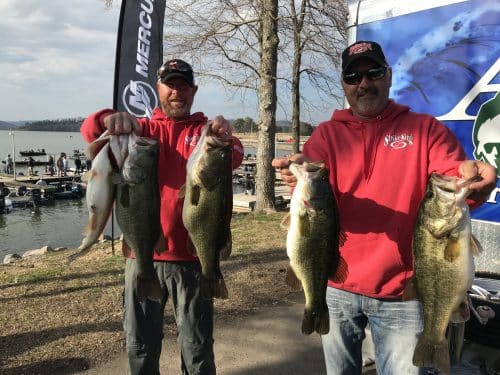 After a restless night of not much sleep we decided to live and die at our best area. We were one of the last boats out of the 283 boat field and were kind of worried that we would even get on our number one spot. As luck would have it, there was no one there when we arrived. The water temp was still around fifty one but the water had cleared up. I tied on a Strike King 1.5 in Orange Bream and went to work. The bite was slower and by 9:30 we only had one five pounder and two small keepers. We decided to give it a rest and ran south a couple of hundred yards to our other spot where Chopper quickly caught a six with myself following up with a five. Now we knew that we were two big bites away from having a chance. We fished our way back down towards our spot and along the way I picked up another nice three. But Chopper wasn't satisfied. He kept saying, " I want a Big One!" Around noon we had quite the company as we guarded our area. Finally one boat decided to leave and idled right over where we were casting. Chopper cast into the prop wash and said, " I don't know what I got, but its big!" The giant broke the surface and I could see he only had one hook in him. He fought him around the boat and the fish surged and headed back toward the grass. He jumped and thrashed trying to throw the Red Eye. I sat there thinking there was no way we were landing this fish, especially because we had no net in the boat. He brought the fish in for a second chance and the giant finally opened his mouth and I grabbed him. After several high fives and jumping up and down the boat we went back to work. Four hours later resulted in nothing, not one more keeper bite.
     At weigh in I had a good feeling we would make it into the top five but I wasn't prepared for what was about to happen. Our five fish limit hit the scales at 27 pounds even! We sat and watched as the final team weighed in wondering if we were going to actually pull out the win.  And we did it! We took home 1st place and a brand new Basscat Pantera 2 bass boat powered by a 200 Mercury. Our two day total was 52.27 pounds.
     It is not only rare but very hard to win an event of this caliber. My hats off to all of the teams that competed. I am very humbled and thankful to pull out a win like this.
     To sum it up, the key to our success was this. We located four key areas with taller grass in three to four foot of water that were holding big fish. The weather kept those fish from leaving and heading towards the banks. We capitalized by not losing one fish not only throughout the week but also during the tournament. We stuck to our pattern and ground it out until the end. Our tackle consisted of Tigerodz(all glass crankbait rods), Ardent Reels, Vicious 12 and 15 pound 100% fluorocarbon, Strike King Red Eye Shad Tungsten 2-Tap, Strike King 1.5, and 4.0 crankbaits, and Mustad Triple grip treble hooks.
     Thank you to all that have supported Josh and me throughout this incredible week. I also
---