The Clent Davis Story – Your 2018 FLW Cup Champ!
Posted On August 13, 2018
---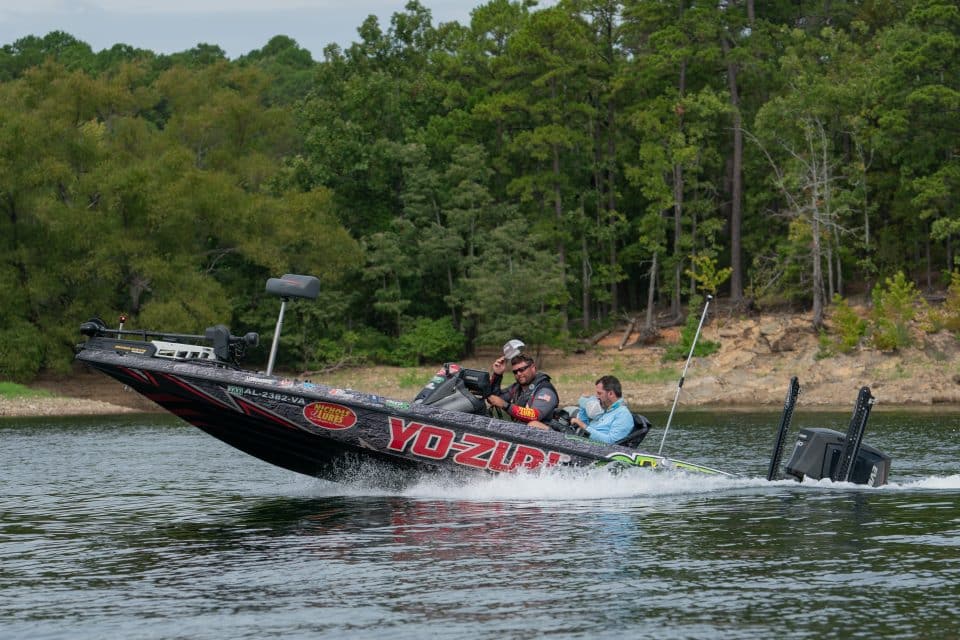 Vance McCullough
In a tournament where many of the top performers buzzed the bank with topwaters, Clent Davis went straight to his strengths – deep brush; big worms.
The decision paid off to the tune of $300,000 and a huge, shiny Forrest Wood Cup trophy.
His total 3-day weight was 36 pounds, 13 ounces.
The 2018 Cup played out on a stingy Lake Ouachita during August's dreaded dog days. Under such circumstances, patience and confidence come into play. As does decision-making.
"We all have our strengths. I have one strength. I'm a really good brush pile fisherman.
"I knew the only way I was going to beat these guys was to fish brush. That was the only thing I was going to do from Day 1."
Davis had a great teacher early in his angling career. "My first-ever FLW Tour event as a co-angler was on Lake Ouachita. The first day, I drew the man himself, Scott Suggs".
Suggs, off course won a Cup on Ouachita fishing deep timber during a slow summer bite.
"I got a pretty good lesson. I netted his fish all day and got a pretty good idea of how he did things. I have no clue where we fished. Never will because he ran me in a million circles around this lake, but I understood that Scott Suggs threw a big worm, a swimbait and a topwater and he caught the fire out of 'em."
Davis capitalized on his education this week, targeting brush in 22-to-30 feet of water. "Seemed like the deeper the better. I kind of figured that out today."
"All my big fish were on Mister Twister Mag Worms, plum apple color." Daivs fished the worm on a half-ounce Nichols Lures swing head weight and 16-lb Yo-Zuri Top Knot fluorocarbon line. He used a 7'7" heavy action rod and a Shimano Currado reel.
If the wind blew, which it seldom did this week, Davis caught fish on a swimbait.
"I had a terrible practice, terrible. First day of practice I caught 2 good ones. That area is where I won the tournament."
The best decision Davis made occurred long before the first cast of the season. It was simply the decision to fish the 2018 Tour.
"I was done with bass fishing," said Clent Davis. "I sold everything I had – my boat, all my fishing lures, all the rods I had – everything."
Why?
"I had taken all the fun out of it. My whole life all I'd done was fish 24/7. That's fine when you're a kid but when you do it for a living you're gone away from your wife year-round, non-stop. When I would get done with my season I would continue to fish in pot tournaments and everything else.
"You just lose the drive."
"You've got to have a certain fire to compete against these guys. It's like anything, going through the motions is a bad deal. You've got to take a break every now and then and I never had, my whole life.
That happened in November. By the time he rang-in the new year, a fire had built inside of Davis. When FLW Tour tournament director Bill Taylor called to ask what his intentions were, Davis decided to go fishing.
"Honestly, all year I've been excited. No matter how tough, how bad, I've had fun."
His new attitude carried him into a Cup tourney that, mentally, beat down many of his peers.
"I just went out and had fun. I think everybody did. This is the Cup.
"There's no pressure unless you put the pressure on yourself.
"There is none. I fish to make a living to feed my family and I knew I was getting paid today. I was just going to have fun."
---