TH Marine PRO-Files – FLW Rookie Taylor Ashley
Author Vance McCullough / Photos Courtesy FLW Fishing
Taylor Ashley is 20 years old. He is about to take on the 2018 FLW Tour. This year's field includes 24 other rookies, perhaps the strongest freshman class ever. He's doing it out of his own pocket with the money he won on the 2017 Costa FLW Series.
Freedom Marine in Guntersville wrapped his boat. Otherwise Ashley's sponsor portfolio is as young as his career. Big things are surely coming though. He has shown flashes of brilliance already.
Ashley bankrolled most of his start-up cash by winning the Costa event on Lake Okeechobee, the site of this year's Tour opener.
"I'm excited to get started on Okeechobee, the same place where I won last year," said Ashley. "That was a good week. It was fun."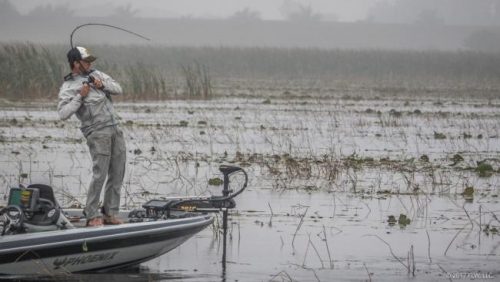 That venue should play well to his strong suit, "A swim jig is my deal," said Ashley. "That's my favorite. You can fish a swim jig a lot of different ways. That's the technique I used to win there last year."
Additionally, Okeechobee is likely to produce a win for the guy who finds the right area, not a pattern as those don't typically pan out on the inland ocean where so much cover looks identical to everything else. This won't hurt the young pro's chances because he says patterning a lake is currently his biggest weakness anyway.
Ashley feels he had a chance to take another title last season on Chickamauga where he finished 4th. "I threw a swim jig there too. And when I look back on that one, I really do believe I should have won that tournament." Still, it was another strong showing for the young pro on yet another lake that is loaded with big Florida strain largemouth.
His knack with Florida bass seems a bit odd for the Warrior, Alabama resident who lives a half-hour from Smith Lake. While Smith is close to home, Ashley feels comfortable elsewhere. "I worked over there in South Carolina for the past 2 years and I pretty much lived on Hartwell."
The new crop of young pros is a versatile lot and Ashley is no exception. "I've pretty much fished every kind of water there is, honestly. Tennessee River, Coosa River, and more."
So what lake is he most looking forward to fishing? "Every single one of them."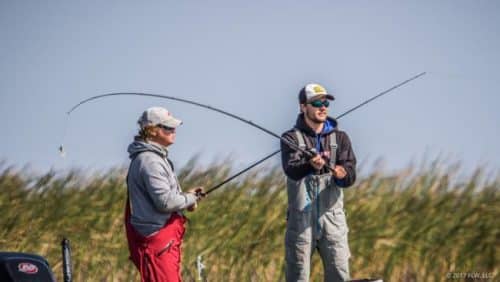 While he's not losing sleep over any of the scheduled Tour stops, Ashley is anxious to see Lake St. Claire. "That will be different. I haven't been up North a whole lot. I do like to dropshot though, and they do a lot of that up there. Plus, those fish do not get pressured – at least not until we have a tournament and whack them."
Ashley is driven by the things that motivate most anglers. "I do love it. I love the competition. And the comradery, I mean, all my friends are in the fishing industry so it's just kind of what I grew up doing. It's just cool to hang out with all my buddies when I go to tournaments and stuff. It's just fun."