Stan Hallman and Steve Thrash Win 2017 Alabama Bass Trail Alabama River Hallman Fishes Alone, Becomes first to Win ABT Event on his Own
By Dan O'Sullivan
May 20, 2017 – Prattville, Ala. – The morning of the 2017 Alabama Bass Trail Alabama River event started clear, warm and calm, but by the end of the day, it would be full of surprises.
What started as a warm morning with slight winds, turned into a blazing hot afternoon that gave way to torrential rain and lightning that created a soggy weigh-in at Cooter's Pond Park. The fishing was not without surprises either.  Some of the teams in the field were predicting a tough bite, but others were confident in what they had found.
The bite proved to be strong for numbers, however, the overall weights came in on the low side.  The one angler – and the number one is to be taken literally – who figured it out better than everyone else was Stan Hallman, who was fishing solo as his partner Steve Thrash had a previous commitment.
Hallman used a football jig and a shaky head rigged with a finesse worm and produced a mixed bag limit of largemouth and spotted bass that weighed 14.64 pounds.  That limit; which he had in his livewell by 10:00AM, was enough to take the victory and the $10,000 winner's prize, along with the $250 Alabama Bass Trail Gear Bonus that can be earned by wearing ABT logo gear during the day.
Hallman said he was surprised, and pleased.  "I kind of figured that I would be able to produce this kind of weight, I just didn't think it would be enough to win," he said.  "This is the biggest win I've ever had, and I am absolutely thrilled to be here right now."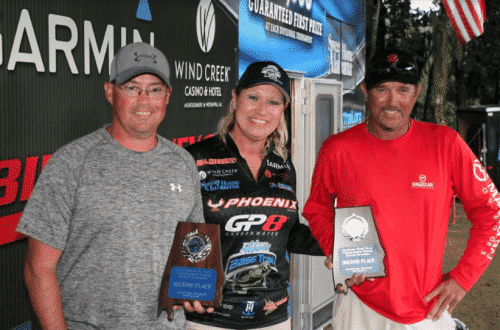 Matthew Cottle and Nicklous Robinson also surprised themselves by catching a 4.57-pound spotted bass early on a pink War Eagle spinnerbait.  "We had a really tough practice," they said.  "We never expected to catch a big fish, and we only stopped on a hunch; that gut feeling got us our big fish, and we carried on from there."
The pair caught the rest of their keepers fishing 3/16-ounce Davis Bait Company HBT Shaky Heads and Red Bug Finesse Worms.  They weighed 14.20 pounds for their limit, and earned $5,000 for their day's effort.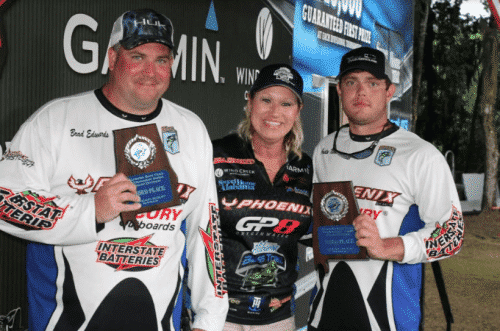 Brad Edwards and Austin Nelson finished the day in third place with 14.08 pounds and took home $4,000.  They were followed in fourth place by Chris Payne and Jonathon White with 13.76 pounds, they earned a $3,000 payday, and Jason McCollum and Ken Romaine finished the day with 13.69 pounds, which earned them fifth place and $2,000.
The big fish of the event was caught by Clay Elliot and Craig Karrh.  The 4.73-pound largemouth anchored their 11.51-pound limit that helped them finish in 16th place.  They earned $500 for their finish, and the additional $500 big bass bonus.
The top 10 standings are below, for complete standings go to http://www.alabamabasstrail.org/tournament-series/ar-results/
| | | | |
| --- | --- | --- | --- |
| Place | Team | Big Fish | Total |
| 1 | Stan Hallman/Steve Thrash | 3.71 | 14.64 |
| 2 | Matthew Cottle/Nicklous Robinson | 4.57 | 14.20 |
| 3 | Brad Edwards/Austin Nelson | | 14.08 |
| 4 | Chris Payne/Jonathan White | | 13.76 |
| 5 | Jason Mccollum/Ken Romain | | 13.69 |
| 6 | Deandrae Kimbrough/Vernelle Quinney | 3.94 | 13.03 |
| 7 | Stephen L. Rogers/Jimmy Rogers | | 13.02 |
| 8 | Mike Freeman/Brannon Hurst | 4.36 | 12.99 |
| 9 | Victor Harper/Blake Harper | 3.92 | 12.93 |
| 10 | Jim White/Brent Jordan | | 12.80 |
The sponsors of the 2017 Alabama Bass Trail include; Bill Penney Toyota, Phoenix Bass Boats, GP8 Oxygen Water, Garmin, Academy Sports & Outdoors, Wind Creek Hospitality – Wetumpka, Wind Creek Hospitality – Montgomery, Alabama Tourism Department, SCA Performance,  T-H Marine Supplies, Wedowee Marine, AFTCO,  Fish Neely Henry Lake.com, Lew's Fishing, Crossed Industries, YETI, E3 Apparel, TVA and Alabama Power.
For information about Alabama Bass Trail and for complete tournament standings visit www.alabamabasstrail.org.