Spinning Rods & Little Bitty Swim Jigs
Z-Man unveils 'Ned-friendly' Midwest Finesse Swim Jig
Ladson, SC (June 23, 2022) – Hop aboard the boats of legendary anglers Ned Kehde or Drew Reese and you'll probably witness two different but equally effective bass tricks. You might discover, for instance, that Midwest finesse fishing often transcends TRDs™ and mushroom-shaped jigs. While Ned masterfully coaxes dozens of bites with one of his little red mushroom jigs, Reese might work heavier cover, plucking bass from brush and grass with his Midwest Finesse Swim Jig—another ace trick from the finesse architects at Z-Man Fishing. 
"I'm a diehard finesse guy, but I also recognize plenty of situations in which standard exposed-hook Ned rig stuff isn't quite so efficient," believes Reese, among the greatest angling tacticians of his era (Reese finished 7th at the first ever Bassmaster Classic.) "A major motivation behind the design of the Midwest Finesse Swim Jig was to give anglers another tool in their finesse arsenal that fishes faster and shines in heavier cover where standard mushroom jigs aren't so efficient."
A tireless tester of lures, jigs and a thousand variations thereof, Reese ran through his usual exhausting on-water experiments before prescribing the right cure for heavy-cover finesse. 
"I tested a ton of different weedless finesse style jigs and found that most of them just weren't right for finesse fishing in Midwest lakes and reservoirs," Reese explains. "Most lacked the right light-wire hooks for light line or contained weedguards too rigid to hook bass."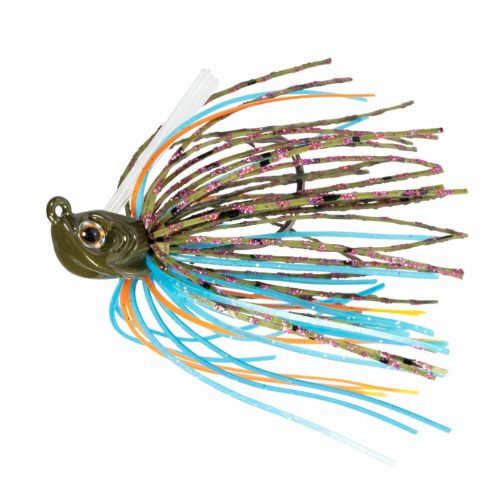 "I also wanted a head shape that slid cleanly through cover and allowed the lure and its ElaZtech® trailer to shimmy slightly on the retrieve, but without rolling over. I knew if we could fit all these elements into one finesse swim jig, we'd give anglers something pretty special."
The other inspiration behind the Midwest Finesse Swim Jig, says Reese, originated from the need to cast with light line and spinning tackle. "Sometimes, you simply need a jig that can be fished a little faster, maybe across a grassy flat or around submerged wood. While slower-moving Finesse ShroomZ™ jigheads and small ElaZtech baits shine in loads of situations, bass often react even more favorably to a faster swimming presentation, especially in a downsized package."
Two of the more prominent issues with most smaller swim jigs, Reese found, related to incongruent hooks and ill-suited weedguards. "Smaller baits, optimal light wire hooks and light line simply result in exponentially more bites and more importantly, boosted hookup ratios," he believes. "During our initial testing, we found that the hookup ratio with most normal or even so-called 'finesse' swim jigs was very poor due to the heavy wire hooks and stiff weedguards. The challenge was to hit the sweet spot with both jig attributes, while still matching up with 4- to 6-pound line."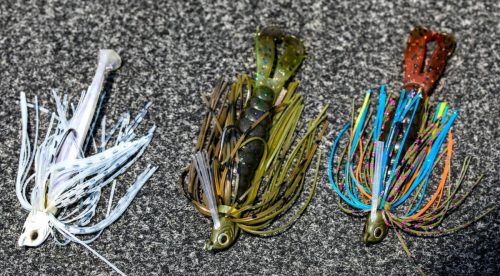 Anyone who's ever fished with Reese knows his on-water trials take things to other levels of meticulous. (He's been known, for example, to cycle through five different rod-reel-lure combos in turn, making 20 casts with each, while logging the results in his Memorex-like mind.)
Following a season of splicing heads, hooks, skirts and weedguards—leaving a mountain of experiments in his wake—Reese discovered that a specific, compact, light-wire needlepoint 3/0 hook efficiently pegged fish with light line. Built to spec, Reese's ultimate hook fit his favorite ElaZtech finesse baits, held snugly in place with a welded wire bait keeper. 
Armed with the sharpest cutting point attainable, Reese—a habitual hook-sharpener—caught a staggering 50 bass on a final prototype jighook before he felt it required re-sharpening. "I went on to catch 86 bass on that first jig prototype before retiring it," he concedes. 
When contemplating optimal jighead shape, Reese found the solution in Z-Man's 
StabilTrack™ configuration—the same stabilizing force that drives the arrow-straight
SlingBladeZ
™ spinnerbait. The StabilTrack head is molded with a grooved underbelly and winglike flanges that channel water and prevent the Midwest Finesse Swim Jig from rolling, regardless of retrieve speed.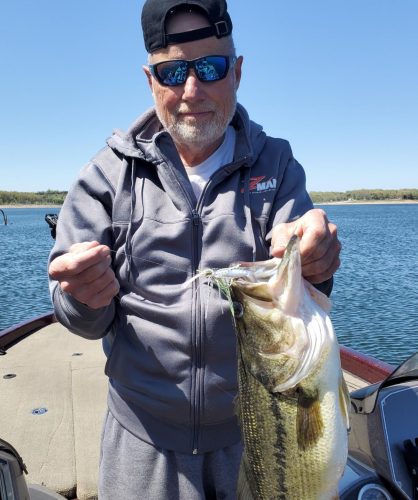 Complementing but not overwhelming its soft plastic trailer, the Midwest Finesse Swim Jig features a sparse arrangement of silicone fibers for maximum flare with less water resistance. Reese selectively chose each flexible strand to the tune of 40 to 45 per jig, depending on which of the six color patterns they adorned.
"I've become a huge fan of pairing this swim jig with a Z-Man
Baby GOAT
™ trailer," says Reese. "The GOAT's versatile, twin paddletail configuration fishes beautifully on a straight retrieve or when hopped over and through cover. If bass are locked on shad, I'll pair a Gizzard Shad or Pearl Ghost pattern jig with a matching GOAT trailer. On bream bites, pick a Bluegill or Green Pumpkin swim jig and corresponding trailer."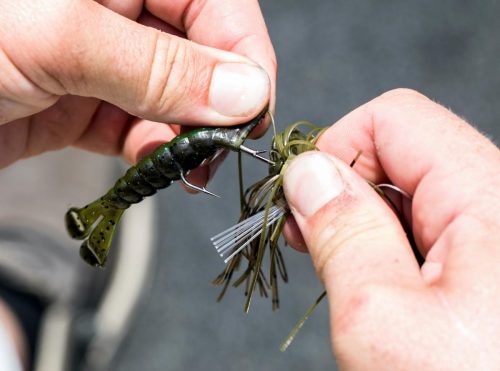 While Reese has done most of his damage with the Midwest Finesse Swim Jig on heartland impoundments and far-north natural lakes, he hints at the lure's small water benefits. "It's a pond angler's secret weapon," suggests Reese. "Tie it up on your favorite medium-light power spinning rod. Let it go to the bottom, simply reel it back, and that's it. Any angler who can cast a spinning reel will catch and hook bass on this jig, and you'll do it without snagging up or rarely (if ever) having to replace your ElaZtech trailer. That's a pretty unbeatable combination if you ask me."
Landing at the 2022 ICAST show, the Z-Man Midwest Finesse Swim Jig (MSRP $4.99) features ¼-, 3/16- and 5/32-ounce sizes in six refined colors—arriving at tackle stores in August.