SIONYX Launches Nightwave, Making Night as Clear as Day
The new ultra-low-light marine digital camera system guides boaters of all skill levels safely through any maritime environment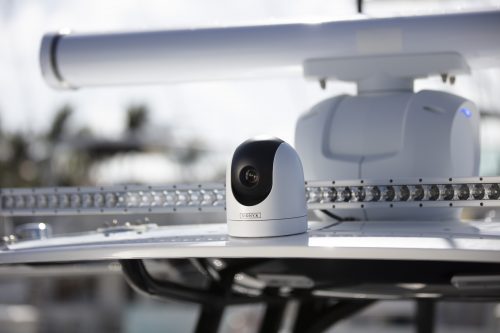 BEVERLY, Mass. (July 12, 2022) – SIONYX™, a leader in digital color night vision technology, announces the launch of Nightwave, the first-of-its-kind marine camera system. Built around the brand's proprietary Black Silicon BSI CMOS sensor, Nightwave allows mariners to navigate safely by easily spotting hazards and debris in moonless starlight without additional illumination, maximizing time on the water.
Built to operate in the toughest marine environments, the night vision camera is IP67 waterproof and shock rated. Nightwave seamlessly integrates to any vessel's electronics by connecting to major brand MFDs via the analog video output. With flexible mounting and setup, Nightwave can also connect to a mobile device via Wi-Fi for an enhanced user experience. At an MSRP of $1,595.00, Nightwave sets a new standard of affordability for night vision, making it accessible to boaters of all levels.
"Developing solutions to increase safety on the water and navigate with confidence is part of our mission," said Gio Lepore, Global Product Manager at SIONYX. "Nightwave's digital color night vision allows anglers and boaters to be active on the water as early or as late at night as they'd like. This technology provides clear color images in near-total darkness and is simple to install and operate. It should be a standard piece of equipment on every vessel to ensure a safe trip at any time."
Notable Features Include: 
<1mlx moonless starlight sensitivity allows mariners to see well beyond human eyesight and detect a man-sized object at 150 meters
The system's high resolution detector provides upgraded quality imaging capability in near total darkness
Wide 44o field of view increases situational awareness to spot unexpected obstacles, debris, markers, vessels, and more
Convenient installation flexibility: permanent mounting hardware is included, as well as a standard 1/4"-20 mount interface.

Nightwave can be oriented ball-up or ball-down, to meet any challenging mounting requirements

Lightweight and portable (870 G)
Stay up to date: the latest firmware and software releases are available through the SIONYX mobile app

The Mobile App: 
Nightwave mobile app features include: 
Connect to Nightwave for additional features and capabilities
Set camera orientation and position for optimal viewing experiences
IR cut filter control
Over the air updates 

Manage firmware updates to your Nightwave camera through Wi-Fi

Initial release will be android compatible, with iOS releasing shortly after
Future releases will include additional features such as wireless video streaming
Built rugged, connected, and capable, Nightwave is an impressive addition to any vessel. For more information on SIONYX or to reserve your unit, please visit www.sionyx.com/products/nightwave.