Seaguar – Superlative Lines Made in Superior Ways
---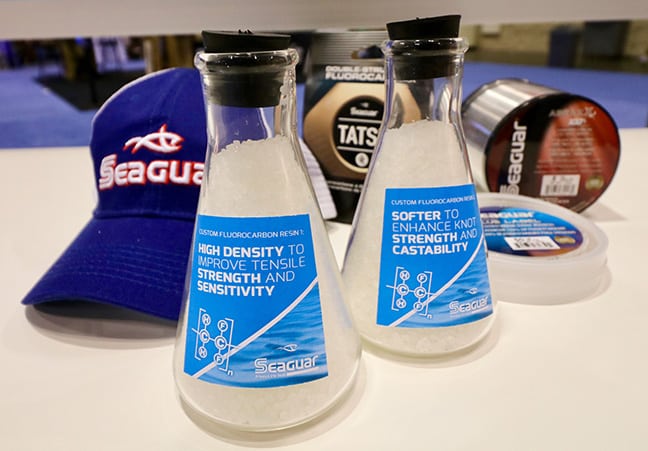 Courtesy of Traditions Media/Seaguar Fishing Line
Seaguar maintains its technological edge in the manufacturing of fishing lines
New York, NY (April 10, 2018) – The fluorocarbon line revolution, propelled by Seaguar innovation, is one of the most important pathways that anglers can follow to catch more and bigger fish. In a wide variety of fresh and saltwater applications, fluorocarbon lines are, quite simply, superior to nylon monofilament or braided lines.
Fluorocarbons absorb less water than monofilament lines, and are impervious to UV rays, helping fluorocarbon lines remain strong and effective for longer periods of time. Fluorocarbons are more dense than other line choices, delivering baits into the strike zone faster. The enhanced abrasion resistance of fluorocarbon lines and leaders means fewer lost trophies when fishing in heavy cover. And when dealing with gin-clear water and ultra wary fish, fluorocarbon's near invisibility beneath the surface enhances lifelike presentations and puts more fish in the boat.
Seaguar 100% fluorocarbon fishing lines and leaders are the singular choice of dedicated professional and recreational anglers, pursuing victories and personal-bests in fresh and saltwater. Not only did Seaguar invent and introduce the world's first fluorocarbon fishing lines more than 45 years ago, but their innovations in chemistry and engineering have advanced the art and science of fluorocarbon fishing lines in ways never thought possible. Indeed, Seaguar is the only manufacturer of fluorocarbon fishing lines that produces its own resins and controls the manufacturing process from start to finished products. This makes Seaguar lines and leaders what they are: Always The Best.
Seaguar's Exclusive Fluorocarbon Resins: At the heart of every fluorocarbon line is an elaborate polymer resin, poly (vinylidene fluoride), that is transformed and extruded into a thin diameter fishing line or leader. The chemical nature of this fluorine-enriched material is responsible for every one of fluorocarbon line's unique properties, including their high density, abrasion resistance, water repellency and resiliency against UV rays.
Not only does Seaguar manufacture their own resin, but they produce an entire library of fluorocarbon polymers, each with their own unique chemical and physical properties. This allows Seaguar to manufacture a broad spectrum of 100% fluorocarbon fishing lines, each with its own specialty characteristics. For example, Seaguar AbrazX, the line that has carried Bassmaster Elite Series pro angler Jordan Lee to back-to-back Bassmaster Classic championships in 2017 and 2018, boasts twice the abrasion resistance of other fluorocarbon lines – an enhancement made possible by Seaguar's custom fluorocarbon resins. "Seaguar AbrazX definitely boosts my confidence when I'm dragging baits on hard offshore cover because I get far fewer frays in my line," Lee asserts.
Seaguar's unique Double-Structure Fluorocarbons: Born of a desire to enhance knot strength for leader and tippet applications, Seaguar spearheaded a fishing line revolution in their perfection of Double-Structure Fluorocarbons. These premium lines and leaders represent a paradigm shift in line design, yielding a new standard with limitless possibilities that is exclusive to Seaguar.
Double-Structure Fluorocarbons are prepared by a unique and innovative method, one that unites two different fluorocarbon resins into the finest fishing line available. In Seaguar's proprietary co-extrusion process, a strong, sensitive fluorocarbon core is encased within a soft, supple, fluorocarbon exterior. The bond between the two resins is intimate and unbreakable, and results in a Double-Structure Fluorocarbon line that exhibits the beneficial attributes of each of its two components.  Forget about having to choose between strong and supple, or between sensitive and castable. With Seaguar's Double-Structure Fluorocarbons, you can have it all, in a single spool of 100% fluorocarbon fishing line.
One Seaguar Double-Structure Fluorocarbon is Finesse, a favorite of FLW Tour angler Cody Meyer, who relies on this supple, micro-diameter line with optimized tensile and knot strength to hold onto highly-pressured fish in crystal-clear waters. Super strong, yet incredibly castable with finesse spinning tackle, Meyer depends on Seaguar Finesse to put that fifth fish in the livewell on tough tournament days. The Seaguar-exclusive Double-Structure Fluorocarbon process is also found in Tatsu mainline, Fluoro Premier and Blue Label leaders, as well as Max and Grand Max tippet.
Spooling up with Level Wind Technology: One way to preserve the advantages of Seaguar's 100% fluorocarbon leaders between the factory and the water is to load bulk leader onto its spool with precision and accuracy. Seaguar's Level Wind Technology is an exclusive, labor-intensive process for loading fluorocarbon leader onto its spool. By ensuring that the leader is laid down in a precise, side-by-side manner, it cannot cross over or cut into itself on the spool. As a result, when you tie a Seaguar leader on, you can rest assured that there will be no kinks or deformations that might cause it to behave poorly, or to fail at the hookset or while fishing a fish. Level Wind Technology is available for saltwater leaders including Fluoro Premier, Blue Label and Pink Label.
Seaguar's manufacturing innovation continues to drive the fluorocarbon fishing line revolution, helping freshwater and saltwater anglers to hook and land more fish. Spool up with Seaguar, and you'll soon learn why their 100% fluorocarbon lines and leaders are Always The Best!
---