Rookie Blog – Hunter Freeman – I'm Ready to Get Going!
Posted On December 11, 2018
---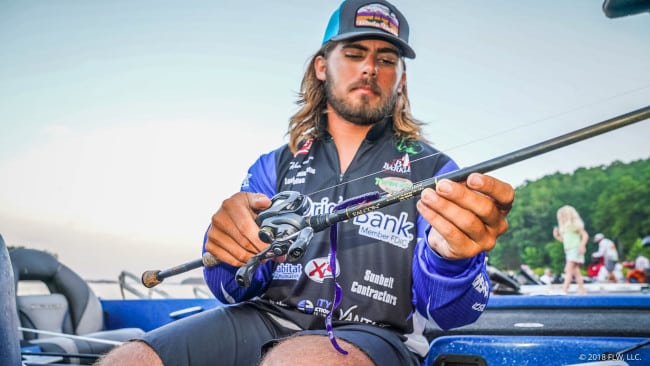 Photos Courtesy of Jason Duran & FLW
Looking back on last season the FLW Cup was a fun event for me. It was really tough fishing and the weights showed it.  I admit it wasn't the finish I wanted. Going into the Cup everybody said before I left home, you're not expected to do anything.  It was kind of like do your best. That lit a fire under me, and I looked to it as a way to show out.  Everybody was expecting me to bomb, but I finished mid pack.  I think it was a good event for me.
College fishing was the biggest thing I had ever fished. I'm just 21 years old, and my first pro tournament was the Super Bowl of bass fishing.  It was like I didn't really get a warm up.  So, looking back on that event it was not a disappointment. I was really happy with the finish in my first ever professional level tournament.
When the Cup was over, I came home and fished everyday just like before the Cup. I was really going hard at it and spent a couple days on Rayburn.  Getting time back out on the water was important for me.  Then I was presented an opportunity I couldn't pass.  The chance to fish at the next level is something I have always dreamed of.  I went to college to get a degree but obviously I wanted to fish.  The ultimate goal was to win one of the brackets to get the inside track to fish at the next level.  When it happened, I said this is my shot!  I kind of had the spotlight and ran with it while I had it.  The opportunity to fish the FLW Tour is an opportunity of a lifetime for me, and this year I am looking forward to fishing the Tour.
I took a two month break from fishing to spend some time in the woods and with family.  Since hunting season has started I have been doing a lot of hunting.  I have seen one buck on a camera at my buddy's place, and I've been wasting a lot of time up there trying to get that buck in the day light.  I haven't been able to get a shot yet.
Zach Birge, former tour pro, current tour pro Jordan Osborne and a few more buddies and I made a cross country hunting trip to North Dakota to shoot some ducks.  We all really had a lot of fun.
While at home I have been trying to get everything finalized for next year.  I have been working on contracts designing a boat wrap.  The new Basscat boat is rigged, so it is now time to get the pedal to the metal again and back out on the water every day (or at least 5 or 6 days a week).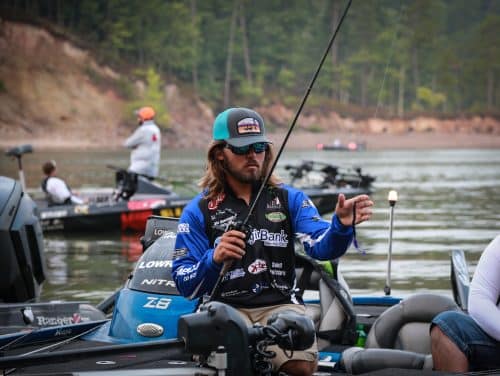 I am really excited to have the new Mercury 4 Stroke on my boat this year.  Recently, I fished the Toyota owners tournament and had the opportunity to drive the new Mercury 4 Stroke.  Let me just say that new motor is mean!  When you turn the key it has a growl like a V8 Truck with a Flowmaster exhaust.  I was impressed with the hole shot and the power.  I am the biggest fan of Mercury ProXS 2 stroke there ever was.  I put 1200 hours on one before, and it was solid.  Just like the 2 stroke, the 4 stroke really matches up in power.  The top end speed is blazing fast. I like how it sounds so mean on the low end, but as you get on the top end, it's quiet so all you hear is the wind.
I am gearing up for the FLW Tour for 2019. I looked at the schedule in previous years and there were a lot of clear water and shaky head type tournaments.  It looks like this year will be made up mostly of big line and big baits.  The first 4 or 5 are all grass lakes.  I am especially excited about kicking it off a Rayburn, a lake where I have had success and experience in the past.  I couldn't ask for a better place to begin my pro career.  I am going to start with a clean slate and go off what the fish are doing- not how I caught them a year or two ago.  I know you don't want to bomb your first day as a pro so I'm going to try and take the right approach to start off right and not spin myself out.  Since I've never been to Toho, I've been doing a lot of map study and video watching from the past trying to prepare for that lake.
There are a lot of names on the rookie field for next year that I know.  Four of them are guys I fished against in college, including Corey Neece.  I didn't sleep at all the night before the last day of the national championship because Corey was on the team right behind us, and they were the only team whose weight went up each day.  Corey will be one to look out for.  Nick LeBrun will also be a guy to watch for.  He won the All-America and did well in the FLW CUP.  For me I think fishing the Cup, getting the monkey off my back, gaining the experience and not being nervous give me the drive to do well and desire to get back at it.  I said when I left Hot Springs "I gotta get back here!"
My goals for next year are to cash a check in every event- the biggest one being ROY.  AOY would be great, but you only get one chance to be ROY. The third goal would be to make the FLW Cup again.
---