Roberson Steals The Show In YES Event #1
---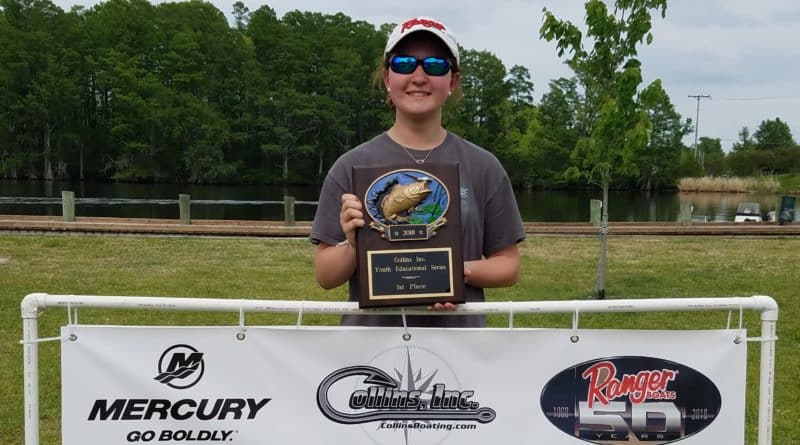 Event number one for the 2018 Collins Inc. – Youth Educational Series kicked off over the weekend on the Chowan River / Albemarle Sound region. Teams launched from the Bayside Marina around 6:15 AM and returned at 2:30 PM for the afternoon weigh-in.
Morgan Roberson, fishing without a team partner, took the top spot with a massive catch of five fish weighing an impressive 25.22 lbs, anchored by the eventual event lunker weighing in at 7.88 lbs. Since she had no team partner to share the winnings with, Morgan doubled up on all prizes and took home both first place plaques signifying the win along with multiple tackle related prizes from Outdoor Accessories Unlimited, Z-Man Fishing Products, Penetration Hooks, Solar Bat Sunglasses, and $50 gift cards from Ranger Wear.
Morgan is no stranger to the top of the results charts, as this is her third overall victory in three seasons among the Youth Educational Series of events. She also has a previous second-place finish to add to her records. Congratulations Morgan!!!
Filling the second position was Nathaniel Moss, another solo angler. However, having to fish alone didn't keep Nathaniel, one-half of the reining 2017 Youth Educational Series points championship team, from also bringing an impressive bag of fish to the scales that weighed in at 16.67 lbs, anchored by a 7.39 kicker fish. Nathaniel also doubled up on the prizes with his tandem plaques signifying the accomplishment, along with multiple tackle related prizes from Outdoor Accessories Unlimited, Z-Man Fishing Products, and Penetration Hooks.
The third spot went to Nathan Canady and Ayden Wood with their catch of 13.26 lbs, also anchored by a brute weighing in at 7.05 lbs. These two anglers are currently enjoying some amazing finishes among NC Bassmaster Eastern & Western Division High School Series events and are looking to do the same among the Youth Educational Series events this season.
Rounding out the top five positions included the fourth place tandem of Wyatt Long and Logan Jennings with their catch of 11.07 lbs and the fifth place team of Dorien Scott and Andrew Pittman with their catch of 5.15 lbs.
Thanks to all sponsors that contribute to these youth events. We could not offer such great rewards and opportunities without your support.
Thanks to all of the boat captains and club advisors that take time away from their personal fishing opportunities and other leisure activities to coach and mentor these young anglers. You are appreciated very much for the role that you play.
---