Ranger Pro James Niggemeyer – Enjoying Life on the FLW Tour
---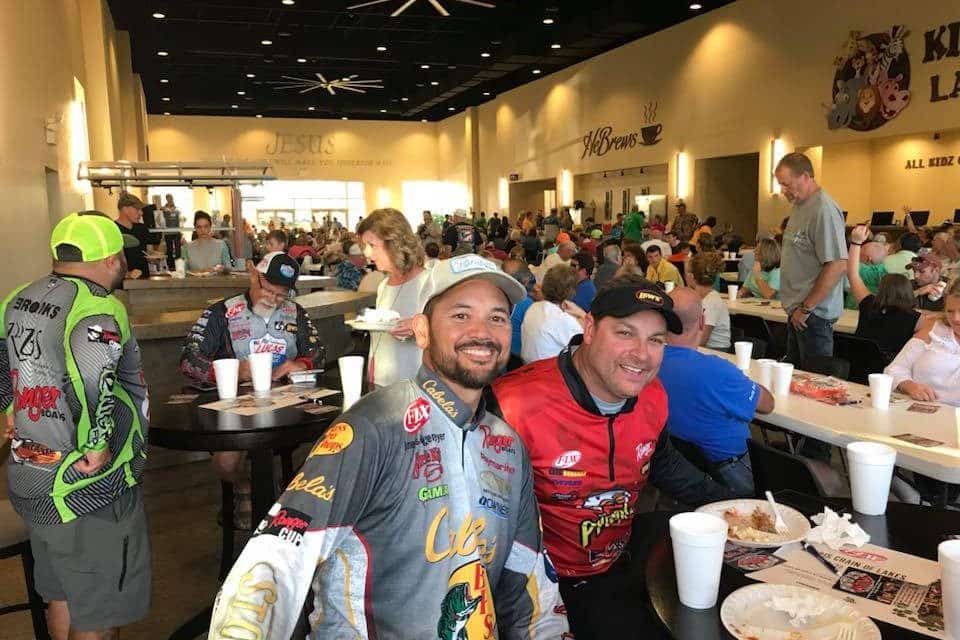 The FLW Season has gotten off to a great start and I wanted to take some time to update everyone. It is my hope to spend more time blogging this season and sharing what's happening and from time to time give some updates and tips on the fishing.
On Valentine's day I drove from my home in Texas to the Ranger plant and picked up my new Ranger Z520L powered by Mercury OptiMax loaded out with my 10ft power poles,  Gator Guard Keelshield and Raymarine electronics. I then started driving to Georgia where I was going take a loop around Lake Lanier when I got to a campground at lake Lanier I put in my Cabela's x900 batteries and loaded those all in and spent some time making sure everything was working. The next day, I began my drive down to the Harris Chain to begin practice for the 2nd FLW event out of Leesburg, FL.  This year has started like it normally does its been go go go. It was completely pouring raining at home a lot before the FL event and we got like 5 inches of rain. In FL the weather was beautiful with temps in the 80's. So, it was nice to get some good weather.
I feel like I have really started to settle in to the FLW Tour which is really nice. I am enjoying the extra time on Wednesday during registration day to be off the water and getting the boat ready instead of staying up till 0'dark 30 working on tackle. That helps me to have lots of time to make sure I have everything the way I like it for the tournament. In the evening we have the registration meeting. I really like the extra time not only to get tackle ready, but it gives me time to respond to emails can catch up with any sponsor correspondence and go to the grocery get food for the week. It really just gives everyone a lot more time instead of a rushed pace.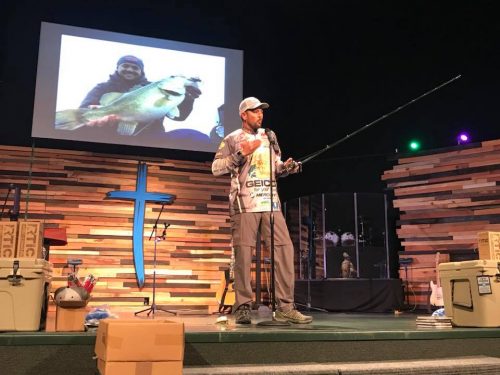 I have also really enjoyed the Meet The Pros events. We had a great attendance of over 400 people at the event at First Baptist Church Umatilla FL where Greg Bohannon, Chase Brooks, Tim Frederick (who won the first FLW Tour Stop), Bill McDonald, Glenn Chappelear were all there. It was great to see everyone and their passion for the outdoors. During this event 53 people made a first-time salvation decision and 56 rededicated their lives to Christ. It was really exciting and that was over ¼ of the people in attendance making a decision.  If you have the opportunity to visit one of the Meet the Pros stops at a future event, please come out and join us. I share on my Facebook page where these events are on the week prior to the event.
I love how the FLW Starts in January and I can get a jump on my bass fishing fix a little earlier than most of the country. I live in a great state where I can fish year-round. However just like everyone else, I get the fishing bug and I am thankful this year get to an early start fishing on the FLW Tour. Prespawn is about to make its way across the country. That is always exciting to me. Fish are starting to act like themselves and not the lethargic things that make us go what in the world are they doing, which is nothing much during the winter.
I just finished the 3rd FLW Stop at Lake Lanier with a top with a top 20 finish. In my next blog I will share a little more about that tournament.
---