Ranger Pro Brandon Cobb takes the Lead into Championship Sunday at the FLW Cup
Posted On August 13, 2017
---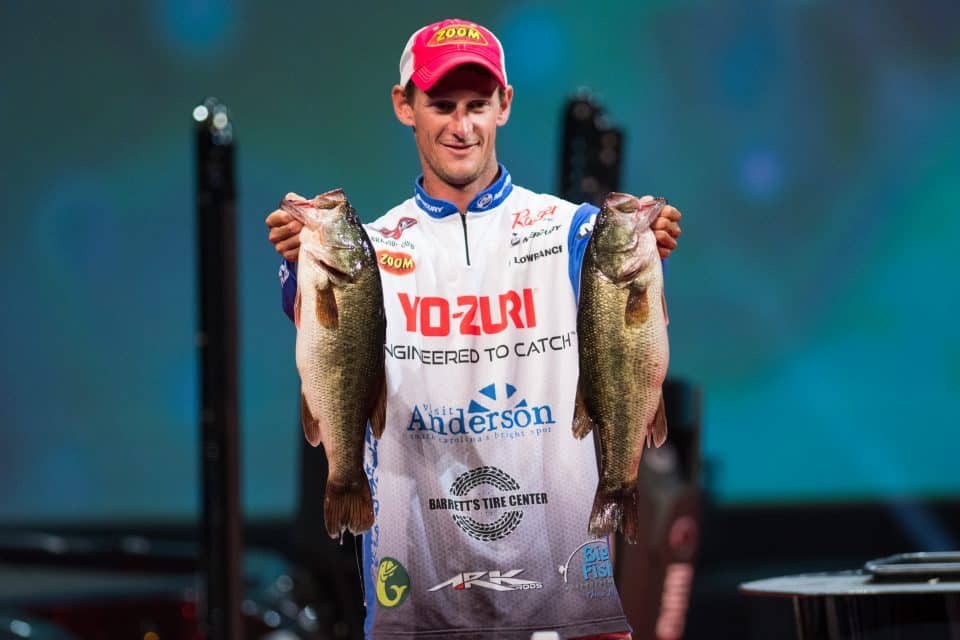 Day 2 at the 2017 Forrest Wood Cup is usually a day change up and down the leader board. Indeed, there was movement today but the guys who climbed to the top yesterday are still there.
'The top' is usually defined by some number of places, such as 'Top 5' or 'Top 10'. For this writer, this week the 'top' of the field is those who have separated themselves from the rest of the field. That would pretty much narrow it down to Justin Atkins, Anthony Gagliardi and Brandon Cobb.
The trio finished in that respective order on Day 1 and backed it up with strong efforts today.
Now the order is Cobb with 39 pounds, Atkins 1-13 behind and Gagliardi 2-15 behind.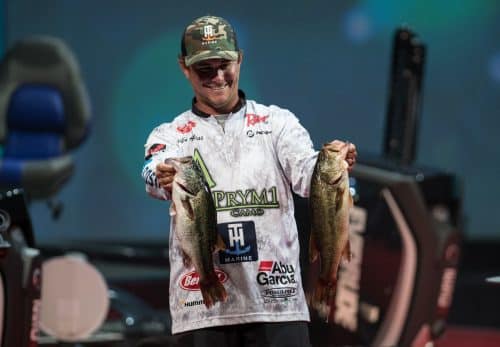 After that, the field continues to spread out with at least a pound separating every one of the top 9 pros.
Travis Fox, in 4th with 35 pounds, is 4 pounds out. He can overcome that, but it would be a big story if he did.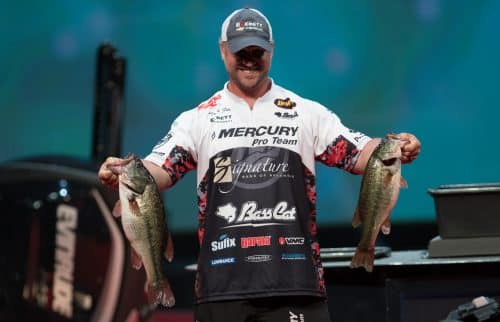 Bryan Thrift, 5th with 33-13 admits, "I have a deep hole to climb out of." He said he is also fishing deep but fishing more slowly than the guys who are tossing big plugs over deep structure. Unexpected tactic from the man known as 'Smoke On the Water'.
The Cup is a 3-day shootout this year instead of the 4-day grind we usually see in August. How much difference does that extra day make? Scott Canterbury nearly closed the gap on Gagliardi when the Cup was last contested on Lake Murray. Gagliardi's bite had all but played out before the end of Day 4.
But Gags rode the deep bite to a 1-ounce winning margin in 2014. Somebody will ride it to victory this year.
And the shallow bite hasn't played role this year.
At least 4 pros shared with us back stage that the skinny water deal did not work out for them. "I caught them good in practice around the ends of the docks," said Brandon McMillan. "But today my fish were up in extremely shallow water. It makes no sense. They have been dropping the water level for a month."
McMillan did catch a 4-pounder from around a bream bed on a buzz bait after making an estimated 20 casts. "I hope it's not my last fish of the year, but if it is, it was a good one to end with," he said, alluding to the fact that he may not make the cut to fish in Sunday's final round.
Terry Bolton said past experience pushed him shallow. "I've tried to fish deep on herring lakes before and I got killed. In 2008 I did well fishing shallow in August so I decided to stick with it this year. But most of the quality fish are out there."
So what are the guys fishing out there?
With remarkable consistency, the top performers are throwing big top water lures, mostly pencil poppers, over sunken cane piles on short, steep main lake points in 10-to-15 feet of water, maybe as deep as 30.
What's a cane pile? Take a bucket of cement and plant a bunch of tall bamboo canes in it so they stand up and reach toward the lake's surface. It gives suspended bass something to hold in and relate to. From there, they can launch to the surface to pin baitfish. In the case of Lake Murray those baitfish would be blueback herring.
Fresh green piles produce better results according to a couple of the tournament front runners.
We're told that with today's sunshine, the bass actually loosened up and suspended further from the canes, instead of burying into it as many would expect them to do. Perhaps the algae rose through the water column as often happens under sunny skies (algae contains chlorophyll and will therefore seek out solar radiation). Pelagic baitfish such as herring often feed on algae. Since the bass are following the bait, they too roamed out from the cover.
The bass on the cane piles are fat and healthy. They don't have to chase bait all over the lake. They just lie in wait and then eat the high-quality feed that swims by. Or a big pencil popper.
Cobb and Atkins are sharing a lot of waypoints. While spectators have been polite – not fished the spots and stayed way back while watching – the flotillas still disturb the spots after anglers blast off to fish the next one.
This happens a lot as the pros make just a few casts to very precise targets and then move on to the next. The bass are either biting or they're not. There are often 20-to-30 bass in any given pile, but once one is reeled to the boat the rest pull up and off the cover with the hooked fish. They may take hours to reposition in the canes.
This is why rotation is so important. Cobb explains, "Yesterday I felt like I hit everything at the right time. Today it felt like somebody had fished in front of me on a lot of the spots."
Cobb is competing with his good friend and roommate Atkins tomorrow for $300,000, a big trophy and a title that will last forever.
---