Questions Swirl as Cup Competition Nears, How will the 2017 Forrest Wood Cup be won?
---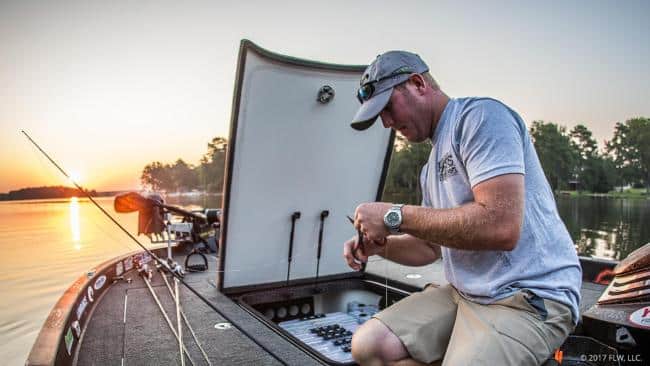 Vance McCullough – Photo Courtesy of Jody White/FLW
The answer depends heavily upon which angler hoists the hardware after the final weigh in.
Lake Murray is a different animal from the one that smiled on Anthony Gagliardi in August of 2014 when he totaled 51 pounds, 2 ounces of bass by ripping a weighted Yamamoto D Shad around main lake points to win by an ounce over Scott Canterbury.
For one thing, there are more options in play this time around. Gagliardi himself noted how many more objects are in the water due to higher lake levels this year. "You can't just go down the bank and burn it up. You'll have to pick things apart more thoroughly.
"There's also this weird grass growing out to about 15 feet. I'm not sure if the fish are using it – I imagine they are, but it's kind of hard to get a lure through it cleanly. It's soft and stringy."
Michael Murphy, a top bass fishing guide on Murray with a fisheries biology background says the grass is called "fuzzy pond weed. Of course, it has a fancy Latin name, but we just call it fuzzy pond weed."
Murphy says the fuzzy stuff could be a player this year. "The fish are definitely using it. Whether the guys can figure out how to fish it may be another story, but the fish are there."
So the fuzzy pond weed is a wild card.
Also, upper reaches of the Saluda River are said to be filled with floating duck weed. Did anybody see that creek on Wheeler Lake last year where John Cox won the Cup? Yep. Covered in duck weed. He threw a frog. I'll be shocked if he doesn't do it again. And threaten to repeat as Cup Champion.
From submerged pond weed to floating duck weed and all the extra targets inundated along the shores, Lake Murray offers a lot more places for fish to hide this year.
AND the pros have one less day to find them once competition begins. The 2017 Cup will be a Friday, Saturday, Sunday affair instead of the 4-day deal the pros are used to.
This does, however, give them one more day to practice.
Gagliardi reflects back to his win and believes the 15-pounds-per-day that he maintained for the first 3 days of that event will serve as a reasonable expectation to set the winning pace this year. "I would guess 45 pounds will put a guy right where he needs to be. The lake may fish differently but it is still in great shape. That said, it is August in the South and fishing will be tough."
Keep an eye on AnglersChannel.com and our Instagram and Facebook pages for all the latest news from Columbia, SC as we cover the Forrest Wood Cup this week, August 11-13!
---