Platinum+ and HotMaps Platinum charts – AnglersChannel.com Gear Review – Whats new for 2019!
Courtesy of Navionics
This Summer as you head out fishing, make sure you head out with confidence!
Featuring all the same content and advanced features found in Navionics+ are now augmented with 3D View, satellite overlay and panoramic photos to provide the ultimate situational awareness. Designed with the most demanding boaters and serious anglers in mind, these additional viewing options can be used on a growing number of GPS plotters. Quickly target the best spots and catch more fish. Daily updates and advanced features are included for 1 year. Simply plug your card into your computer and activate it at Navionics.com.
NEW for 2019. A combined layer
Satellite Overlay, updated and optimized for the coming boating season, offers a top-down view of inland and coastal areas.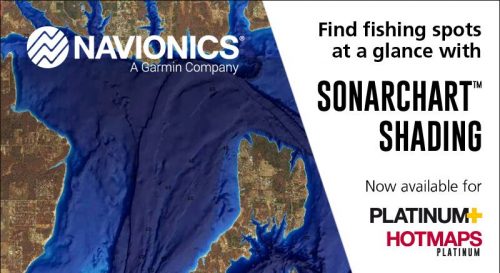 SonarChart Shading, created from the high-definition contour data within SonarChart, presents a detailed rendering of the lake bottoms in varying shades of blue. A great way to give you more information on what below the boat, Sonar Chart Shading will you define the details of a particular spot and help you find that sweet spot. Customers who own a Platinum+ or HotMaps Platinum chart with an active subscription can download the combined satellite overlay and SonarChart™ Shading layer for their region via the Chart Installer.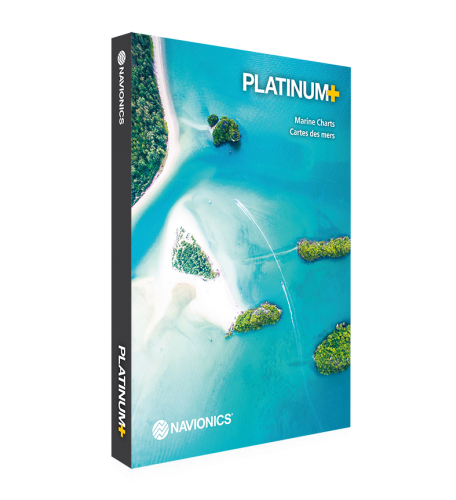 Platinum+ charts provide marine charts, with 1' contours inshore and nearshore and 3' and 6' contours offshore beyond 90'. Includes tides and currents, safety depth contours, navaids, coastal points of interest and port services information. The tried and true counter map for all serious tournament bass anglers. If your not using Platinum + then you are missing out.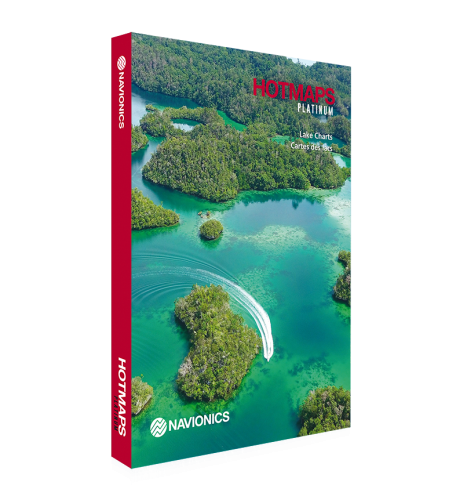 HotMaps Platinum  lake maps are available for the U.S. and Canada in 5 regions covering more than 24,000 lakes with up to 1' contours. Includes structures, reefs, drop-offs, vegetation, boat ramps, marinas, safety depth contours and navaids
South –more than 1,700 lakes in AL, AR, FL, GA, KS, LA, MO, MS, NE, NM, OK, TN and TX
North – more than 7,900 lakes inIA, MI, MN, ND, SD and WI including all of Lake of the Woods, Rainy Lake and U.S. waters of the Great Lakes
East –more than 7,700 lakes inCT, DE, IL, IN, KY, MA, MD, ME, MI, NC, NH, NJ, NY, OH, PA, RI, SC, TN, VA, VT and WV, including U.S. waters of the Great Lakes
West –more than 2,900 lakes in AZ, CA, CO, ID, MT, ND, NV, OR, SD, UT, WA and WY
Canada – more than 9,100 lakes in lower AB, BC, MB, NB, NL border lakes, NS, partial Great Slave Lake in NT, ON, PE, QC and SK
Nautical Chart and SonarChart™ are preloaded. Community Edits are downloadable. Advanced features such as Dock-to-dock Autorouting1, SonarChart™ Live, Advanced Map Options and Plotter Sync.
Check Navionics.com/compatibility for dozens of models from B&G, Humminbird, Lowrance, MarCum, Raymarine and Simrad.
1Autorouting is for planning purposes only and does not replace safe navigation operations