New Tackle Storage from ICAST – Perfect for the Boat or Kayak
Vance McCullough
Having the latest lures and hardware to make your day on the water a success is one thing. Keeping them close at hand and, yet, protected from harsh environmental effects is quite another.
Nowhere is the struggle more real than on a kayak where "dry" is a fantasy and space is at a premium. Sometimes it's hard to even reach the things you need, which brings about a crisis when you really "need" them. Like, NOW.
Let's look at some gear from the recent ICAST show that will travel well on the most spacious bass boat but is especially useful on small craft.
One thing that will keep those much-needed items within reach is well-placed TackleWebs mesh bag. Tackle Webs aren't spanking new. In fact, they are time tested and proven on the most competitive tournament trails. But many paddle anglers are discovering the utility of these brilliantly simple add-ons.
You can wear your heart on your sleeve – or your TackleWebs. They can be printed with any full color logo of choice. Heroes on the Water, Bote and Kaku all proudly display their brand on the mesh tool and tackle holders that can be mounted practically anywhere your imagination wants to put one.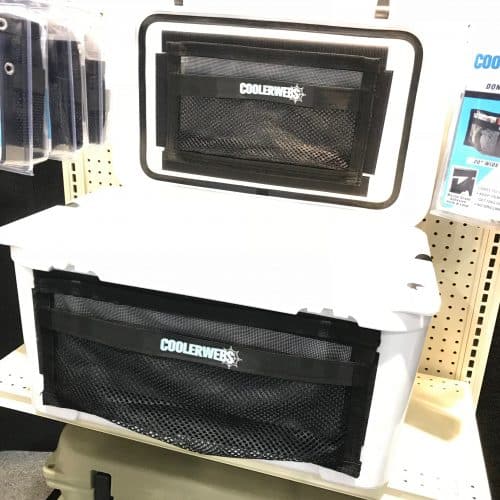 One of the best places to mount one is on your cooler – hence, CoolerWebs. These are perfect for paddle boards where the cooler often pulls duty as a seat, a poling platform, and a storage unit for food, drinks and gear.
TackleWebs help a small boat fish much bigger.
You'll want to stuff those TackleWebs with TuffTainer boxes from Flambeau featuring Zerust technology. The secret is in the blue tabs that serve as dividers between compartments. They stop rust by emitting, "a harmless, invisible vapor in a contained area," according to the folks at Flambeau.
If you believe an ounce of prevention is worth a pound of cure, you'll want to check out the waterproof boxes available from Flambeau. They'll keep your tackle dry in the first place. Secure them in your TackleWebs so they can't get away and you can rest assured your stuff is coming home with you, safe and dry, no matter how rough or wet it gets out there.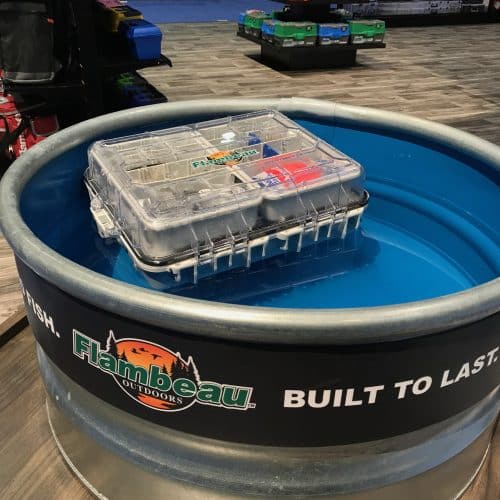 What about your bigger personal items? Change of clothes, dry towel, cameras, basic camping and first aid stuff – you'll need a quality dry bag for that. Look at the EGO Kryptek Tactical 55L TPU Dry Duffle Bag. No, really, LOOK at it. Kryptek makes the coolest camo pattern on the planet. It's the popular look that has been licensed to a lot of the big name clothing manufacturers we've become familiar with in recent years, but it was developed by Kryptek in the first place.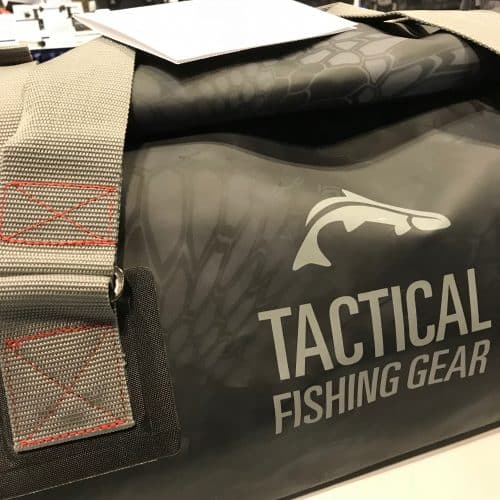 Founded by veterans who served our country in the Middle East, Kryptek not only keeps you looking good, but as with all of their hunting and fish clothes and bags, the EGO Dry Duffel is made of the most advanced materials and thoughtfully designed to perform beyond expectations.
According to the guys at Kryptek, "Bag seams are RF welded ensuring that no water can penetrate the body of the bag, so all of your gear will stay dry in the harshest elements. The TPU fabric is 5X more durable than previous dry bag fabric technology."
On a side note, this writer's favorite pair of pants – not just tactical pants but any long pants – are made by Kryptek. They offer room in all the right places and are reinforced at typical stress points. They're super comfortable during cold days afield or on the water. In addition to the great fit, they just look cool.