Mike Jones wins ABA Ram Truck Open Series Event on Okeechobee with 23.51 pounds!
Running out of Scott Driver Park in Okeechobee, Florida, Mike caught five bass weighing 23.51 pounds. For the Boater division victory, Jones took home a check for $5,000 for his win.
"I was fishing Eagle Bay and it was a little rough so I ran up Grassy and threw a SPRO popping frog and a Charlie's Big Dipper. Every little willow bush had a fish in it. I stayed out in the open water and hit the little willow bushes. Right at the end of the day we went to a section that I had not fished all day.  I threw the frog up against some dead stick-ups and when she hit it jerked my arm and I never got a chance to set the hook." Jones said.
In second for the Boaters, Gary Milicevic of Labelle, Florida landed a five-bass tournament limit weighing 23.41 pounds. He collected $1,700 for the effort. "I caught all my fish on a popping frog and I didn't have a fish until 10:30 am. My partner was culling and I didn't even have a fish. I went hunting big fish and the first one I stuck was probably an 8-pounder. But I was out here trying to tie last night with the mosquitos and I guess I didn't tie on the frog good because I broke her off. I caught a limit on the frog then I went flipping. I lost a couple 4-pounders and one about 5, I should have had about 28-pounds, but that's fishing." Milicevic said.
Jeff LeDroux of Tamarac, Florida took third for the Boaters with five bass weighing 22.64 pounds. He earned $1,130. "I was fishing in the rim ditch and threw a Zara Spook all day." LeDroux said.
Finishing fourth, Matt Wieteha of Miami, Florida landed a five-bass limit weighing 21.09 pounds including a 6.46-pound kicker.
Austin Schroeder of Zephyrhills, Florida rounded out the top five Boaters with five bass weighing 20.75 pounds topped by a 6.24-pound kicker.
The biggest bass for the Boaters was caught by Steve Stinson of Pickering, Ontario that weighed 9.02 pounds and pocketed $940.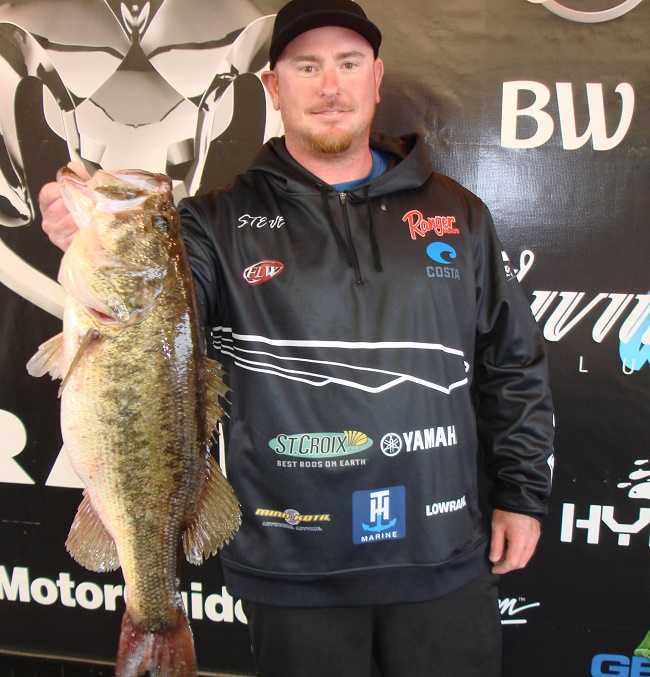 "I flipped all day today so when it gets cold like this or even when it gets hot, I flip. I come down to Florida to flip. I threw a 2-ounce tungsten weight, 5/0 Gamakatsu hook, with just a beaver. I was flipping mats and didn't get many bites but this was one of them.  I missed a few other fish today but it was a slow bite.  " Stinson said.
In the Co-Angler division, Michael Gonzalez of Apopka, Florida won with three bass weighing 13.40 pounds. He pocketed a check for $1,800 for his win.
"I was fishing the north side of the lake. I caught about 12 to 15 fish today. I had my limit by 8:45am. I was culling 2 ½ -pounders trying to get better fish. I was throwing Bitters speed worms and caught my last good fish around 1:45pm."  Gonzalez said.
Taking second for the Co-Anglers, Doug Staetter of Sanford, Florida brought in a three-bass division limit weighing 13.10 pounds with a 7.75-pound kicker. He collected $600 for the effort and $315 for the big bass.
"I wasn't able to keep up with my Boater today so I picked up a skinny dipper and used all of the skinny dippers I had. I probably caught 25 bass today. My boater said he was going to put away his rods and sit down for a minute and that's when I threw to the perfect spot on our pattern and Ka-Baam, it was on. I said, "Mike get the net it's a hawg!" It jumped completely out of the water and I fought it for a little bit but was able to get it in the net." Staetter said.
Donald Dunnam of Okeechobee, Florida placed third among the Co-Anglers with three bass weighing 12.50 pounds. He earned $450 for his catch. "I threw a Senko and a speed craw all day. I lost two big ones that took me down in the weeds and I couldn't get them out." Dunnam said.
In fourth place among the Co-Anglers, Jerry Neuner of Rutherfordton, North Carolina brought in three bass weighing 11.69 pounds.
Roy Delozier Jr of Okeechobee, Florida finished in fifth place with three bass weighing 11.49 pounds.
Slated for February 18th, the next tournament will be held on Lake Okeechobee out of Scott Driver Park in Okeechobee, Florida. At the end of the season, the best anglers from across the nation advance the 2018 Ray Scott Championship, Location to be announced.
For more information on this tournament, call Billy Benedetti, tournament manager, at (256)230-5632 or ABA at (256)232-0406. On line, see www.ramopenseries.com.
About American Bass Anglers: American Bass Anglers is committed to providing low cost, close to home tournaments for the weekend angler and at the same time offer each competitor an upward path for individual angler progression. For more information about American Bass Anglers, the Ram Truck Open Series, the American Fishing Tour or the American Couples Series, visit www.americanbassanglers.com.