Matt Becker – 2018 FLW Rookie of the Year!
---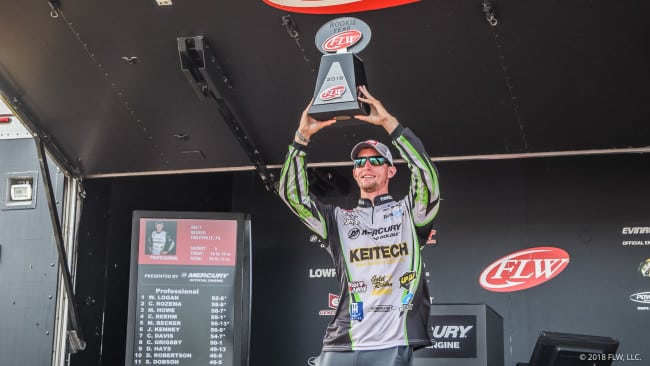 Vance McCullough / Photo Courtesy of FLW
"It was a cold 10-hour drive home from Cumberland Lake," said Matt Becker. "I told myself 'I'm never going to do that again'." The eventual 2018 FLW Tour Rookie of the Year was facing the steep side of the learning curve.
With a 154th-place finish at Cumberland, Becker had dropped himself precipitously down the standings after having started strong. At the next stop on Smith Lake he showed the resilience needed to win a ROY title.
"I'm pretty proud of myself for that event. I figured it out as the tournament was going on and I made a Top 10. I learned from my mistakes at Cumberland – not adjusting – I made those adjustments at Smith and was able to dial it in.
"It was more a matter of changing with the weather conditions. At Cumberland I had a good practice and I got too dialed into a pattern and didn't adjust quickly enough. And that really haunts me."
By the time the Tour came to his region for the finale on Lake St Clair Becker had all but put the ROY award out of his mind. "It was the goal going into the season but, just being the realist I am, after a couple of bad tournaments I kind of figured it was out of the question so I wasn't thinking a whole lot about it going into the last tournament I was more focused on qualifying for the Forrest Wood Cup, but I managed to do all of it."
Becker knew he would need help to win ROY. "The leader, Sheldon Collings was going to have to stumble. When he came in with a light bag the first day that's when it finally hit me that it was even possible. Day 2 is a day I will never forget. I got out there and the wind was calm, it was a beautiful morning. I got to catching fish right away. I caught enough to seal up Rookie of the Year, a check in the tournament and to make the Cup in the first hour. It was an extremely relaxed day."
Becker caught his St Clair fish a couple miles out in the lake. They were on a mayfly hatch and he tossed a Keitech swimbait on a dropshot rig to catch them.
Becker had to fight off some self-doubt during his rookie season. "Looking back now I can see some turning points that made my year. On Kentucky Lake I struggled the first day – only caught one fish. The next day I had 4 pretty early and then went back to struggling again and the voices got to talking to me, said 'hey, you're gonna bomb this tournament. You're gonna fall out of cup contention.' All that stuff. Then late in the day I caught the big fish of the day, a 7-and-a-half-pounder. Which, now looking back, that bumped me up 40-something spots in the points. Without those points I wouldn't have made the Cup. I wouldn't have won Rookie of the Year.
"That single fish sticks out to me as a pretty important hookset this year."
Success has come quickly for the 26-year-old from the Pittsburg, PA suburbs. "Last year was my first jump into the AAA level. I fished the Costa Series. That worked out well. I was Top 10 in the points so I was able to fish the Tour this year. That worked out pretty good so, hopefully, we've got a decent future ahead of us here."
Winning ROY has given Becker some momentum which he hopes to ride into the Cup on l
Lake Ouachita next month. "It's definitely a confidence booster. I'm feeling good heading into it. I'm fishing good right now. My mind is clear so hopefully we can keep it rolling at the Cup."
Becker has never seen Lake Ouachita but he plans to make a scouting trip soon before it goes off limits. "I've never seen the lake. I haven't even looked at it much on the map because I was more focused on qualifying than on doing research on it prior to making it so I've got some work to do the next couple of weeks."
If Becker catches them on Ouachita he will likely do so with a Keitech swimbait, the lure he has leaned on most heavily this year. He has used different sizes of the lure on spinning gear and baitcasters. He has used it on everything from a dropshot to a quarter-ounce Bass Cave Custom Tackle jig head. "You can find them at BassCaveTackle.com. They have a very unique jig head with a screw lock on the hook shank so once you get the bait rigged on there it does not come off. It saves you time when you're on the water."
Becker also bragged on his Mercury Pro XS as an advantage he enjoyed on Tour. "It ran flawlessly all year, kept me fishing. I never had an issue with it. You've got to have confidence in your equipment like that."
---