Matt Arey: "Pro bass fishing's a team sport."
Courtesy of Alan McGuckin – Dynamic Sponso
As Matt Arey piloted his Toyota Tundra past countless acres of corn and soybean fields along his 23-hour drive from home in Shelby, NC to massive Lake Oahe in South Dakota the answer to a question he's been asked dozens of times tugged at his heart once again.
"Is pro bass fishing a team sport?"
It's a question Arey says he gets asked a lot by folks who aren't hard-core fishing fans when he's at elementary school functions with his daughters, church, and elsewhere.
"The obvious answer is "no, pro fishing's not a team sport" but I usually follow-up by explaining to people from an emotional and mental standpoint this career is absolutely a team sport," says Arey. "If you don't have loved ones sacrificing to help you chase your dreams and prosper, this sport will eat your lunch in a hurry," he adds.
This current Elite Series travel swing to South Dakota and Wisconsin means he won't see his beloved bride Emily and their two young daughters Reese and Wren for at least 18 days.
That's rough. And for Arey, leaving home these days seems to be even tougher than when his daughters were younger. At ages 5 and 9, they love interacting with their daddy – fully conversational, active in school, dance, and church activities, and not yet teens seeking independence – family time is the centerpiece of the entire Arey family universe right now – and that includes drawing with colored chalk on the family driveway.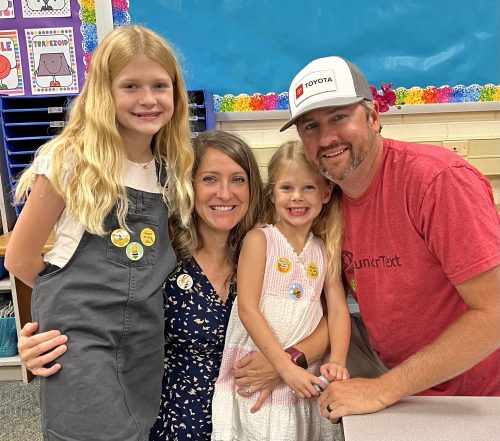 There's never been a time in Arey's illustrious pro career that Emily and his daughters failed to draw him a fish-themed "Good Luck" message on the driveway just before he leaves. The colorful heart felt messages on the concrete are among the last images of home as he heads-out to the next tournament, and generally lead to smiles, hugs, and a few flooded tear ducts too.
"About the only way I'm able to cope with leaving is knowing Emily is such an incredible woman and mom, that whether it's a broken kitchen appliance, a flat tire, or simply getting the girls to all their activities, I can leave home knowing she'll handle things incredibly well. But don't get me wrong, her job at home is way tougher than mine as a pro angler," reflects Arey.
Regarding the job he has to do at giant Lake Oahe, he says managing productive fishing areas based on wind will be the biggest challenge. But a Pulse jig head tipped with a small swimbait, and a Lunkerhunt finesse worm on a Ned head should help yield the 20-pound limits he expects he'll need to do well at the 370,000-surface acre reservoir.
Arey enters the Oahe event sitting securely in 8th place in the Progressive Angler of the Year points race, and while we all know there's no such thing as an easy event in this sport, he says the 18 days away from Emily, Reese and Wren will be the toughest challenge of all.
"There's nothing about this job that's more challenging than leaving my wife and daughters. It's tougher than making Classic cuts and Top 10s. But at least I'm blessed to compete with a clear mind knowing I've got such an awesome team cheering me along from 1,500 miles away," says Arey.
Because after all, pro bass fishing really is a team sport as far as the Areysare concerned.