Mark Rose – From the Banks of the Mississippi to Angler of the Year!
---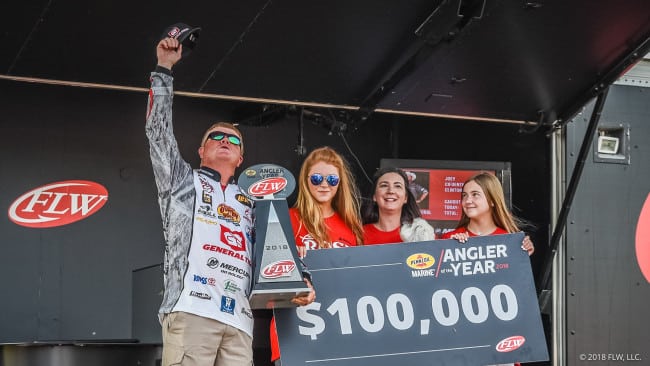 Vance McCullough
Photo Courtesy of FLW
"I'm a pretty simple guy," says Mark Rose.
Indeed, the fire that drives the 2018 FLW Tour Angler of the Year differs from the motives of many Tour anglers.
Yet, Rose is a very motivated man.
"My motivation is for me to have a platform to share how much Jesus loves people."
While he feels a great sense of accomplishment during, yet another, career-defining moment, Rose almost ducks when people throw accolades his way.
"I want the glory and all of that stuff to go to my Lord and Savior Jesus Christ, to my sponsors and to my family.
"I don't necessarily thrive off of big titles but I'm also smart enough to know that it's a great accomplishment and it's a hard one to achieve. I'm very thankful."
"I don't downplay it in any way, I just want the notoriety to go toward my sponsors because, in the beginning, when I was just a redheaded kid on the banks of the Mississippi River wanting to quit my job and go make a living fishing, I had a long row to hoe.
"And I had a lot to learn. It took me being out here for a while to be able to learn and the only way you can be out here is with support. Support from the companies you work for, support from your family and, ultimately, support from God. He's the one that made all these fish. He's the one who gives us the ability to catch 'em. He's the one who provides our good health and everything else so that's where I want all the praise to go to."
Anything worth doing will involve challenges. Rose had his share this season. "A couple of things really stand out. After the second day at Kentucky Lake I had dug myself a big hole. It was a big challenge to come back and stay in contention for it. I was able to accomplish that.
"The next big challenge was to have a big lead going into the last tournament and have a lot of time off to think about it because it's the time off that bothers you more than anything. When I'm fishing I just do my job. I like what I do. Go out there, let it unfold, read the water and let the outdoors instincts shine. But off the water, you start thinking. Your mind drifts. You think about a lot of things. So once I knew it was attainable, boy I really wanted to win it for all the people and the reasons I discussed earlier; really wanted to finish it.
"That makes you think. And I'm not a thinking type person. I'm more of an instinctive type fisherman.
"So, whenever you have a lot of time to sit back and think and try to come up with a strategy and crunch numbers and do all that – I don't like that."
But Rose did use the time off to build a winning game plan for the Tour finale on Lake St. Clair. "I didn't have a real good strategy . . . well, I guess I did because I won, but I don't know that I would do it again because it was a slugfest and I chose to play the numbers game and cull all day in an area that had a lot of fish, but they weren't those big that a lot of people were catching. It almost cost me but it worked out."
Some anglers dominate for a while on the strength of a hot lure or a weather pattern that continues to play to their advantage across the Tour schedule. Rose couldn't do that on the diverse trail that was the 2018 FLW Tour. "I'm comfortable fishing for smallmouth, spotted bass, whether I have a spinning rod in my hand – whatever – I feel comfortable doing it. Now, the fish humble me all the time, but, I'm better than I was 20 years ago and I'm comfortable.
"This year there was no one bait or technique. One thing I can honestly say is we had the most versatile schedule we've ever had. Down south in the flat country on Okeechobee, and then we were in highland reservoirs, and then we were on river systems, we were in sort of a canyon-type lake at Cumberland, we were on the Great Lakes. We fished spotted bass. We fished largemouths. We fished prespawn. We fished postspawn. We fished during the spawn. All species. It was a versatile schedule."
Extra challenge yields extra reward. "There is a sense of accomplishment. You feel like . . . I mean, my goodness on the FLW Tour we have 180 anglers, some of the best in the world, and to come out on top like that on such a versatile schedule, it is a sense of accomplishment. A lot of hard work has paid off."
Silver linings this season included 3 tournaments in which Rose had found nothing solid in practice and had to "adjust on the fly. Those are difference-making type deals where, if you make the wrong decision, boy, you can bury yourself for the year real quick. In all 3 of those, I chose right."
Even after the best possible outcome, the memory often seizes on an unfortunate event. Rose will never forget a heartbreaker he met briefly in Florida. "There was a memorable fish at the Harris Chain. It was a giant fish that broke my line. I finished 61stat Harris Chain. If that fish was 6 pounds, I would have finished 31stin that tournament with her. And it was a lot bigger than 6 pounds.
"Let's just put that in perspective: had I caught that fish, I would have gone into the last tournament with a 94-point lead instead of a 64-point lead."
But, Rose says, "It all worked out."
---