Marina Fire on Lake Texoma Consumes 10-to-15 'Big' Boats
A big fire broke out on a Lake Texoma marina dock Wednesday morning destroying 10-to-15 boats, including some yachts. Several explosions were also reported at the disaster that occurred at Highport Marina.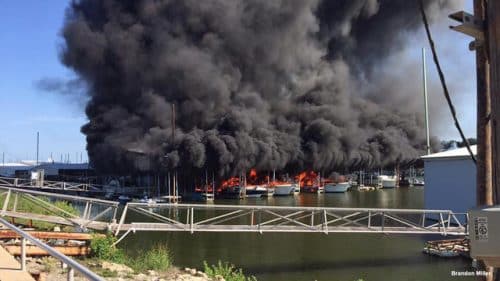 The Dallas-Fort Worth CBS affiliate reports:
POTTSBORO, Texas (CBSDFW.COM) – A fire and several explosions broke out at a marina on Lake Texoma Wednesday morning.
The fire, and subsequent explosions, started on U Dock at the Highport Marina in Pottsboro. Flames and thick, black smoke could be seen for miles.
Officials don't yet know how the fire started but flames spread from boat to boat. Witnesses said that a maintenance crew was working on a boat when it caught fire.
Texas Game Warden Capt. Steve Stapleton said there are 10 to 15 "large boats" on fire and every one of them will like burn into the water.
Stapleton said most of the boats are 'high-end' and some of them are yachts.
One woman who owns a detailing business in the area said, "I feel very helpless for sure… I feel very sorry for a lot of clients [and] boat owners for sure."
The Grayson County Fire Marshal is in charge of the investigation.
Officials said that up to 15 boats and a dock were destroyed. Boat owners said that the damage could top one million dollars.
A post on the marina's Facebook page said that no one was hurt in the incident.