Lucas Credits Humminbird and Minn Kota Technologies with Huge Role in Angler of the Year Title
Courtesy of Johnson Outdoors
A Bassmaster Elite Series Angler of the Year title does not come easy. A little bit of good fortune goes a long way. As does astute decision-making, a positive mental mindset, detailed game-planning and solid execution. And while 2018 Toyota Bassmaster Angler of the Year and Minn Kota/Humminbird Pro Team Member Justin Lucas will acknowledge the positive impact of all these on his season, he is quick to point to the power of Minn Kota and Humminbird technologies on his Phoenix bass boat and give credit to a good friend for getting the most out of those products.
"I've always felt very comfortable fishing shallow," explains Lucas, fresh off of closing out the 2018 season on Lake Chatuge. "But I never really felt like I could contend in every tournament because I just wasn't as strong in derbies that were won offshore."
"My friend Brandon Palaniuk was running Humminbird and Minn Kota and he was kind enough to let me hop in his boat and see how he used everything to be a more complete angler. After seeing how he used all the technologies together, I knew that if I wanted to compete in every single tournament including those where fishing productively offshore was critical, I needed to make the switch."
So, before the 2017 season, Lucas put four Humminbird SOLIX 12 units on his boat along with a Minn Kota Ultrex, Humminbird 360 and two 10-foot Minn Kota Talons. In 2018, he put it all to work.
"I can point to several Humminbird and Minn Kota technologies that I relied on at every single stop on the Elite Series in 2018. There is zero doubt in my mind that without them on my boat, I don't win the Angler of the Year title."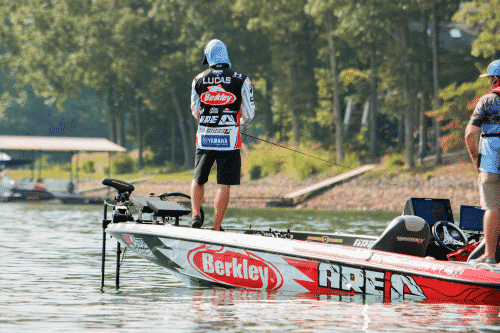 Staying Put
The two 10-foot Talons played a huge role on the Sabine River, Grand Lake and Kentucky Lake where staying firmly planted while flipping and picking apart shallow cover was a huge part of being productive. But Lucas was most impressed with the Talons' performance on Pool 8 of the Mississippi River where he fished his way to a Top 12 finish, working over main river jetties with a chatterbait and swim jig.
"The river was high, and the main river was ripping," explained Lucas. "I spent my tournament days in that heavy current and my 10-foot Talons kept me locked in place, so I could pick that structure apart with a few different baits."
Finding the Winning Fish
In tournaments where the bite was off the bank, that's where his Humminbird units and Minn Kota Ultrex really shined.
For Lucas, much of the preparation for a tournament happens before the boat hits the water as he uses LakeMaster mapping to break down a lake and find fish-holding areas.
"On Lake Martin, where I finished sixth, it was all about contours. I was looking for the steepest contours on short points. When I pulled up to a spot I found on my LakeMaster map, I didn't even spend time graphing. I put the trolling motor down and fished the juice. That's how much confidence I have in their maps."
Once he has an initial read on a body of water, Lucas relies on MEGA Imaging from Humminbird to really understand what's under the water. He calls that technology and its ability to clearly define bottom structure his most valuable tool in finding fish offshore.
"I had never been to Oahe, along with most of the Elite Series field. I know I maximized my practice time over those using competitive units. There is a lot of black sand and bare banks on that body of water, which translates to lots of water with no fish. But I set my Humminbird Side Imaging at 125-feet and looked for isolated rock or rock veins. With MEGA Imaging, there was never any question what I was looking at – I knew every little detail of every spot.
I'd punch in waypoints on that structure, then go back and fish it, using Humminbird 360 to keep myself about 100-feet off the spot and cast right to it. It was a deadly combination of effective search and productive fishing."
Efficiency in Fishing
Lucas considers Humminbird 360 a secret weapon for traveling anglers, tournament fishermen or anyone who is on a body of water that is not overly familiar to them.
"On your home body of water, you can line up the perfect cast. Position your boat on a spot and cast towards a landmark and you'll flat out catch them. We are on a new body of water every week with limited travel time. So, using Humminbird 360 to see exactly where you need to cast is incredibly helpful. It eliminates the need to have the perfect lineup using onshore cues."
While all these technologies played an important role in Lucas' big year, the one that had a starring role in virtually every tournament was Minn Kota's game-changing Spot-Lock technology found in his Ultrex trolling motor. No matter the conditions or the scenario, being able to hold his boat firmly in place and focus on fishing allowed him to be more efficient in practice and tournaments alike.
Reflecting on the 2018 season, Lucas affirms it was the combination of all these technologies that gave him a real shot at the title.
"I feel like the key to my AOY title was improving significantly at fishing off the bank. I firmly believe I'm twice the offshore fisherman I was two years ago, and I know the tools provided by Minn Kota and Humminbird were the difference maker.
"I have confidence in LakeMaster mapping and MEGA Imaging makes me feel like I know each spot intimately. Using that information and relying on Humminbird 360 and Spot-Lock to fish an area efficiently is the deadliest combination in fishing today."
While Lucas looks forward to 2019, he knows that the stiffest competition will likely come from pros running that same combination of product, even his good friend Brandon Palaniuk who turned him onto Humminbird and Minn Kota just a couple years ago.
"I've always been close with Justin and although we are competitive with each other, we also help one another out," said Palaniuk. "I knew he would benefit from using the same technologies I have been using. With back-to-back AOY titles between the two of us, I would say the advantage is clear. The only question is whose turn it will be next year."