Lowen Locks Down His First Elite Series Win Despite Changing Water Conditions on Pickwick Lake
Courtesy of Gunpowder
It can be difficult for amateur anglers to relate to the professionals fishing the Bassmaster Elite Series. But long-time Minn Kota® and Humminbird® Pro Team Member Bill Lowen is about as relatable as they get.
He fishes out of a bad-to-the-bone Xpress aluminum boat, approaches his profession with a blue-collar work ethic and is a true family man that travels the country with his wife and kids.
So it is fitting that Lowen claimed his first blue trophy at the Bassmaster Elite at Pickwick Lake, a tournament that required anglers to be on their toes in the face of ever-changing conditions. Using his years of tournament angling experience and expertise in fishing flowing waters—and fully leveraging his Humminbird and Minn Kota One-Boat Network™—Lowen was able to adapt and overcome to claim the win.
Upon arriving at Pickwick, the Elite Series anglers were quickly dealt a big curveball.
"When we got here the lake was down," said the Indiana-based Lowen. "And me being a shallow-water angler, it kind of threw me off because the best shallow cover was high and dry."
But Lowen was able to figure out a game plan fast on the first day of practice.
"I kind of figured out a way to catch some fish that I was really comfortable with on offshore grass," he said. "Then the big floods came in and kind of changed everything."
These floods, caused by major storms upriver, forced Bassmaster officials to postpone the tournament by two days. Upon his return to the water after the delay, Lowen was greeted by an entirely different body of water, which rose nearly six feet since the last time he had launched his boat.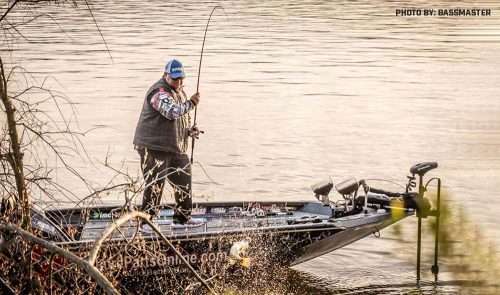 "When we got back out there, we were starting from scratch," Lowen said. "I had this gut feeling that the fish in my area would push to the banks for whatever cover they could get to get out of that current."
Lowen pointed to his water level offset feature on his Humminbird LakeMaster® charts on his HELIX®units as highly advantageous to navigating and fishing in the drastically changing conditions. He used this feature to adjust the depth of his map for the new pool level, which kept any guesswork out of the equation when it came to running or finding fishable water. This strategy paid off for Lowen on day one, as he ended up with a 21 pounds, 3 ounces, enough to put him in third place.
With day one in the books and a solid third-place position, Lowen headed into the second day looking to add to his weight and climb the ranks.
"The water was absolutely ripping on the first two days of the tournament," Lowen said. "These conditions can be frustrating because without the right technology, you'd spend more time repositioning the boat than fishing."
Alternating between his Minn Kota Ultrex™ trolling motor and his new Minn Kota Raptor™ shallow-water anchors, Lowen picked apart the wood and other structure along the flowing banks. With every fish catch or other break in the action, Lowen would quickly lock himself in place with Spot-lock™ or by using his Raptors with Active Anchoring™ technology to ensure that he wouldn't slide downstream.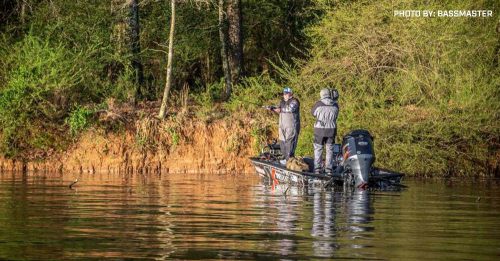 The second tournament day saw Lowen bring 23 pounds, 13 ounces to the weigh-in stand, moving him up one spot to second place behind his Minn Kota and Humminbird teammate, Koby Kreiger.
The third day of the tournament dealt more change. With the Tennessee Valley Authority rapidly dropping water levels, Lowen's go-to spots dried up.
Luckily, the competition struggled as well and Lowen's total of 17 pounds, 10 ounces was enough to move him into a tie with fellow Humminbird and Minn Kota teammate, Chad Pipkens for first place. It was on this day that Lowen's MEGA 360 Imaging® proved its worth by enabling him to find fish he wouldn't have otherwise.
"With the big change in water levels, I was looking to just find more spots that provided a current break for the fish. I was running MEGA 360 Imaging on a dedicated unit on my bow all day because it would often point out structure that I couldn't see with my eye.
At one point, I saw a laydown out there on 360 that I never knew was there," Lowen said. Bill flipped his 'Lowen Signature' jig out to that laydown and caught a solid +3lb keeper. "That fish helped me a ton and I never would have caught it without 360 and the quality of MEGA Imaging."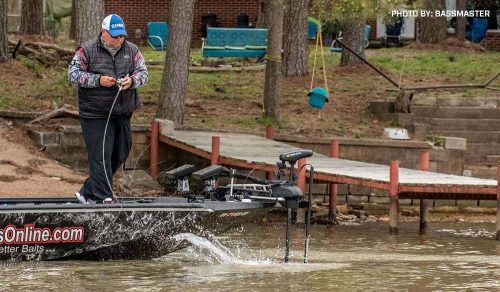 "A lot of the structure I was catching my fish on were actually dry, so I had to scratch my whole area and basically start over," Lowen said about the final day's challenges. "So, I looked at my Humminbird LakeMaster and found some key deeper spots adjacent to where I had been catching them. Fortunately, I caught my limit and caught a giant fish off of a dock."
The tournament's dynamic conditions put Lowen in position to win, given his experience fishing rivers with changing conditions and utilizing his entire arsenal of Humminbird and Minn Kota products.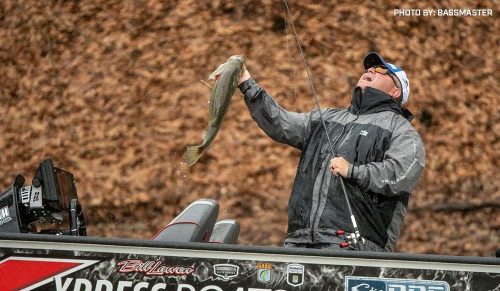 "I think everything in my boat played a role this week. The river had a tremendous amount of current in it," Lowen said.
Lowen emphasized the importance of staying in place as the water rushed around the boat using his Raptor shallow water anchor.
"My first impressions of Raptor have been truly amazing," Lowen added. "No matter the bottom or conditions, they lock down and adjust to the changing conditions. I've just never had anything that has that kind of holding power."
Additionally, the Spot-Lock™ GPS Anchor on Lowen's Minn Kota Ultrex trolling motor proved invaluable to him in the strong current.
"With that current ripping, when I'd catch one I could just Spot-lock down and stay right there. When I got done putting fish down in the livewell, I'd be in the same spot—not be half a mile down the river.
"They say when it's your time to win everything works out, and it definitely did this week."
Humminbird and Minn Kota pro anglers had additional success at the Bassmaster Elite competition with Brandon Palanuik and Chad Pipkens both finishing in the Top 10 and Koby Kreiger just missing the final day cut line.
Palanuik and Pipkens were also forced to make their own adaptations to the unexpected water levels. Palaniuk's MEGA 360 enabled him to find sweet spots on the fly in areas he wasn't familiar with.
"As the water rose and the fish repositioned, it was key for me to be able to find new underwater targets that would block the current for the fish, so I went to the areas that I had located fish in practice and then used my MEGA 360 to identify any current breaks that were closest to those areas. Being able to make pinpoint casts was critical to be able to present your bait as natural as possible in that strong current," Palaniuk said.
Chad Pipkens also relied heavily on MEGA 360 Imaging, Spot-Lock and LakeMaster for his more methodical approach to casting.
A key thing for me was getting into the area and really slowing down and picking things apart," Pipkens said. "There were two current seams that I focused on and maybe four to five specific clumps of grass within those seams where I really caught over 90 percent of my fish.
I could see those clumps on my MEGA 360 Imaging, and I would line up and literally say 'this is the deal, this is the spot' and I would Spot-lock and make multiple casts every 2-3 feet from left to right just to make sure I got 5-10 casts in that little bed of grass and then I would kind of move up."
"The Humminbird LakeMaster charts were another key thing for me. Those charts showed ditches and turns better than anything—it just helps you identify where to focus your time when you're grass fishing, you know, there's so much grass and so many ditches. You can look at the LakeMaster and it will let you know where you should be starting."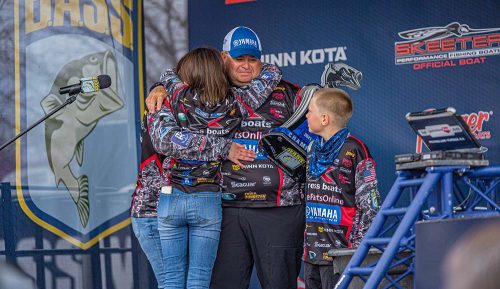 With the Bassmaster Elite Series heading into its fourth regular-season event of 2021, the Minn Kota and Humminbird Pro Team Members already have two big wins on the Elite Series to their credit.
Both victories demonstrate how anglers can still dominate—even in adverse conditions—with the confidence boost that comes from knowing their boat is rigged with the best equipment available.