Lew's & Strike King Proud to Offer Freshman Scholarships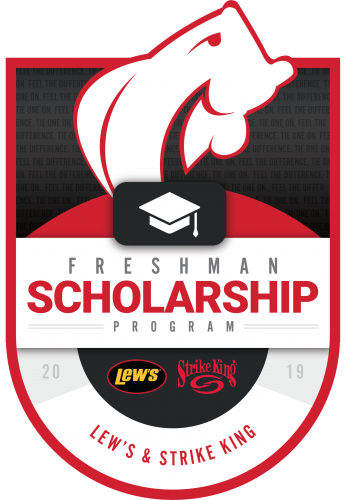 Lexington, S.C. (January 18, 2021) –
Supporting youth and the future of our sport has been at the core of our brands since their inception. This effort has been supported in many fashions throughout our history. The most notable is the highly successful Mach High School Program, which has enabled Lew's to support many high school bass clubs across the country. In addition, Strike King is, and has always been, a proud sponsor of numerous high school and college fishing teams and events.
To ensure success of this mission, the Lew's & Strike King brands will continue to use a fully functional Field Activation Team that heads up our nationwide efforts to support and equip youth anglers. These efforts have helped us lay the foundation for one of our most exciting developments to date. To further support our youth anglers and thank them for carrying the love and passion for fishing, we are excited to bring back the Lew's & Strike King Freshman Scholarship Program for 2021! "We acknowledge and embrace our youth as the future of fishing. We proudly accept the opportunity to help them carry on this tradition that so many of us count as a passion in our own lives and families.
Our organization is honored to invest in our youth through this program and feel like it is our obligation to ensurethat just as it was passed down to us, the love of fishing is passed on to future generations."commentsRocky Kalsow, N.A. Presidentof Rather Outdoors. The Lew's & Strike King Freshman Scholarship Program is designed for graduating High School seniorswho will be advancing their secondary education at an accredited two or four-year institution.
There is no stipulation on the field of study and those planning on attending Technical schools are welcome to apply as well as conventional Colleges and Universities. Lew's & Strike King will fund up to five scholarships with a $5,000 maximum contribution for each recipient. Those interested must complete theapplication which is available on the Lew's website. We are proudly partnering with the Future FishermanFoundation in the screening and processing of all applications. More information and the actual application can be found on www.lews.com.