Lake Hartwell To Host World's Top Amateur Anglers At B.A.S.S. Nation Championship
Posted On October 12, 2017
---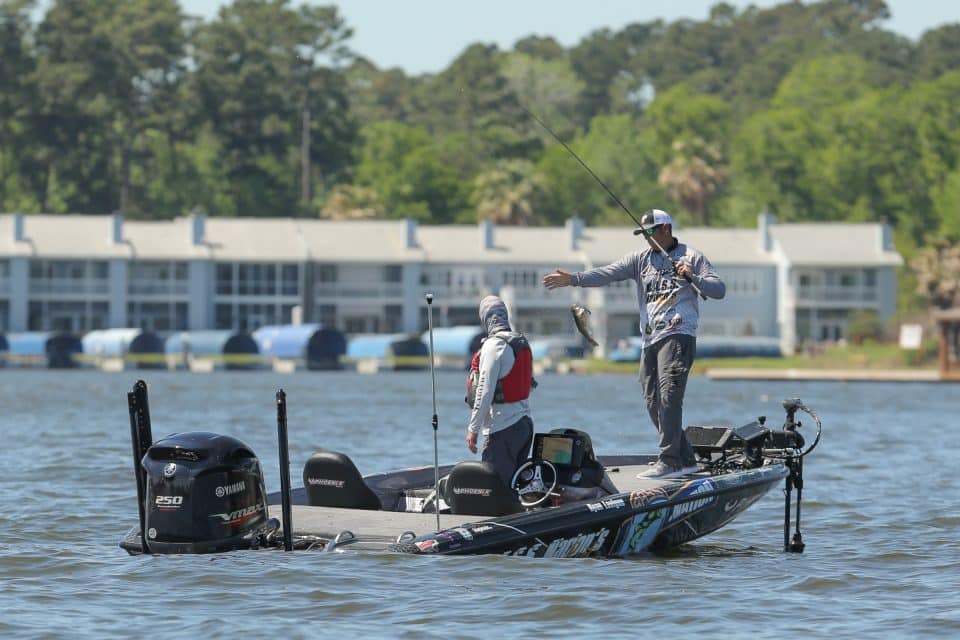 Ryan Lavigne of Gonzales, La., won the Academy Sports + Outdoors B.A.S.S. Nation Championship presented by Magellan Outdoors last year on Lake Conroe with 58 pounds, 3 ounces. He'll be back this year to defend his title on South Carolina's Lake Hartwell Oct. 19-21.
Photo by Seigo Saito/B.A.S.S.
Oct. 12, 2017

ANDERSON, S.C. — Amateur bass anglers from the U.S. and nine foreign nations will compete next week on Lake Hartwell in a tournament that will be the ultimate test of their fishing skills.

The event is the Academy Sports + Outdoors B.A.S.S. Nation Championship presented by Magellan Outdoors. The competition is Oct. 19-21 with the tournament based in Anderson, S.C.

What began as an American sport has grown globally through the B.A.S.S. membership, and specifically through the club network known as the B.A.S.S. Nation. The qualifiers advanced through local, state and regional club tournaments to reach the championship.

Joining anglers from 47 states are those from Mexico, Japan, Australia, Portugal, Italy, Zimbabwe, Namibia, the province of Ontario and the Republic of South Africa.

Also on the qualifier list is the Paralyzed Veterans of America champion and defending championship winner Ryan Lavigne of Gonzales, La. The Ascension Area Anglers club member scouted the tournament fishery just prior to the official off-limits period that began in mid-September.

What Lavigne found could make this tournament a truly competitive event. Under normal autumn conditions the lake's abundant population of spotted bass begins to form schools and feed on baitfish in shallow water. Bass concentrated in the creeks are much easier to locate and catch.

So far, unseasonably warm weather has prevented that initial migration of spotted bass from the main lake. During summer, the bass stay in deep water and are challenging to locate.

Lavigne said the spotted bass he found were somewhere in between the deep- and shallow-water areas.

"I didn't make many casts and instead spent most of the time riding around looking for good areas," he said. "I only stopped a few times to find out what size spotted bass were in the schools."

The results were somewhat disappointing for Lavigne. He caught plenty of bass but not of the size to put him into contention to win.

"It could be very hit and miss," he continued. "It might take a lot of running around to bring back a quality limit of spotted bass."

Deep reservoirs like Hartwell are far away from Louisiana, where most of the bass fishing happens in shallow rivers, bayous and saltwater estuaries. Call Lavigne a hybrid of Cajun bass anglers. He likes fishing for bass in deep water and mastered the skill through his travels to B.A.S.S. Nation regional events.

"It will take a cold snap to get the fish moving because the water temperature was too warm during my trip," he added. "But I do like fishing offshore and in deeper water more than anything else."

The long-term weather forecast predicts daytime high temperatures in the mid-70s and nighttime lows in the 50s. That's about 15 degrees cooler than current highs and lows.

The Top 3 anglers from the championship advance to the 2018 GEICO Bassmaster Classic presented by DICK'S Sporting Goods. The Classic is March 16-18 on Lake Hartwell.

The Top 3 anglers also earn paid entry fees in the division of their choosing for the Bass Pro Shops Bassmaster Opens, and use of a B.A.S.S. Nation's Best Phoenix Boat package for one year.

The winner also receives the Bryan V. Kerchal Memorial Trophy. A Skeeter ZX200 rigged with Yamaha SHO 200 outboard, Minn Kota trolling motor and Lowrance electronics are part of the prize package. The winner also receives a berth in the 2018 Bassmaster Elite Series, with $16,000 paid toward the entries.

The runner-up receives a Skeeter TZX190 and Yamaha SHO 150, rigged with the same accessories as the winner's boat. The nonboater champion receives a Skeeter TZX190 package rigged with those same accessories, paid entries in an Opens division, and a Classic Marshal spot.

A Triton 189 TRX, Yamaha VF150LA and Triton standard equipment will go to the third-place angler.

Daily launch and takeoff time is 7:30 a.m. ET. The weigh-in begins at 3:45 p.m. Both events will be held at Green Pond Landing and Event Center in Anderson.

Bassmaster.com will provide extensive coverage of the tournament to include daily stories, videos and photo galleries.

The event will be hosted by Visit Anderson.
---