Kennedy – Was Motivated to Win
---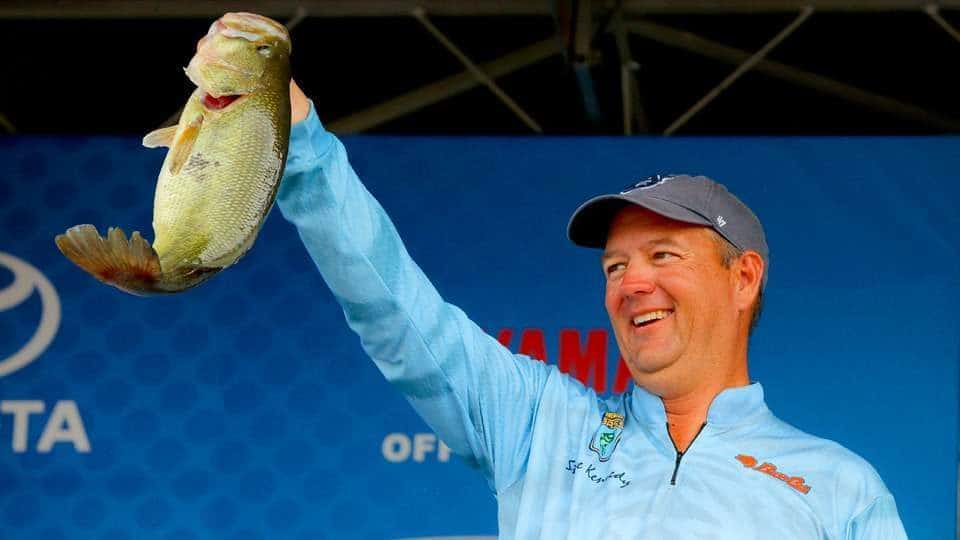 Story by Vance McCullough / Photo Credit BASS/James Overstreet
Steve Kennedy nearly won the 2017 Bassmaster Classic on Lake Conroe. Failure to do so sparked a bit of a fire under the veteran pro who, over the years, had won a pair tourneys on the FLW Tour and a couple more on the Elite Series.
"I won't say it gave me any momentum because at the last two tournaments I didn't do all that well, but I've been motivated to win," said Kennedy.
"I felt like I blew it at the Classic, big time the first day, and it hurt to get beat from behind as well as I did on the final day for sure. It's certainly motivation. Being 72nd in points was motivation to maybe get out there and practice more than I normally would."
There's a good reason Kennedy hasn't practiced as much or as long as he'd like. After winning the Elite Series tourney on Lake Dardanelle on Monday, he revealed that he has been battling a thyroid issue for 2 or 3 years. More on that in a bit.
As for his win, it was all about the area.
"I'm still shocked that nobody else was there."
Sheer distance kept most guys from finding it. "It was a good 50-something miles from the ramp. You had to be committed just to get up there. I don't how many of our guys even got close to it."
Kennedy found a sand pit pond that became connected to the main river because the water level on the upper end of the lake was 10-to-12 feet higher than normal. He floated his boat where back hoes and trucks belong. The narrow entrance was well hidden.
In the last 20 minutes of the last practice day he shook off what felt like 2 solid fish in the pit's willow bushes.
Kennedy did not commit to the pond until midway through the first competition day when his Plan A spot fizzled. It had given him 3 keepers. He needed 2 more and he knew where they lived.
"I figured I'd run up there, catch those 2 and figure out what to do from there. I got up there and just about every pitch was a two-and-a-half to three-and-a-half-pounder. It seemed like every time I pitched it in there it went 'thump'."
The pond was a half-mile long and featured depths to 30 feet surrounded by overhanging, vine-tangled trees and, in the center of the pit, a small stand of mostly-submerged willows that grew along a high spot in a road bed.
That was the sweet spot.
Kennedy managed his fish well, never spending more than half of a day in the pond until the final round when he knew he needed a big bite to make a move on leader Mark Davis. "I was debating whether to go fish my other stuff or not. Luckily I didn't because I caught that giant late in the day off all by itself. That was the difference maker, no doubt about it."
The big bass 'doing its own thing'. "Most of my fish came off willows. All my big fish had come from back on the other end of the pond, almost a half mile away. But this one wasn't in a tree. It was on a blunt, rounded, nothing point. There was no wood there, no willows.
"I was already looking for the next tree to flip to and I'm like 'where did my bait go? Something's not right'. Then I remember seeing it swimming out to the side. And I was shocked the fish was as big as it was."
Flash flood warnings woke the Russellville, AR region at 2:30 AM the morning of the final day. Rising water scattered fish toward the bank and away from the offshore spots that had been the centerpieces of most pros game plans.
To look at Kennedy's sand pit as a microcosm of Lake Dardanelle, it is easy to understand why he only caught 1 keeper the final day off of what had been his key spot in the pond. He reported that most of his final day bites came from stuff that he described as "not key spots". It seems that fish in the pond had scattered with the rising water.
A brush hog, a beaver and a frog played supporting roles but the big bass came on the jig – a white one during the morning shad spawn and a green pumpkin model during the afternoon.
The weight of the jigs, ¾ oz., was critical for generating the fast rate of fall that triggered bites.
Kennedy used 7'6" heavy action out-of-production Kistler rods and old Shimano Curado reels loaded with 65-lb. braid to which he tethered a 25-lb. fluoro leader. He uses the FG knot to join the two lines and says it has made a huge difference.
"Two years ago I wasn't doing that. If I had all the fish back that I have broken off over the years I'd be a rich man. Now I don't worry about breaking off."
Equipment aside, it was the specific technique – what he did with the lure – that made the difference for Kennedy. He calls it the Crazy Ivan. He chuckles in typical Steve Kennedy fashion as he explains. "VanDam is the best because he's learned how to make them react. It's all about making those fish react. In the movie 'The Hunt For Red October' they do a maneuver called the Crazy Ivan where, if they've got somebody following them, at a certain time they're going to turn to one side to see what's following them and whatever's behind them has either got to give up its position or not.
"So when I'm swimming that jig up high and fast that fish is tracking that bait down there deep underneath the bait. He's not necessarily going to come up there and eat it as fast as its going along, but when you kill it, it changes direction right in the fish's face and he's either got to open his mouth or give up his position – give up any chance of eating it."
A guy almost has to have a piece of water to himself in order to win an Elite Series tournament. Fishing behind others is bad enough. Even with the solitude he enjoyed this week Kennedy noted that he still had to mop up behind a strong Elite Series pro – himself.
'It's extremely hard to fish behind yourself.
"Had somebody else come in there they would have seen it differently, keyed on different stuff. I tried to manage them the first couple of days but I burned them pretty good. It is extremely hard to go back through an area that you've already fished with the same bait and expect to catch fish that didn't bite it the first time."
Kennedy said that a change in color or lure speed may help an angler pick up fish they missed the first time through. But even as we talked, as he rode home with his wife, Julia and the kids and the trophy – rode home a champion – he continued to brainstorm the things he should have done. "I flipped a black and blue beaver but I never did flip a black and blue jig.
"I should have gone through there with a black and blue jig just to see. It may only be one fish but it could be a 5-pounder. I could have thrown a Senko. There's more fish there than what I caught."
About Kennedy's medical condition, after the weigh in he figured it was time to talk about it publicly. "Everybody was asking me 'how does it feels to win?' and to put that into perspective I felt like I needed to share what I've been going through for the last two or three years. What I have is called a Hurthle Cell Adenoma."
Medical web site KnowCancer.com says this about the condition: "Like all adenomas, Hurthle cell adenomas are benign, but they have the potential to become carcinomas, which are malignant."
Kennedy says, "What I have may or may not cause me trouble going forward. It's not like I'm going through any chemo or any of that. The big struggle for me has been, we only took about half my thyroid and 90% of the people who do that don't have to take anything to replace their hormones. I am having to take thyroid replacement hormones which is not an exact science.
"I didn't take a pill for 6 months after surgery which had a huge impact on me. I knew something was wrong. I go 6 months and they reassess me; go another 6 months and they reassess me, so at this point I feel like we're pretty close. We're probably going to do another adjustment next week.
"But at this point at least I don't feel like I have to take a nap at 2 o'clock in the afternoon.
"And before I had surgery, I had the reputation for not practicing as much. I always talked about not wanting to wear myself out, getting enough rest, I was probably not keeping up before that. My numbers were in the low normal range. And I'm still having some issues that make me think something's not right."
At least for a week on a fickle Lake Dardanelle that confounded 108 other of the world's best bass pros, everything was right for Steve Kennedy.
---