Kayak Bass Fishing – Honing In on the Right Kayak
By Danny Blandford
In my research on kayak selection, I had the opportunity to catch up with another Old Town kayak pro, Casey Reed, of Virginia.  Casey, like me, had started kayak bass fishing in a sit-in fishing "style" kayak he picked up at big box store.  Also like in my experience, it left a lot to be desired.  The difference was Casey went to work on improving his setup with a DIY approach and got hooked on kayaks and the sport of kayak bass fishing.  With close to a decade of experience under his belt, some of which included tournament directing, I'd landed on a wealth of knowledge for the project.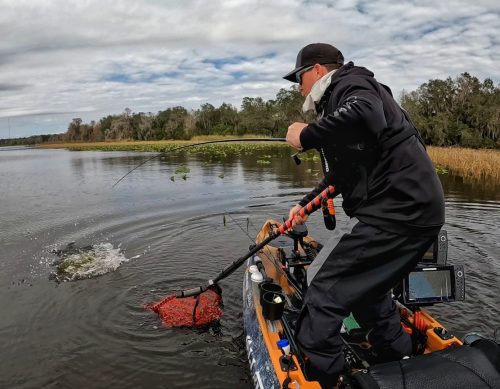 Personally, I'm not ready to go "all in"…so I got the details on basics, but I took the opportunity to learn about a "professional" rig as well.
I started my questioning with my first hang-up…electric or pedal?  I know I don't want to deal with the paddles all the time, so it has to be one or the other; that much I'm sure of.  Casey has the Old Town Autopilot 136, just like the one in my previous interview with Anthony Garcia.  Both anglers swear by the benefits of Autopilot, but Casey offered up a great tip.
"You can always start with a pedal drive and then add a bow mount trolling motor in the future…lots of guys go that route and they end up with the best of both worlds."  Now that was something that made sense to me – start out as a peddler and "if" I need to do something different in the future, I've got options.  Casey went on to add, "Today's kayaks are strong and durable and there are lots of options for mounting with backing plates, and nut and washer set-ups that make for solid connections should you want to add an electric motor later."
Apparently adding a bow-mount trolling motor "later" is a thing and a quick internet search and I find all kinds of examples, so that is a win for me.  I love to have options and I hadn't given any consideration to that kind of setup.  I'm a Minn Kota guy and they have several options that would work well with a little rigging.
We got into electronics and the story was the same.  You don't "need" any, but you can have about anything you want.  To make that point, I introduce Casey's rig.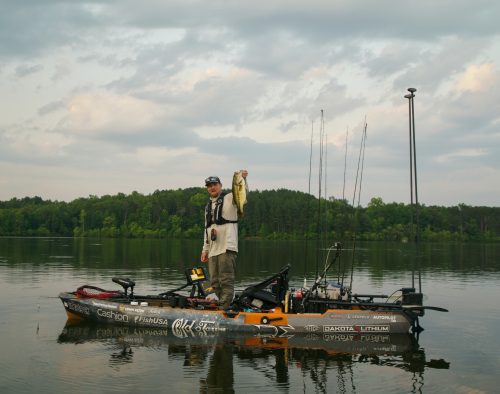 Minn Kota Autopilot trolling motor
2 Power Pole Micros
135 amp/hr lithium trolling motor battery
(4) 23 amp/hr lithium for electronics
Oh…and a backup paddle!
Talk about loaded up…wow.  Casey and I crunched some quick numbers and we came up with a tournament load of about 300 "ish" pounds including him and his gear.  The boat is rated for up to a "usable weight" of 502 lbs, so he could still carry more.  He pointed out that with scupper plugs and one-way valves, he stays dry and comfortable all day, and has no problem fishing sitting or standing, which is a huge must for me.  Being able to stand up and pitch and flip to shoreline cover has been one of the biggest motivators in this search and the
With a rig like that, a trailer is a must for Casey, he was quick to add, "After a 12-hour day on the water, the last thing I want to do is wrestle my kayak.  I load it onto my trailer and pull it with a Honda Passport.  Fishing three national trails, I cover some miles at this point in my career, but it didn't start that way.  As a matter of fact, when I first got into kayak fishing, a Toyota Camry was my official tow vehicle."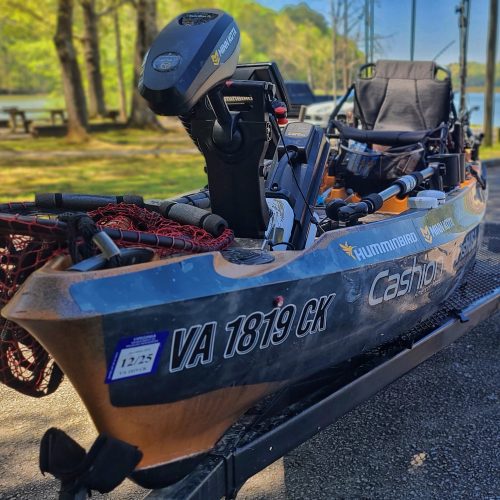 Personally, for me, I'm thinking most of my fishing will be done within miles of the house and probably won't be twelve-hour trips, so I'm most likely to wrestle, not trailer.  I think the truck bed will be a fine first hauler for the time being.
As far as the kayak, I'm definitely honing in on the right choice.  I think a 12-footer would fit my needs and I want to peddle, not paddle, and I want to be able to go electric at some point.  The Old Town 120 series is where I need to be and there are a few models to think through, but a couple of interviews have led me to a can't lose decision.   I have to give a big shout-out to the Old Town Team for helping me navigate the process!
With a little luck, I'll have some kayak fish pics as a follow-up soon!