John Garrett and Jacob Foutz preview College Championship
---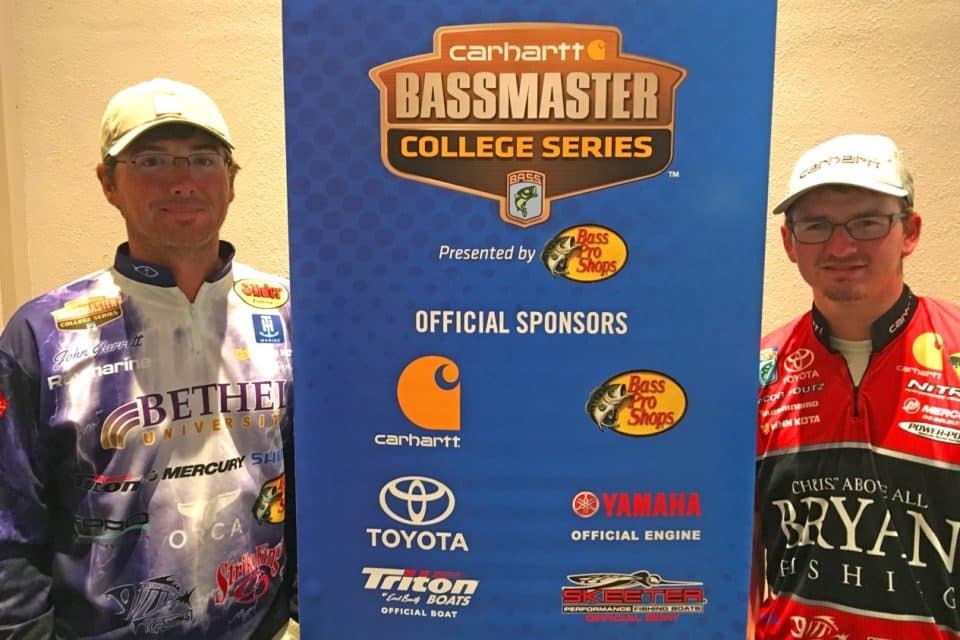 Courtesy of Alan McGuckin
John Garrett and Jacob Foutz both know the thrill of qualifying for the Bassmaster Classic through the college ranks, and they're both at Lake Tenkiller in Eastern Oklahoma's sweltering heat this week working hard for the chance to go back to the Classic by performing well at the Carhartt Bassmaster College Series National Championship presented by Bass Pro Shops.
They graciously took time to answer a few questions on the eve of Day 1 of competition that begins early Thursday morning.
Q:Water surface temps are 90 degrees; will this tournament be won in more or less than 20 feet of water?
Garrett:I'll say less than 20 feet.
Foutz:Less than 20 feet.
Q: Name three lures that will be popular among the 136 teams competing on Lake Tenkiller this week.
Garrett:Topwater walking lure, Carolina Rig, and a football jig.
Foutz:Shaky Head, football jig, and a deep crankbait like a Strike King 6XD
Q: How much weight will a team need to average each day to make the Top 12 cut on the final day? 
Garrett:9 pounds per day
Foutz: 10 pounds per day
Q: What do you like best about Lake Tenkiller?
Garrett:I know there a lot of quality fish that live here, even though I've only caught five keepers in 3 days of practice.
Foutz:Diversity of habitat and water color, you can fish anything from dingy water up the river, to really clear water by the dam, and there's everything from rocky shorelines to tons of brushpiles to cast to.
Q: What's the best thing about participating in the Carhartt Bassmaster College Series? 
Garrett:Friends, fellowship, and all the good times we share.
Foutz:All the cool people, and all the friends you make with other college anglers.
---