Jade Keeton and Adam Brown Win ABT 100 on Neely Henry with 17.23 
By Jason Duran
The second stop of three Alabama Bass Trail 100 tournaments made its way to Neely Henry Lake where one hundred teams competed for a total payout of $100,000. A smaller field than the normal ABT allows teams to spread out a little more and often find areas where other teams aren't fishing. Add a bigger pay day, and it makes for an exciting day of bass fishing.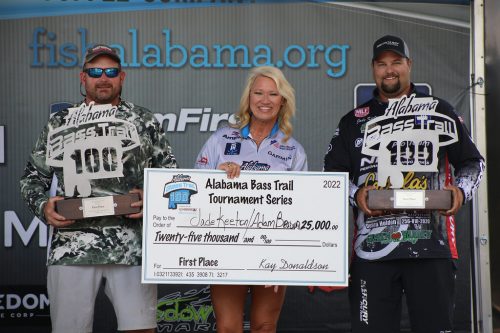 Jade Keeton and Adam Brown caught 17.23 pounds but were unsure if that was enough to win until the scales closed on Saturday. Adam "has fished this lake for 30 years and placed second way more than first. When you get in that 17-pound range, it's kind of tricky because somebody will usually come in with 20 pounds." The team made a run of a little over an hour to fish an area called the dead river. This area of the lake is shallow and difficult to navigate, and the lake level dropped some overnight making it even more difficult to access the areas the team wanted to fish.  Adam "probably wouldn't have even risked it today if it wasn't for a tournament of this caliber. That area is difficult to get to and things can change, and you might not get back out once you get in there." The team used a tunnel hull boat that Adam has been tweaking on for a couple years.
After making the run, they quickly went to work "catching several early and a limit in about an hour and a half of 11-12 pounds. Then we had a lull of about an hour and discussed leaving but made the decision to stay. We felt like if we left the area, we would only just run in to other boat traffic. We had more water to ourselves in this area and quality fish; we just needed to catch them. We decided to stay and around 11:30 we had two culls back-to-back that helped us. We also lost a couple that would have made that hour and a half ride back easier; we really needed to cull out a 2-pounder." They took a team approach to bait selection and used baits that complemented their style of fishing. Adam used a "Stan Sloan spinner bait in chartreuse and white with a modified arm and a Colorado blade and a #5 willow blade. Jade used a "Scotty Johnston ¼ oz swim jig in black and blue." They took the risk of making the long run to skinny water, and it made the difference! They cashed a $25,000 check for their work.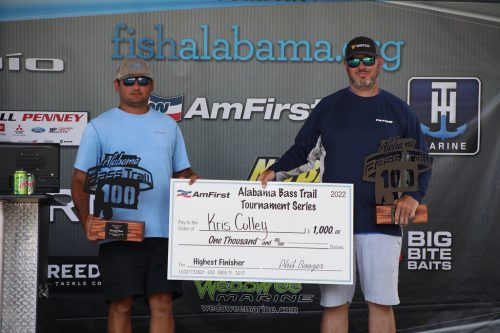 The second-place team of Kris Colley and Adam Bain spent about a day and a half practicing and said, "we just came here to fish this weekend. It was basically just the normal Neely Henry pattern for us." They spent the day "swimming a custom-made LC Swim Jig with the key being to cover shallow water areas and spend the day basically junk fishing. There wasn't any rhyme or reason to where we caught our fish; we just caught them wherever we ran across one. We probably fished 30 different areas and caught 12 -15 fish throughout the day. We were surprised we didn't really catch fish first thing in the morning when we have normally been catching them."  Kris and Adam have fished the ABT in both the north and south divisions, so when the opportunity for the ABT 100 came along, they figured why not just fish this one too. They cashed a 12.500 ABT 100 payday and added a few bonuses including a $500 Garmin Bonus and a $1000 AmFirst Bonus. Their final weight was 16.68 pounds.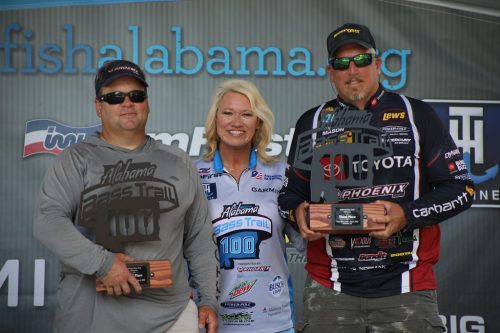 David Pair and Jimmy Mason claimed third place with 16.29 and $10,000. "Practice for us was tough and eliminated a lot of water. We had a couple decent periods of fish catching learning the end of the day was a little better than the morning yesterday.  Today, we started out upriver then moved down river. Most of our fish were caught swimming a Jig. We ended up catching a few swimming a jig around the grass, but most of them came from swimming a jig around the docks that had the most Mayflies around them. There was a Mayfly hatch everywhere, so a lot of them were around the docks. The water depth was less than five feet, and we noticed when we would swim the jig around the docks, we would bump laydowns and bunches of bluegills would come up. We started out swimming a BOOYAH Mobster Swim Jig in white but didn't get very many bites on it. When we made the switch to the black and blue jig and green pumpkin jig, that made the difference for us. We matched up with a YUM Spine Craw Trailer." The team is really looking forward to the final stop at Pickwick Lake and expect there to be some really good fishing the final event.
For a complete list of standings please visit:
https://www.alabamabasstrail100.org/neely-henry-lake-results/
Download and listen to the ABT Podcast on your favorite Podcast app by searching for "Alabama Bass Trail Podcast."  The Podcast is released each week on Tuesday.