Introducing the New Ultrex QUEST: a Trolling Motor Built for the Harshest Environments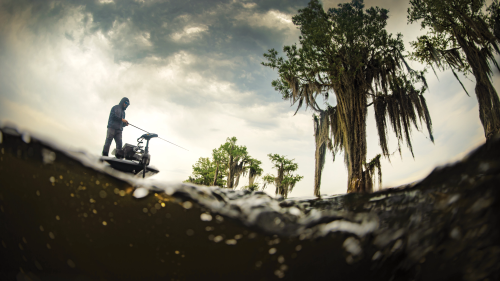 Ultrex QUEST gives anglers everything they love about Ultrex with an updated brushless design to tackle the most punishing conditions
RACINE, Wis. (June 28, 2023) – Fishing's most trusted trolling motor has been reimagined to help anglers get out earlier, stay out later and fish in places others can't. The new QUEST series of dual 24 or 36 volt brushless trolling motors was designed for anglers who demand the best from their equipment – even in the harshest environments. With a programmable foot pedal, re-engineered motor and mount, more advanced GPS functionality than ever and even an eco mode to extend battery life, the new Ultrex was specifically designed for bass anglers and the areas they fish.
The Ultrex line features both traditional brushed options as well as the upgraded QUEST variations. Every new Ultrex model features an updated and integrated GPS-enabled navigation system which is fully compatible with Humminbird fish finders without the need for additional steps or cables. The change simplifies the product line and allows for Humminbird connectivity right out of the box. Anglers who opt for a QUEST model will benefit from the added torque and runtime of the new brushless technology platform as well.
New Features for All Ultrex Models:
NEW Enhanced GPS Suite Including Drift Mode to allow anglers to spend more time fishing and less time on boat control
o Drift Mode: combats current and wind by automatically adjusting speed and direction to keep the boat on a true drift. Drift Mode acts as a gps drift sock eliminating the need for cumbersome ropes or shallow water anchor paddles
Out of the Box connection to Humminbird via the One-Boat Network by including all necessary adapters required for networking without additional need for setup
One App for Everything – the One-Boat Network App can control everything on the boat from the trolling motor and shallow water anchors to the Humminbird head units
Enhanced Built-in 2D Sonar with Dual Spectrum CHIRP adds Humminbird's unrivaled sonar clarity to every Minn Kota motor
Minn Kota Ultrex QUEST
QUEST models of Ultrex include all of the same updates as brushed options with the addition of an all new technology platform – QUEST. These dual 24 or 36 volt brushless motors boast 30% longer runtime on a given charge and up to 50% greater torque.* QUEST gives anglers everything they love about Ultrex with a more robust and powerful brushless motor capable of enduring the most punishing environments.
New Features for Ultrex QUEST Models:
Dual 24 or 36 volt Brushless Motor with up to 30% longer runtime and 50% greater torque*
o Up to 30% longer runtime on a single charge provides anglers more time on the water
o Up to 50% greater torque means more precise control in wind and waves and the ability to shed weeds more effectively
Redesigned and Upgraded Mount to accommodate the additional thrust and torque of the lower unit
Carbon Fiber Infused Shaft for enhanced durability while maintaining flexibility to protect the bow of an angler's boat
Peak Performance and Efficiency from Updated Propellors which maximize torque throughout the speed range
New lift-assist assembly to make getting the motor in and out of the water effortless
Real-Time Battery Monitoring System lets anglers know time until empty at a given speed setting and prompts users to enter a power saving eco mode when batteries reach 20% charge
No Loss of Power: constant power throughout the day with no drop in motor performance as battery voltage decreases over the length of a fishing day
One-Boat Network Programmable Button: customized presets to include stow and deploy Minn Kota shallow water anchors, mark a waypoint, or engage autopilot
MSRP for brushed models: $2999.99-$3499.99
MSRP for QUEST Models: $3699.99-$4199.99
Available: July 1
*Compared to 24 volt brushed motor at maximum speed setting