Introducing SPRO® Outsider Crankbaits – A New Concept in Crankbait Design
Kennesaw, GA The aim for creating the new SPRO® Outsider Crankbaits was simple. Design a bait that is easier to cast and has a more responsive action. Three designers put their heads together and achieved this goal, creating Outsider Crankbaits—one with its weight on the outside. The new family of Outsiders covers shallow to deep water and everything in between.  
John Crews, Chris Johnston and Cory Johnston were the innovators behind this new concept. They asked themselves, "What happens if we move the bait's weight to the outside? Does it change how it performs?" The three anglers/designers found out it greatly impacted how the crankbait's action responded in the water, and as a bonus, it was much easier to cast! 
SPRO's Outsider Crankbaits are a new concept in diving crankbaits. By shifting the weight to the outside, the Outsider is easier to cast with more responsive action in the water – design traits that allow anglers to cover more water and catch more fish. 
The Outsider is available in three sizes covering different water depths and targeting fish no matter where they lurk. The SR 55 is a ⅜ oz., square-bill, shallow running bait for 3 to 4 feet of water. The MR 60 is slightly bigger (60 mm) and heavier (5/8 oz.) for medium running from 7 to 9 feet. The DD 80 is the biggest Outsider tuned for fishing in 19 to 21 feet. The DD 80's 1.25 oz. weight and larger size allow the crankbait to dive quickly and easily cruise the depths. Outsider Crankbaits also include premium Gamakatsu hooks for ready-to-fish convenience right out of the package. 
Outsider Crankbaits Features:
3 Sizes: Shallow, Medium, Deep Diver
Designed by John Crews, Chris Johnston and Cory Johnston
Shifting the weight to the outside for easier casting and more responsive action
Square bill

 
SR 55 Specs:
Shallow running

 

Depth: 3-4 ft.
Size: 55 mm
Weight: 3/8 oz.
MSRP: $19.99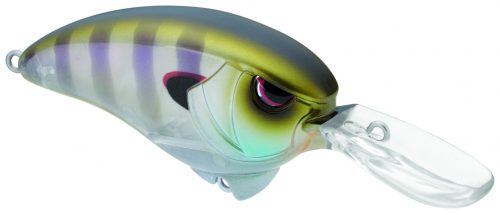 MR 60 Specs:
Medium running
Depth: 7- 9 ft.
Size: 60 mm
Weight: 5/8 oz.
MSRP: $18.99

DD 80 Specs:
Deep Diver
Depth: 19 – 21 ft
Size: 80 mm
Weight: 1.25 oz
MSRP: $25.99