Insider Report: Big, Migrating Bucketmouths Await Txtt Anglers At Toledo Bend This Weekend!
INSIDER REPORT:
Big, migrating bucketmouths await TXTT anglers at Toledo Bend

by Brett Carlson
MANY, La. – After a record 350-boat field at the 2016 season opener on Sam Rayburn, the Texas Team Trail, presented by Cabela's, heads to Toledo Bend for stop No. 2. While the catch at Rayburn was impressive, the bass fishing is expected to be even better at Toledo Bend as the largemouths continue their annual migration towards shallow water. Toledo Bend, a 185,000- acre Sabine River reservoir, was once known as simply a good numbers lake. Thanks to the stocking of Florida-strain largemouths, it's now considered one of the best fisheries in the country with double-digit bass being caught regularly. To claim the lucrative boat-motor package, the winning team will need some serious weight.
Ranger-Mercury-Lucas Oil pro Stephen Johnston guides regularly on Toledo Bend and is fresh off a 10th-place finish at Sam Rayburn. While he loves Rayburn, he said there is no doubt that Toledo Bend is presently the premier bass fishery in the state of Texas.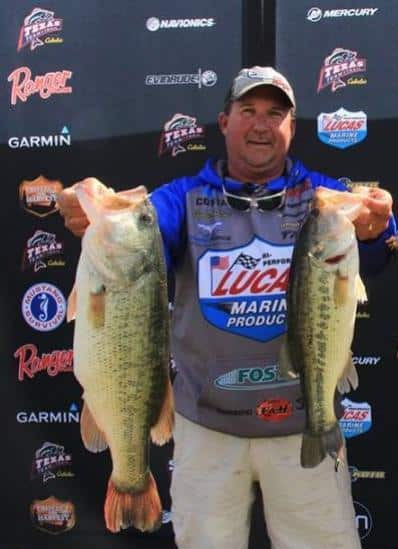 Lucas Oil Pro Stephen Johnston expects it will take at least 30 pounds to win at Toledo Bend. The lake is presently the premier bass fishery in the state of Texas.
"The number of 8- to 11-pounders showing up is incredible; it's just scary," said Johnston, who fishes with his stepson Danny Iles. "It's realistic that a team can catch an 8, a 9, a 10 and then put a couple 4s with it. I've been guiding on this lake since 1989 and this is just about the best it has ever been. You can catch 30 pounds just about anywhere you put your boat in."
On January 19, Johnston hooked up with one of those Florida-strain giants. His fish weighed a whopping 12.2 pounds and at the time was the biggest bass of the year on Toledo Bend. But on Feb. 2, Louisiana angler Louis Slaughter Sr. caught a 13.15-pound monster.
"The only concerning deal is that we do not have any hydrilla at all," Johnston explained. "All the hydrilla died when we got those huge rains in April and May. The sun just couldn't get to the hydrilla and it just died. And that has really changed some stuff up."
Johnston said the water level remains high and water temperatures remain in the mid-50s.
"The bushes have 4 feet of water in them. The hay grass has 6 or 7 feet. The problem is that the fish are swimming up on the ridges to stage and just following bait because there's no hydrilla to hold them there. So they're really roaming and targeting those staging fish is a whirlwind right now."
Come tournament time, that all could change as a full moon, combined with warmer, sunny weather, could trigger the first wave of spawning bass.
"There are a huge number of fish already on the bank waiting. We've already caught a lot of females up shallow that are just bursting. Those fish are going to do it this next full moon, but there won't be much sight-fishing with the water being so high. For the most part, it's just too dirty right now. You won't be able to see them, but they will be on beds. There's going to be a world of fish shallow."
Johnston typically likes to key on offshore staging areas this time of year. But even he concedes the tournament will likely be won in skinny water.
"Those deeper fish are just not holding. It could happen offshore, I mean, that's the million-dollar question. If I had to guess, I think somebody is going to win it shallow."
ChatterBaits, spinnerbaits and squarebill crankbaits will get plenty of use by the teams fishing shallow. Carolina-rigged creature baits, like the Zoom Brush Hog Johnston used to catch his 12-pounder, will be popular offshore.
"If Mother Nature lets us fish in decent conditions, I definitely think it will take over 30 pounds to win. In fact, I will say 32 or 33 pounds will be needed. But it's possible it could be 35 or 36 pounds."
Teams will take off at safe light from Cypress Bend Park, located at 3462 Cypress Bend Rd. in Many, La. The weigh-in will also take place at the park, beginning at 3 p.m.
The Texas Team Trail consists of four regular-season events and a year-end championship. Each regular season event is a one-day team tournament and delivers 100 percent payback, including a fully-rigged 18-foot, 150-horsepower bass boat guaranteed as the first-place prize.
Get registered online
NOW
!