ICAST – Battle Ground of New Ideas
---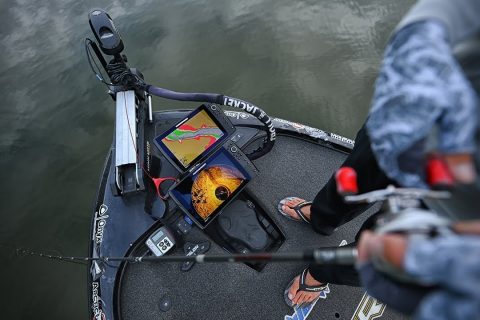 Vance McCullough
ICAST is always a battle ground of new ideas as manufacturers fight for retail markets while trying to educate soon-to-be consumers. This edition promises to be extra exciting. Brace yourself for the summer blockbuster of 2019: Trolling Motor Wars.
Manufacturers old and new are scrambling to link their positioning motors with Global Positioning Technology.
The result has been an arms race of sorts.
The winners will be the anglers who benefit from advancements in boat positioning abilities.
Minn-Kota led the way with its Ultrex motor featuring Spot-Lock technology that keeps a boat pinned to a coordinate in any depth.
Spot-Lock compensates for wind and current as well.
The feature was instrumental in Jordan Lee's Bassmaster Classic win on Lake Conroe. This writer marveled at the efficiency with which Lee was able to cast and catch, then cull or fiddle with tackle all while the Ultrex kept his boat lined up on the sweet spot just offshore of a main lake point, winds all the while building waves of a couple feet in height.
Does Minn-Kota have anything new in the works as we head toward the year 2020? Do they need anything new? After all, they have been leading the GPS anchoring game for years now. We'll see what's happening in the Minn-Kota booth at ICAST.
Motorguide is catching up. "Finally," is the collective cry from fans of this trolling motor manufacturer. And boy, are they excited about the new features to be unveiled at ICAST.
Almost certainly, some sort of GPS anchor has to be a big part of the big reveal. What else? You'll know as soon as we do!
All I can say is there has been a tremendous buzz among pros who have used Motorguide's latest product in testing sessions – Elite Series Pro Bernie Schultz and MLF Bass Pro Tour competitor Shaw Grigsby among them.
Meanwhile, Lowrance has come at the smart motor segment from the opposite end. Rather than educating an existing physical motor, they have jumped in the game with a trolling motor that runs off their 'brain power'.
The soul of the Lowrance company has always been information.
Just as they have used screens provide us with eyes under the water along with positioning info beamed from the stars, Lowrance has now given a body to its digital brain so that it can take you 'fishing' not 'boating'.
This will be one of the most buzzed-about launches of the 2019 ICAST show. And why not? If the new Lowrance motor can do for anglers what car makers promise to do for motorists with autonomous automobiles, then The Future is here indeed.
Now, everything just stated above about the new Lowrance trolling motor, ditto that for the new Garmin Force.
Yep. Navigation giant Garmin is getting into the motor game as well.
But don't mistake this intelligent motor for a wimpy nerd. Apparently, it's athletic too. In a staged Facebook 'leak' Bill Dance said, "It's the quietest, strongest trolling motor I've ever seen. And no interference (with other electronics) whatsoever."
Garmin has a proven track record in the aviation industry. If this new motor lives up to the bar the company has set with products such as Panoptics, it could be a real . . . I refuse to say 'game changer' but you get the point.
We at AnglersChannel.com can hardly wait to see all of these exciting new trolling motors at ICAST – and to share them with you.
Putting the brakes on all of this mobility, Power-Pole turns 20 years old. Hard to believe. They keep the new ideas, and the power, flowing. None of the above-mentioned tech runs without electricity and Power-Pole has some on-board power charging and maintenance options we need to look at.
And of course, Power-Poles will still turn your boat into a fishing dock, as always.
Minn-Kota Talons serve a similar purpose. The motor maker has been in its own arms race with Power-Pole for years, each trying to outreach the other in terms of how deep they can anchor.
So, with Spot-Lock and similar technology, are pole-based anchoring systems still relevant?
Yes. In our increasingly grass-filled waters trolling motors are challenged in heavy vegetation. When they can chop the salad, they sound like a food processor to nearby fish. Swift. Silent. Secure. There's a lot to like about hydraulic anchoring systems.
By the way, got an older electric motor? Want to enjoy the latest technology? At last year's ICAST ProNav introduced a new way to run your trolling motor. With an intuitive handheld controller, the gesture-based PointDrive feature creates a wireless way to direct your smart trolling motor.
ProNav allows users to create routes, anchor their boat with a touch, even move a short distance automatically via the PointJog feature.
With Bluetooth connection and tool-free plug & play installation, ProNav works with any smart trolling motor.
At this year's show we'll see what the past year has held for the nascent ProNav.
ProNav is an excellent addition to small boats and kayaks. So too, is ProControll (no relation to ProNav).
ProControll is a universal mounting bracket that adapts a trolling motor to a kayak. Any trolling motor. Any kayak. Even stand up paddleboards. John boats too. There are a couple of different models to fit all small craft. This is an idea too simple, too focused, too useful to not succeed.
We'll check-in with RM Industries to see how business has been and what's new with ProControll.
Of course, Power-Pole offers the Micro to fit small boats and 'yaks so we can put on the brakes no matter how light we travel.
With options such as ProControll, ProNav and Power-Pole Micro, we all have access to modern technology that makes boat positioning a breeze regardless of which boat we choose.
---