How much tech is TOO much tech?
How much technology is too much tech?
It's a personal thing. I used the Internet to order some frogs and when they arrived I went to the lake and caught some fish on them. For me, that's the perfect marriage of technology and the outdoor world.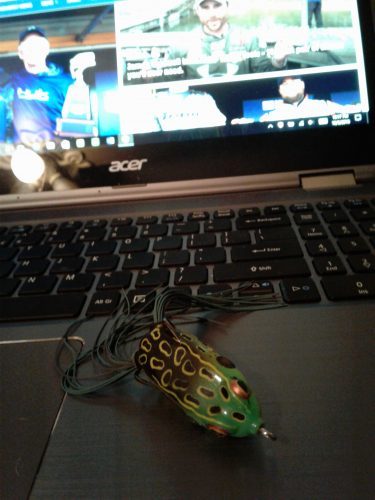 Polarized sunglasses are my favorite fish-finders. GPS is awesome. I love satellite maps. Otherwise, I have little interest in the digital world when I am on the water.
I do a lot of wade fishing and I use a kayak quite a bit. And I catch more fish than most guys in motorboats.
Even if you have a $70,000 rig and all the latest electronics, I'm guessing the AguaDrone is too much tech for you, as a bass fisherman. The waterproof, remote-controlled aircraft can deliver a lure to a distant spot, but hey, so can the 10-foot rods that B.A.S.S. recently approved for tournament competition.
Billed as "the world's first fishing-optimized drone" the AguaDrone has a depth-finder. It takes video. It has more accessories than Barbie.
It remains unclear as to whether the drone will make a pulled pork sandwich and deliver it to you on the water, but it could keep you busy for hours doing something other than fishing. No thanks. I have a wife for that.
There are applications for a waterproof drone that could benefit anglers and anybody who likes to fish, but I watched a video of the AguaDrone and when they used it to actually present a lure to fish they totally lost me. Lure placement is part of our sport.
Therein lies the basis of most backlash against technology – when mechanization replaces human performance we lose the very essence of art, of sport, of anything that sets an individual apart and gives him a platform on which to live out his potential, to show us what we might become, to add his mark on that sport, on that art form, on the world, in the short while that any of us has to live in it.
To the extent that technology helps an individual find better ways to perform his craft, that is true genius. As soon as it crosses the line and say, eats said pulled pork sandwich for you, it is no longer an aid to human performance, but a crutch that breeds dependence and insulates people from the types of challenges needed to develop skills.
The AguaDrone has a KickStarter.com page, which means it is not readily available for sale yet. You can help fund the dream and then get in line to buy one. Go check it out. I'll just be over here with a flippin' stick and that technological marvel known as a baitcasting reel.