Hometown Hero Sticks 'Em Good: Wiggins Wins Again – Special from Traditions Media, St. Croix Rods & Seaguar Line
Posted On October 9, 2017
---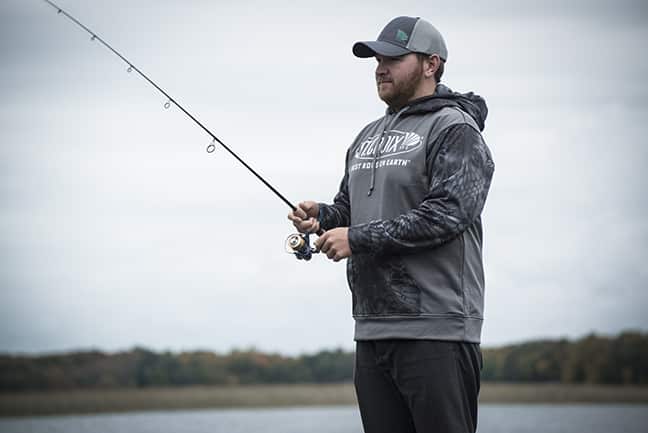 St. Croix Rod bass pro Jesse Wiggins finds success in precise technique-specific rod matching to crack tough bass bites
Park Falls, WI (October 6, 2017): Call 'em "naturals," there are some anglers who just have a knack for finding and catching fish. One such angler is St. Croix Rod bass pro Jesse Wiggins, the 27-year-old Addison, Alabama native currently finishing out his rookie B.A.S.S. Elite season.
Pro bass fans and pundits quickly recognized the kid's raw talent and outside-the-box fishing style. Consider his Bassmaster Southern Open win this past January on Florida's Harris Chain of Lakes where he cranked and worked a shaky head deep when the field was either sight-fishing spawners or working grass.
Add a third place finish in his first Elite tournament on Cherokee Lake; 37th in the Toyota Angler of the Year standings; and his most recent win at Southern Open No. 3 on Alabama's Smith Lake. All this culminates in triple-qualification for the upcoming Bassmaster Classic on South Carolina's Lake Hartwell.
But it's not the first time Wiggins has demonstrated prowess on his hometown waters of Smith Lake in northern Alabama. In 2016, Wiggins climbed the leaderboard to edge out Jordan Lee and take tops in the 2016 Bassmaster Southern Open #2.
Image courtesy of B.A.S.S.
But despite his past success and extensive experience on the 21,000 acre lake, Wiggins says practice revealed it would be tough fishing this time 'round.
"It's been really hot, the water's down, and there's been a lot of fishing pressure," says Wiggins. "But I knew I could still get some topwater bites early in the morning, then run up a creek for a few more bites later in the day. That's what I did all three days."
Besides a morning buzzbait routine, Wiggins kept a host of St. Croix rods rigged with shaky heads and square bills.
"Matching the right rod with the right bait is a big deal," says Wiggins. "This is my first year with St. Croix and I've been blown away by the performance and the people. They're really awesome rods, and they've got numerous models for every technique I can think of. I have some new rods in development with them, too. Pretty excited about that."
Wiggins kept three primary set-ups on deck during the recent Smith Open, all matched specifically to how he fishes each bait. "I spend a lot of time refining the exact combo for each technique on each body of water. For Smith, it was a St. Croix AVID X for buzzbaits, St. Croix Legend Elite spinning for shaky head, and 'Croix Legend Glass for crankin'."
Realizing the devil's in the details, here are the exact specs of his winning weaponry:
BUZZBAIT
Rod: St. Croix Avid X (AXC70MHF​) 7′ Medium Power, Moderate Action Casting Rod​
Reel: Shimano Curado 70
Line: 50 lb. Seaguar Smackdown braid
Bait: 1/4-ounce Cumberland Pro Lures buzzbait w/Zoom Horny Toad (both in black and white)
"I was able to make accurate casts going down the bank, casting to isolated rock anywhere from right on the bank to 4'-5'. There was up to 10' of water visibility," says Wiggins.
SHAKY HEAD
Rod: St. Croix Legend Elite (ES70MHF​) 7′ Medium-Heavy Power, Fast Action Spinning Rod​
Reel: Shimano Stradic CI4+ 2500
Line: 15 lb. Seaguar Smackdown braid w/ 10' of 12 lb. InvisX fluorocarbon tied to the main line with a Modified Albright knot.
Bait: 3/16-ounce shaky head and Zoom Fluke Stick (green pumpkin)
"I fell in love with the Legend Elite from day one. It's really sensitive and that's key," says Wiggins.
SQUARE BILL CRANKBAIT
Rod: St. Croix Legend Glass (LGC610MHM) 6'10" Medium Power, Moderate Action Casting Rod​
Reel: Shimano Chronarch 6.4:1
Line: 12 lb. Seaguar InvisX fluorocarbon
Lure: Jenko Fishing CD15 Squared (flaming craw/spring craw)
"The St. Croix Legend Glass is the best crankbait rod I've ever had. The 6'10" is the perfect length for really accurate casts under limbs and dock cables. Plus, the way the rod loads, I never lost any fish. Really keeps hooks from coming out."
PLAY BY PLAY
Day One started well for Wiggins, who culled a couple bass early on a buzzbait. But by 11 am he knew it was time to switch up. "It started playing out like I thought it might; we're talking fishing for five or six good bites a day. I ran up a creek, caught two big ones on the Jenko square bill, then came back out of the creek and got one big one on a buzzbait off a shady bank right before weigh-in."
He ended Day One with 15-2.
"Day 2 was an absolute grind. I didn't catch any on the buzzbait. Lost a couple that short-bit it and then caught a couple on the shaky head with a Zoom Fluke Stick in green pumpkin and three on the square bill. I was feeling okay, but I knew I had missed some good opportunities in the morning and it would be an uphill climb. Still, I got a couple good bites off the same spots where I caught fish on the first day so I felt good going into the last day."
On Day 3 Wiggins caught a couple keepers chasing bait off a deeper point and followed up with a four-pounder on a shaky head. "Then I ran up the creek and caught my last big one on a square bill from the exact same area I fished the first two days."
Ultimately, Wiggins' three-day 39-15 total eclipsed second place by five pounds plus and earned him over $50,000 in cash and prizes.
"I've wanted to fish professionally as long as I can remember and it's still my dream, but I also realize it's still just fishing. Working as a respiratory therapist at a hospital has taught me a lot about the more important things in life. I take my fishing seriously, and fish each tournament to win, but I feel humbled just to do what I do. The main thing is I've learned to stay positive about everything. I enjoy the successes, but the journey is just as important."
Following the win, Wiggins will return to picking up hospital shifts, as well start preparing for the first 2018 Bassmaster Open and his second Bassmaster Classic.
"I'm pretty excited to fish Hartwell. You've got blueback herring and both spotted bass and largemouths—pretty similar to my home lake. I'm anxious to get up there this winter and figure something out."
This much is certain: Fans will be cheering for the new kid on the block, including the folks at the St. Croix factory in Park Falls, Wisconsin.
"Jesse Wiggins is a talented young angler with a great future ahead of him in pro bass fishing. In a very short time he's proven he's got what it takes. He's also a great ambassador for our brand and a fantastic resource to help keep us on the front lines of what progressive young bass anglers are looking for in terms of rod design and application. We congratulate him on his most recent win and events ahead," says Jesse Simpkins, Director of Marketing, St. Croix Rod.
---