Haney sets Single Day Kayak Record and Wins KBF Toad Fest in the Marsh Event
By Vance McCullough
Brandon Haney didn't set out to break the Kayak Bass Fishing single-day record Sunday morning. In fact, as were most competitors in the Toad Fest on the Marsh near Fellsmere, FL, he was most concerned with battling high winds from Tropical Storm Alberto. "I have to tell you, when I started today I thought it was going to be horrible. It was going to be windy, rainy. I hoped I was going to catch five fish.
"By the time I got halfway through the lake I hooked up on an eight-and-a-half-pounder. That's when I knew it was going to be a good bite."
Haney parlayed the 'good bite' into a 5-fish limit that stretched to 114.5 inches. Kayak tourneys are catch-photo-release (CPR) affairs where success is measured in length, not weight but Haney also likes to weigh his big fish just out of curiosity. His creel included 2 Florida FWC Trophy Catch caliber fish over 8 pounds. His best 5 would have weighed, at minimum, 32.5 pounds.
"That's new record for a KBF Trail event," said tournament director Jason Broach. "It will probably stand for a long, long time."
To make the feat even more impressive, over a third of the field did not record a single fish catch.
There were 3 'stringers' over 100 inches. Very solid.
"If the weather hadn't been so bad I'm sure we would have had several guys go over 100 inches today," said Broach.
It's not that the fish minded the conditions. Low pressure usually spurs strong feeding activity. Haney found the fish on Kenansville Lake were willing to crush his Chatterbait. "Surprisingly, after I caught a couple more 20's (20-inch fish) I hooked up on a 9-pounder and that sealed the deal for me."
Tournament anglers often say, 'when it's your time to win, it's your time'. Such was the case for Haney who had a tense moment. "I actually almost lost the 9-pounder at the boat. I was using a Chatterbait and as I was pulling the fish up to lip it, the Chatterbait flew out of its mouth and I managed to lip it at the last second and pull that thing into the boat. Apparently today was my lucky day."
Haney took a first-place check worth $1,219.
As for propulsion, Haney mixed in some pedaling with his paddling. "I was doing a lot of flipping where there's a lot of hydrilla and you can't really use your (Hobie) Mirage Drive so I was paddling around a little bit, trying to get up into the weeds.
"But the main thing I was catching them on was the Chatterbait, drifting around and throwing it where I thought they would be. It worked really well today."
It worked well for Haney and a few others.
Mostly the weather wore down the anglers in the field of 45. I know. I was one of them. My son, Hunter fished it too. We struggled, physically, to catch what we did and finish in the middle of the pack. The wind did not stop and if we did, we lost all the ground we had just fought to cover. At times progress was measured in inches. Hunter's hat blew off. When we got to our primary area in a huge main lake grass bed, we threw out our redneck sea anchors – 5-gallon buckets – to slow our drift.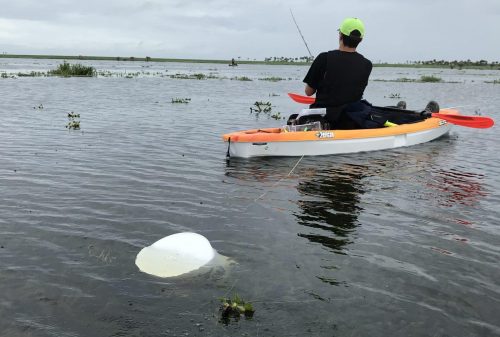 Hunter caught a fish before he realized he was minus a rod and reel. He has no idea when it blew out of his boat. At one point he took a wave over the bow. Did I mention the wind was rough?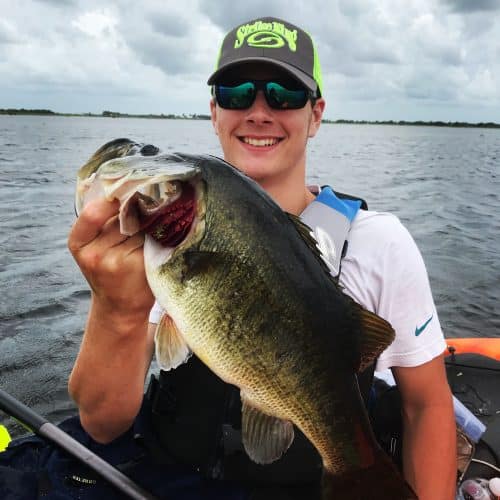 Later, I reached behind me for my tackle bag and it wasn't there. I looked down the canal and saw it floating like baby Moses in a basket. I sprint-paddled about 50 yards to get to it before it could take on enough water to sink. On occasion I had to spend a few minutes at a time using my redneck bilge pump – a dollar store super soaker – to bail gallons of water out of my kayak.
It's hard to cast while paddling. "My lure hasn't spent near enough time in the water," said Hunter.
That was a major reason for low catch rates. Guys who had pedal drive systems were at a huge advantage in the places where they could use them. Many areas are covered with hydrilla which renders a pedal system nearly inoperable. And on the lake we fished, Fellsmere Lake, motors of all kinds – including electric are currently outlawed, even though KBF rules allow them where they are legal to use. So paddling was the deal on Fellsmere, officially named Headwaters Lake at a recent meeting of state and local officials but still called 'Fellsmere Lake' by locals.
For that reason, Fellsmere didn't produce well on a day when the throng of anglers it hosted were pinned down by the wind. BUT – check AnglersChannel.com in the near future for my report about this exciting new fishery that you absolutely will want to visit!
There were 4 other lakes available to contestants: Garcia, Blue Cypress, Stick Marsh and the aforementioned Kenansville that produced the winning fish.
Stick Marsh is open enough for anglers to pedal their craft. By midday many of the anglers who had started on Fellsmere had jumped the berm to fish the famed Stick Marsh. I watched a guy catch a 5-pounder (20.5 inches) as he bobbed in the white capped waters that poured through a break in an old levee. Nobody could hold their position long enough to fish that spot without a pedal drive. Ask me how I know.
There had been much speculation that the Toad Fest may be canceled. That would have been disappointing, especially for anglers who came from Atlanta, GA and as far away as Arkansas to sample the action on the Fellsmere area lakes. Late Saturday Broach said KBF would continue to monitor the weather and he would send word ASAP if the event was cancelled. Sunday morning Broach said, via Facebook, that the tourney would go on and hopefully the heavy stuff would remain offshore. He encouraged anglers to fish sheltered locations and keep an eye on the sky. Ryan Sperling, a participant, replied to the post "I can tell you the heavy stuff didn't stay off shore lol. I had to get off the Stick Marsh as I was getting blown sideways!"
"Today would have been a good day to go to a lake where I could use my PropPod," chuckled Will Mansfield as he prepared to drag his kayak up the steep, slick embankment of Fellsmere Lake after a tough day on the water.
Mansfield is a US Army veteran who oozes enthusiasm for the sport of fishing. Check out his Instagram @barefootyakkinangler.
PropPod is an electric motor that fits into the pedal drive cavity at the bow of compatible kayaks. This placement is said to yield better control compared to motors mounted on the stern. The price point is also very favorable compared to competitors. Check out the PropPod at YakTools.com.