Gulledge & Fielden win Piedmont Bass Classics Spring Qualifier on Falls Lake with over 25 pounds!
PIEDMONT BASS CLASSICS $10,000 SPRING TEAM BASS TRAIL QUALIFIER #3 
Saturday April 1st, 2017 ~ Falls Lake ~ Ledge Rock Wildlife Ramp

The 2017 Piedmont Bass Classics $10,000 Spring Team Bass Trail Qualifier #3 at Falls Lake drew a great crowd of
91 boats and they were chompin' at the bit to fish hard!  The weather was nice for Saturday with air temps 51
degrees in the am on up to 74 in the pm. Water temps averaged about 65 degrees. Winds were nonexistent in the
am to a steady 10 mph blow in the afternoon.  Things are starting to pick up at Falls with some nice bass being
caught. We just need some continuous warm weather to get water temps right for the spawn.

Walt Gulledge & Tony Fielden won their 1st ever PBC event weighing in 5 bass at 25.68 lbs. and also won the
Tournament Within a Tournament (TWT) for a total of $3,210 in winnings. Fielden will also collect an additional
$7,000 pending approval from the Triton Boats Gold Contingency Program which will bring their winnings to
$10,210 !!!


David Walton & Justin Young cemented 2nd place with 5 fish weighing 22.82 lbs. & pocketed $875. 3rd place team,
Tom Powell & Son John subbing for Brant Massey, won $691 with 22.42 lbs. 4th place team, Billy Bledsoe & Brian
McDonald, had 5 weighing 22.26 lbs. and they took the 2nd place TWT to win $1,353. The 8th place team of Joe
Smith & Son Jonathan subbing for Raeford Faircloth, also weighed in the 1st Place Big Fish (10.25 lbs.) giving
them a total of $1,587!! The prize money got spread around pretty good today again!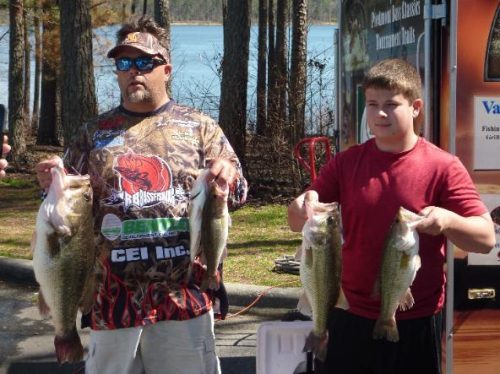 Smith & son Jonathan with big fish!
340 fish were weighed in for a total of 1,019 pounds for an average of 3.00 lbs. each. Most of the fish were caught
on WLS shaky heads, Jig combos, chatterbaits, Spinnerbaits and Crankbaits in anywhere from 1 to 10 feet of water.
Most of the bass were loaded with eggs and are starting to move into the shallower water and a few others had
spawned out. It's starting!

I want to thank all the anglers that participated and all our sponsors that support this trail. Our next tournament is
Saturday April 8th, the PBC Cashion Fishing Rods Spring Trail Q#4 at Kerr Lake out of Flemingtown Landing
Wildlife Ramp. All the info can be found at this link:  http://piedmontbassclassics.com/2017CashionSpringTrail.html
Following that will be the PBC Cashion Fishing Rods Spring Trail Final Q#5 at Falls Lake out of  Ledge Rock
Wildlife Ramp. All the information on our tournaments can be found http://piedmontbassclassics.com/

Now here are the full results:

1st Place: …….Tony Fielden & Walt Gulledge of Lillington & Cameron…5 bass…26.68 lbs…$1,495
2nd Place: ……David Walton & Justin Young of Raleigh…5 bass…22.82 lbs…$875
3rd Place: …….Tom Powell & Brant Massey of Haw River & Durham…5 bass…22.42 lbs…$691
4th Place: …….Billy Bledsoe & Brian McDonald of Grays Creek & Hope Mills…5 bass…22.26 lbs…$618
5th Place: …….Vinston Nettles & Mike Cole of Pittsboro & Siler City…5 bass…21.86 lbs…$546
6th Place: …….Thomas Sheffer & Ken McNeill of Cary & Raleigh…5 bass…20.69 lbs…$473
7th Place: …….Stump Bledsoe & Glenn Elliott of Hope Mills & Fayetteville…5 bass…20.53 lbs…$400
8th Place: …….Joe Smith & Raeford Faircloth of Newton Grove & Clinton…5 bass…20.28 lbs…$327
9th Place: …….Ron White & Jesse Soles of Carthage & Aberdeen…5 bass…20.19 lbs…$291
10th Place: …..Jaime Fajardo & Josh Hooks of Fuquay Varina & Apex…5 bass…19.88 lbs…$255
11th Place: …..Travis Pomp & Eddie Harris of Youngsville & Snow Camp…5 bass…19.19 lbs…$220
12th Place: ……Bubba Haywood & David Frye of Durham…5 bass…19.03 lbs…$224
13th Place: ……Stephen & John Lasher of Bahama…5 bass…18.90 lbs…$210
14th Place: ……Johnny Wilder & Mike Harris of Butner & Oxford…5 bass…18.72 lbs…$150
15th Place: ……K.C. Choosakul & Tim Penhollow of Sanford & Mebane…5 bass…18.60 lbs…$147
16th Place: ……Jr. Nance & Alex Renfrow of Angier…5 bass…18.37 lbs…$138
17th Place: ……Chris & H.T. Eakins of Selma & Angier…5 bass…17.87 lbs…$120
18th Place: ……Doug Parker & James Sutton of Angier & Roseboro…5 bass…17.45 lbs…$100

1st Place Big Fish..8th Place Team above...10.25 lbs…$1,260
2nd Place Big Fish..Tie…11th Place Team above…8.53 lbs…$270 and
                                        Bobby & Brandon Gregory of Fuquay Varina…8.53 lbs.…$270


          1st Place TWT..1st Place Team above…25.68 lbs…$1,715
2nd Place TWT..4th Place Team above…22.26 lbs…$735