Gray & Massey Drop 34-pound + Limit on the Scales to Win Collins Bash for Cash on Jordan Lake!
Posted On February 18, 2018
---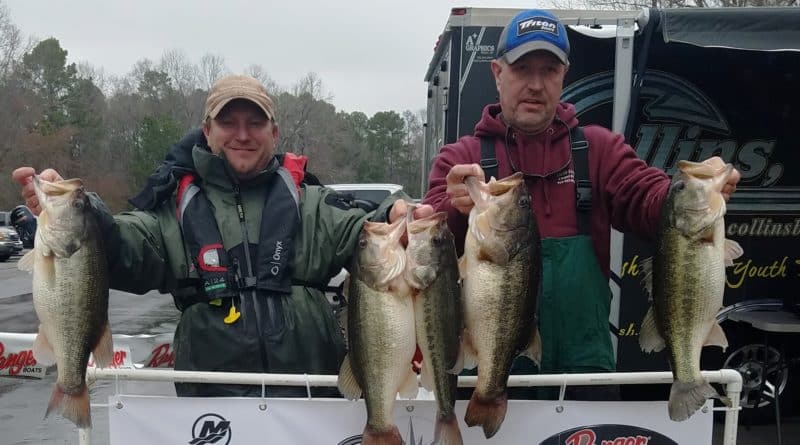 Jordan Lake – 2/17/18
Thirty-seven teams converged onto Jordan Lake for the opening event of the 2018 Collins Inc. – Bass For Cash Series | Presented By Ranger Boats and Mercury Marine.  The unpredictable weather may have played a role in the lower turnout of anglers, nonetheless several of Jordan's big girls came out to play for the participating teams as Brandon Gray and Todd Massey topped the field with their massive catch of five fish weighing in at 34.97 lbs.  Gray and Massey also netted the Outdoor Accessories Unlimited lunker for the event that weighed in at 9.65 lbs.
The father / son duo of Danny and Ryan Hayes captured the second position with another catch over thirty pounds when they brought 30.84 lbs of largemouth to the scales, including a kicker fish worth 9.57 lbs.
Tim Little and Ted Boyette filled the third spot with their catch of 28.18 lbs, also with a kicker fish at 9.61 lbs.
Billy Bledsoe and Brian McDonald took the fourth position with their limit of fish weighing in at 27.26 lbs, anchored by their bonus catch of an 8.53 lb largemouth.
Rounding out the top five included another father / son tandem of Ronald and Ronnie Clark with their catch of 22.79 lbs, also including a nice kicker fish weighing 7.37 lbs.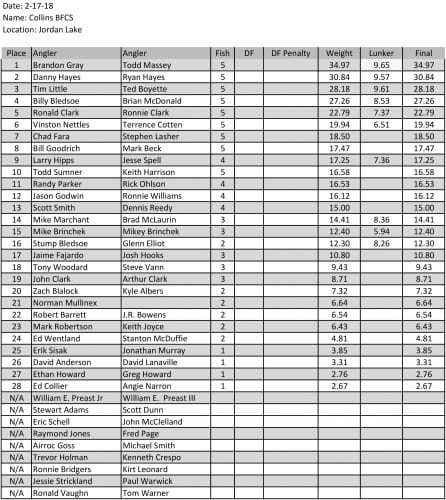 Thanks to Steven's Sausage for their help in providing the anglers with a hot meal as they returned for the afternoon weigh-in.
A special thanks to all of the anglers that came out under the chilly and wet conditions to support our series of events.  Our next event will take place March 31st on Kerr Lake.  Visit our schedule page and read more about the "Bonus Bucks" opportunity for this event that will make this one of our biggest payouts to date.  Entries for this event are coming in daily, so don't wait too long to submit yours and get your starting spot among the attending teams.
---