Gearing Up For Erie's Monster Smallies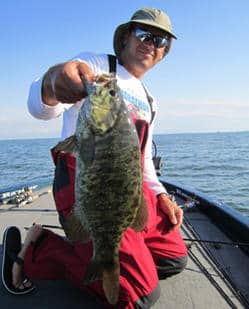 (By Dave Wolak) Talk about exciting. I'd been pumped about fishing the Bassmaster BPS Northern Bass Open on Lake Erie for some time. Now, after a couple days of prefishing, I'm more excited than ever.
This is one big, crazy ocean. The boat traffic out of Sandusky is always heavy. It's a populated area, so you're constantly dodging charters and other boats of all sizes. I've never been more thankful for my Ranger Z521; it handles big water extremely well, and with the Yamaha VMAX SHO 250 behind, gets me out of the hole and on top of the waves quickly.
The best part: when you're able to find a good spot to yourself, it's game on! Erie is loaded with bruiser smallmouths, and they can be caught deep or shallow. I've got plans for both.
For deep, clear water like this, nothing beats a drop shot rig. This is finesse fishing all the way, but because of the rough water, it really puts the focus on your gear.
Light line and sensitivity are the two biggest factors, so I'm using spinning gear—but my setup is different than most anglers use. I've chosen a 7'2" medium action Pinnacle Perfecta DHC5 rod, which is primarily a shaky-head rod, but I've found it's perfect for heavy-duty drop shot applications like this. I really like the extra-fast tip, and it has a good deal more backbone than most other drop shot rods. It takes a lot to get a good hookset down deep, and the last thing I need is to have a 5 or 6 pound fish come unglued with the tournament on the line.
I've paired this rod with a Pinnacle Performa XT PEF40 reel. Most anglers tend to use too small a reel for this kind of fishing. The 40 size balances well and has a larger spool diameter so you get excellent line flow, plus a super-sensitive drag. I also like the ridged soft handle pad; it ensures a firm grip even on a Lake Erie roller coaster ride.
Yes, little things matter in tough water, especially when using small-diameter line. I'm spooled with low-stretch, 7 lb. test Sunline Sniper FC fluorocarbon for maximum feel and to avoid spooking fish.
My shallow water approach can be an awesome way to score a big kicker or two. It's an overlooked pattern on Erie, and I'm hoping it'll pay off at the right time. Basically, I'm burning a big-bladed ¾ or 1 oz. spinnerbait just under the surface over shallow rocks.
This technique isn't for the faint of heart; big smallies just crush that blade. You need a rod that's powerful enough to heave large lures a long way, but limber enough to absorb arm-breaking strikes and handle multiple jumps and dives at distance. The 7'6" medium-heavy Pinnacle Perfecta DHC5 casting rod is ideal, as it falls somewhere between a spinnerbait rod and a flipping stick and has the best qualities of both. With a Pinnacle Optimus XLT high-speed reel strapped on, it's one tough, versatile setup.
I'll keep the actual baits I'm using to myself for now. But with a couple of days under my belt, I'm starting to get a feel for my tournament strategy. It'll be tough, but at least I know my gear is up to the task!