Frogs, Toads, Ribbits, Kermits & More! The Frogs of ICAST 2018
---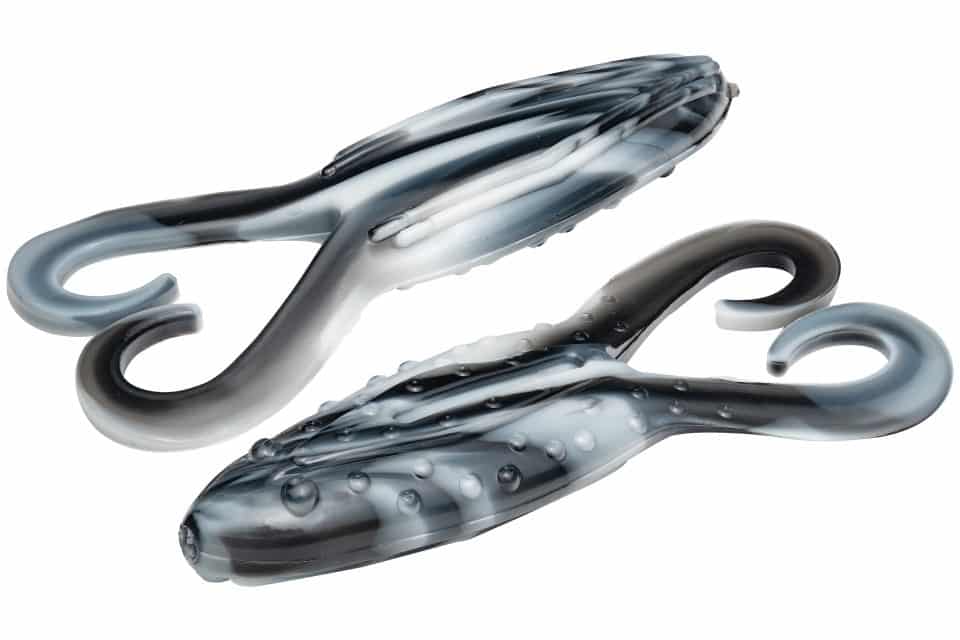 Vance McCullough
Every year the big ICAST show gives us a look at what we can expect to see on store shelves and, consequently, in tackle boxes and on the water.
If this year's show is a dependable indicator, we may be in for a plague of frogs.
From anatomically correct to borderline bizarre the spectrum of lures marketed as 'frogs' is wider than it has ever been.
Westin introduced Freddy the Frog, a hard bodied, multi-jointed lure that greatly resembles a full-grown bull frog. The big bait is, literally, a handful. Given its steeply-angled bill and pair of treble hooks, Freddy is a wake bait intended for open water use, not the typical hollow, weedless lures we've come to know as 'frogs'. Never the less, it's one frog you may want to pick up.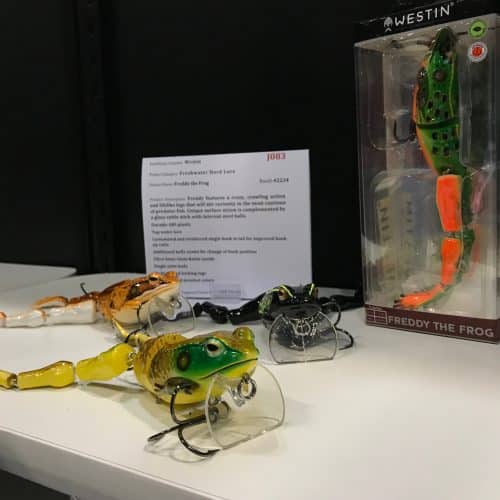 And before you write it off as simply a pike lure, remember what the Whopper Plopper was designed for – until bass fishermen started throwing it on the California Delta.
One of the cleverest new lures at ICAST was the Stanford Baits Boom Boom Frog, designed in conjunction with Bassmaster Elite Series Pro Fred 'Boom Boom' Roumbanis. Media members puzzled over the patch of Velcro on top of the frog's head. According to the maker, "Frogfur ™ vastly improves hook up ratio. This double loop nylon catches the bass's crushers making throwing the frog nearly impossible."
Also, if you put tiny gold chains on the Boom Boom Frog, it looks like Mr. T and Kermit had a baby together.
Or, if you drag it upside down over an algae mat, it will accumulate a really cool Joe Dirt style mullet hairdo.
You can have hours of fun with your Boom Boom Frog even if you never catch a bass.
Alright Fred – you know I'm just kidding!
It is a fun design though, complete with snarling faces on the frogs.
On a serious note, the Boom Boom Frog is all about fixing a major shortcoming associated with froggin' – missed strikes. Frogfur ™ is just the beginning. Stanford Baits tells us, "The newly designed weight allows for a complete collapse of the ultra-soft body for great hook penetration."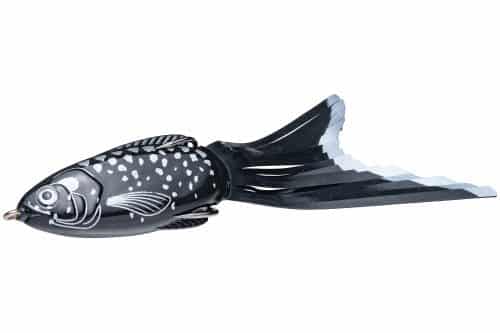 Strike King's Hack Attack Pad Perch is a new all-terrain lure that will haul the biggest bass from the thickest cover with its 4/0 VMC Frog Hook. If it says 'Hack Attack' you know it was made for fishing heavy vegetation, but Hackney is proud of the way it acts even in open water. "It easier to walk on the surface than any other bait I've ever thrown. It's really, truly – I'm just telling you – it's incredible, the action on it."
Frog aficionados often alter their lures. One of the most common 'fixes' is to trim the legs shorter. Hackney says you don't want to do that with his Pad Perch. "They are made this way specifically to keep the nose of the bait level with the surface so it glides side-to-side a lot better," he said, holding up a Pad Perch to show the long, flat tail.
Last year Teckle made waves with their Sprinker Frog. So much so that there are a few manufacturers introducing their own frogs designed to be cast out and wound steadily back in while creating a bubble trail on the surface and, hopefully, provoking high speed, full bore attacks from big fish.
It's safe to say the 'chunk-and-wind' frog is now its own category.
For instance, Molix rolled out its Supernato Frog. A current FLW Tour Pro with Bassmaster Elite Series experience Carl Jocumsen helped design it. The Supernato incorporates a soft, durable twin tail affixed to the body by a screw which can be backed out to allow for the use of any soft plastic trailer. Molix says of the stock trailer, "The inward-facing appendages can move water during the retrieval phases like a true propeller."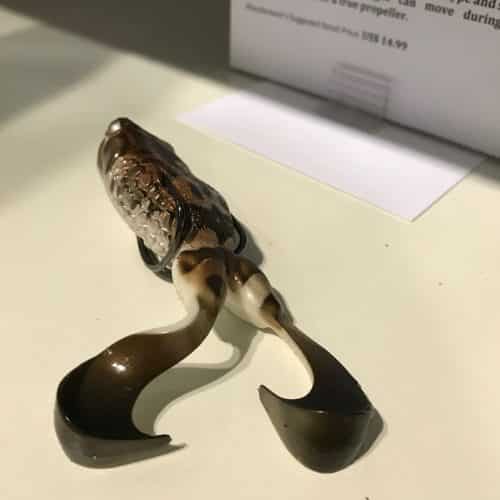 Given the flat keel beneath the bait, the Supernato looks as if it will sit well on thick mats without rolling and getting hooked on the cover excessively. Overall, it looks like a well-built lure that will be just as effective over the slop as out in open water which is helpful, as most frog fishing involves a combination of both.
While the Sprinker spawned its own lure category, Teckle hopes to start a new trend with what they believe is the noisiest hollow bodied lure on the market – the new Maracker. It totes a polished nickel teardrop and super loud rattle that bass can hear through heavy cover and at a great distance.
Not sure when or where the Maracker will first be available in the US. We may be in for another eBay bidding war to get the latest hottest frog bait this year.
As frogs keep adding new dance moves to the list of available actions, a couple of companies are trying to tap into the magic of a classic topwater, the Jitterbug.
DUO Realis offers one with a hard lip and paddle tail feet.
Lunker Hunt offers an entire line of hollow bodies built to resemble various critters, including frogs. The Yappa series features a soft scooper on the front end. This allows their lures, such as the Yappa Bug, to come through dense, hard, vertical cover better than a lure with a scooped or winged face that won't collapse.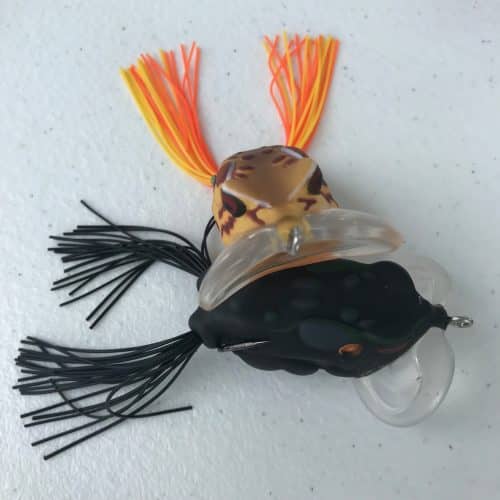 While testing the Yappa Frog during ICAST on the Water, this writer found there is a rhythm at which it runs best without blowing out of the water or tumbling over itself. At this speed it produced a loud gurgling sound and erratic action.
Sometimes smaller is bigger. Steel Shad is known for their metal blade baits but they now offer traditional topwater plugs. And a frog. Their frog is a tad smaller than most on the market. It also has a subtle wedge shape to the nose.
The size and shape help the lure settle to the water's surface in thick stands of emergent grasses such as Kissimmee grass and bulrush (or 'tules' to our friends out West). Those same attributes help the frog slide through the cover and back to the boat, maybe with a giant bass attached.
LIVETARGET has a track record of innovation. They didn't disappoint this year. Their new Commotion Shad will be a big hit with frog fishing fanatics. Bassmaster Elite Series veteran Stephen Browning shares, "I built a bait like this years ago. I'm excited to share it with the public now. It's great in open water as well as in pads and heavy cover."
The hollow Commotion Shad body sits between the two prongs of a traditional frog hook. A Colorado blade is attached, via a swivel, to its back end.
Intended for use with a steady retrieve, the Commotion Shad can be paused in place indefinitely to tempt moody fish and trigger a violent strike with the next nod of the rod tip.
As the array of frog-themed and hollow body lures continues to widen, we're all going to need bigger tackle boxes. A good problem to have?
---