FLW Day 1 Report – Davis "In Shock"
Posted On August 11, 2018
---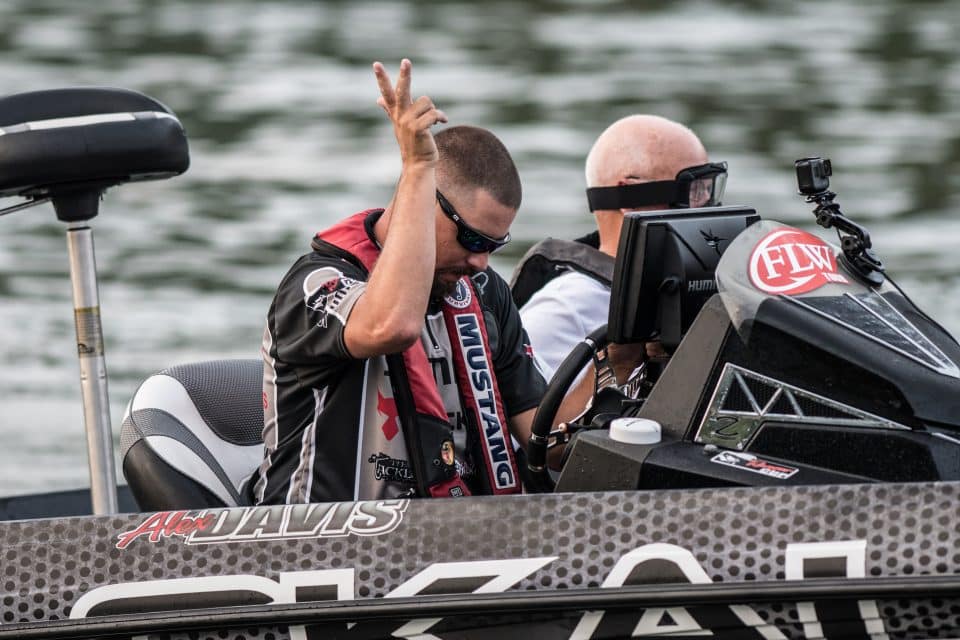 Vance McCullough / Photos: Chris Brown-AnglersChannel
"It's kind of a shock," said Alex Davis as the Day 1 weigh wound down and he realized he held the lead at the 2018 Forrest Wood Cup.
"I thought I had 11 pounds. I had 13 and I'm in the lead so it was a shocker to me. I'm feeling pretty good right now."
Given that the cup is a 3-day affair instead of the 4-day grind that it was last time the Cup was contested on Ouachita, Davis should feel good. An early lead could go a long way toward the $300,000 paycheck and huge trophy someone will claim, along with the title of world champion Sunday afternoon.
Then again, his lead is a slim one as he has13 pounds, 10 ounces to Nick Lebrun's 13-5.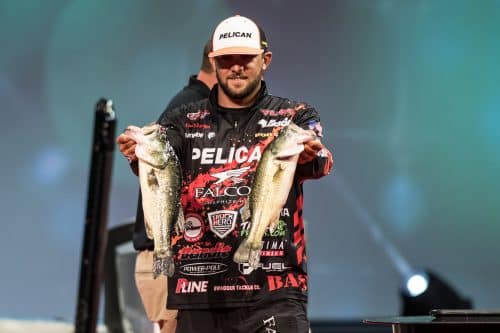 Zack Birge is close behind with 13-1. Cory Johnston holds down 4thplace with 12-8 and James Niggemeyer is 5thwith 12-2.
Davis says, "I winged it. At 11:45 I had one, so I just started running new stuff; running new areas and new techniques." Davis is mixing shallow and deep spots into the rotation and will adjust as need be tomorrow, depending on weather and other factors.
Davis will do what it takes to win. "The way I'm fishing is the way I hate to fish. I'm comfortable enough doing it, I just don't want to do what I'm going to have to do again tomorrow."
Zack Birge "got lucky" today. "Initial plan went right, got 5 keepers out of the schooling fish and I got a bonus fish, two-and-half-pounds, off the bank adjacent to my schooling area this morning because it was so foggy.
"I finished my limit there by 9:30-ish. I spent the rest of the day in my better fish area. I saw 15 pounds of fish come up and attempt to eat it, but they didn't.
"Tomorrow's a new day. Maybe those fish will eat."
Birge is hoping they'll eat a small lure that he says matches the baitfish perfectly. Precision casting is important and Birge is dialed into the quality bite. "You have to hit them on the head or they won't eat it.
"There are balls of bait coming up but the fish that are eating the balls of bait aren't really the better fish. I'm looking for ones that are chasing the individual shad. If you pay attention, if you're looking at them you'll see them come out and they'll jump two or three times. I like to call it leading them like I'm leading a bird if I'm trying to shoot it. If you cast out in front of them just a few feet and then work your bait real fast, chances are, you'll get them to eat.
"If you throw to where you see that shad, that fish is already going to be gone by the time your bait hits the water."
Admittedly, the technique yields few opportunities but Birge believes he can wring 5 bites per day out of a stingy Lake Ouachita in this fashion.
Niggemeyer made something out of practically nothing. "Very tough practice. I only got a couple of bites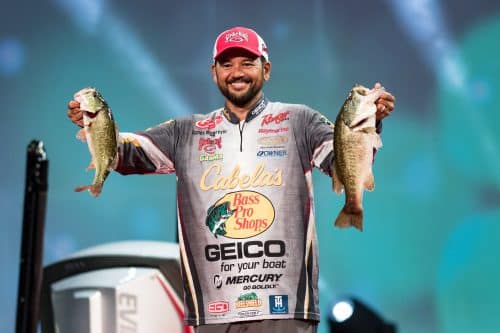 around the lake. An area where I caught just 2 fish in practice ended up being the primary area for me."
Not that the area turned out to be a fish factory, but Niggemeyer executed at a high level. "I got 6 bites. I boated them all.
"Obviously, the big fish today was a big part of my 12-2. I had a 4-plus-pounder. That was a gift from the Lord. I was actually not even looking, I was looking where I was going to make my next cast, and all of a sudden he just ate it and I managed to get him in the boat. That was a huge blessing."
If anything became clear at the Day 1 weigh in it is that the deep bite is inconsistent at best and it has provided mostly anorexic fish. This tournament will require consistency along with a big bite or two along the way.
For that reason, the shallow guys fared well during the opening round.
Justin Atkins holds 10thplace with exactly 10 pounds. The weights drop by tiny increments as we move down the leaderboard. Most anybody can catch up fast on Day 2, especially if they find a couple of big fish.
Then again, that's been much easier to say than actually do so far.
---