FLW Cup Day 1 – Morning Blog
Posted On August 10, 2018
---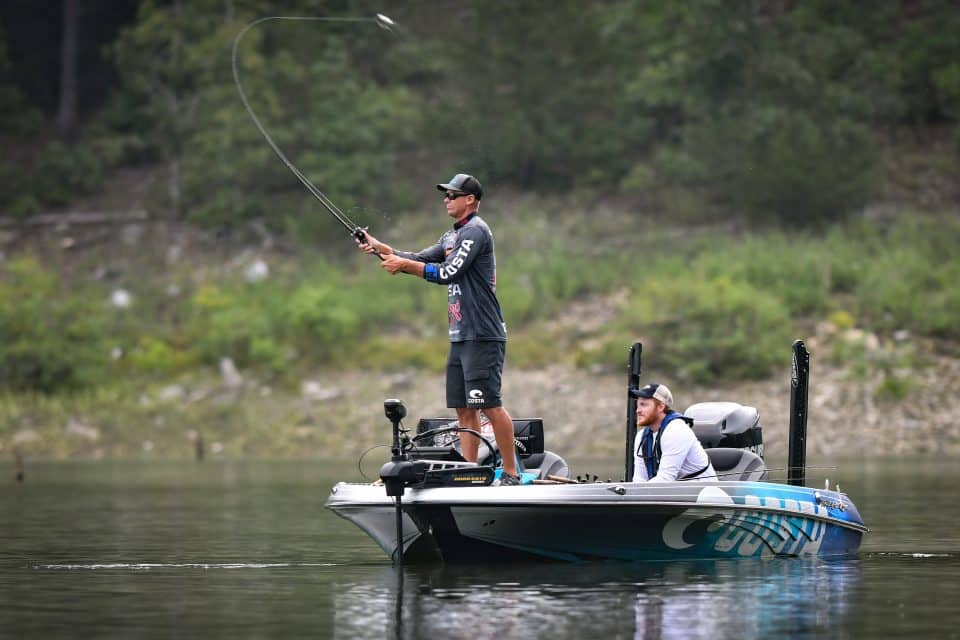 Vance McCullough
Just got in off the water here on gorgeous Lake Ouachita near Hot Springs, AR, site of the 2018 Forrest Wood Cup.
Ouachita was also the site of the 2015 Cup which Brad Knight won. Unfortunately, Knight did not qualify for the Cup this year. The good news is, GREAT news for you and me, is he has agreed to be a special guest host for AnglersChannel.com and the Progressive Bass Wrap Up TV Show. It's like having a Super Bowl Champion as a sideline commentator at the big game.
A wealth of knowledge and insight, Knight said, "There are three patterns that are going to dominate here this week. Deep brush piles are one option. Or, a guy can go down the bank with something like a topwater and catch a fish every now and then, hoping one of them will weigh 4 pounds."
The third option looks like bass fishing's version of Whack-a-Mole. "These guys are waiting for schoolers to blow up here where this creek narrows down and the current funnels bait through here," said Knight, pointing out a few boats stacked along the shadow of a steep hill that ran up to greet the morning sun as it finally baked away a heavy fog that had hung over the lake the first couple of hours of the day.
"It's hard to just stand there and not cast," said Knight, "but you can't afford to have your lure way over there when a fish breaks the surface on the other side of the boat. You have to put it on their head right now before they go back down. So you have to be patient and wait them out."
The school-chasers soon dispersed as the sun climbed higher. As they left the creek, Knight idled further in to do a postmortem on the scene of his greatest heist. "That's a $500,000 tree right there," noted Knight.
The long pine lay in 4 feet of semi-clear water. The branches at its top formed a wooden labyrinth that could hide a week's worth of 5-fish limits. But just beneath the surface 20 yards away was the key. "See that root ball? That's what the fish were using when I won it here. I fished behind guys who didn't know there were 4 or 5 bass in some of these root wads, using them like a little brush pile in shallow water."
As we idled back out Knight nodded to a barren bank. "I flat put it on them there along that ugly stretch. Sixteen pounds worth."
The return to Ouachita has brought back strong memories for Knight. "I just had no idea when I came down these roads, backed my boat in, how my life was about to change."
Stay with us this week we watch another angler's life change forever.
---