Father and Son Craig and Corey Waldrop crowned Bass Champs 2017 Champions
Father and Son Craig and Corey Waldrop crowned Bass Champs 2017 Champions
By: Patty Lenderman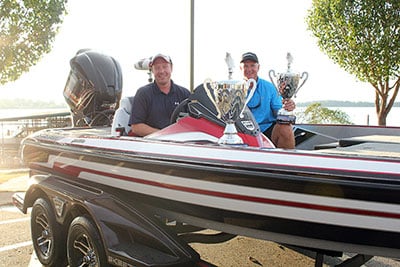 After an incredible season in four regions across Texas, Skeeter Bass Champs led 233 qualifying teams to the Red River in Shreveport, LA for the coveted 2017 team championship October 14-15, 2017. These top teams fished for a portion of an astounding 318% payback to top finishing teams, which included a new Skeeter boat powered by Yamaha for 1st and 2nd places. When all the weights were tallied, it was Corey and Craig Waldrop who came out on top to be crowned Bass Champs 2017 Champions!
The Red River has become a favorite Bass Champs Championship location for its neutrality for the teams due to it not being on the regular season agenda for any region, and for the area's great ability to host an event of this size. These qualifiers were on their game as they hunted for their catch in ever changing weather conditions as well. In the last quarter of the game, a rainy front blew in that helped some top teams to their final finish.
The father and son team of Craig and Corey Waldrop did their homework finding a few spots before the tournament in practice and some patterns to catch the fish. "We started out hitting those spots on Saturday, and caught a limit of small fish along a key 50 yard stretch," Corey explained. Their day one limit gave them a solid stepping stone going into the final day. "On Sunday, we decided to make a run to an oxbow that was holding some good fish. The water had gone down, so it was very shallow trying to get to it. We had to push the boat through the shallows, but made it in there and finished out a limit." Corey said that some key components to their success was using an Ezee jig and Custom Angle Rod combo. "They just paired perfectly. Everything we caught was on reaction type baits. Catching the fish was a matter of changing up the angles and grinding it out." After that, they decided to go to a big fish area, but had to pass through the locks to get there. "We missed the lock, and there was a two hour wait to get through." Time was ticking, and it was a risk to get through the lock and back in time. "We decided we needed to go for it, even if we only got to make one cast." When they made it to their target spot, they had time for three casts, and one of them fruited a 2-1/2 pounder! "We were able to cull up well over a pound with that fish. We locked everything down and headed to the weigh in." When their two-day weight was tallied, they had a total of 21.81 pounds to win the championship. "That final catch was the ticket to our win." They were presented a Skeeter FX20 powered by a Yamaha motor for their accomplishment, then added to their winnings with $400 Captain's Cash and $200 from Sure Life for using the product in their livewell. "I can't say enough about Bass Champs. They consistently put on phenomenal events, providing a platform for us everyday fishermen to achieve our angling dreams. The Horseshoe Casino and the city of Shreveport as a whole were so gracious and hospitable for all of us in the championship event, it was just incredible. This whole experience has been an absolute treat. It will be one of those things to reflect on the rest of our lives, and the best part is that I got to do this with my dad. Truly a dream weekend!"
Brian Schott and Scott Gill made an incredible Day-2 comeback to land a 2nd place win. "It was tough the first day," Brian began. "We only caught two fish the first day – one flipping and one on a spinnerbait – for 5.86 pounds." Day 2 wasn't looking much better for them. "We still didn't have a single fish in the livewell by noon on the final day." Then the front came in with the storm around 12:30. "When the rain began, the fish just started biting! We saturated this one spot with a variety of different baits, putting a limit together." Their limit was anchored with a 5.07 lb kicker (caught on a fluke), and added up to be the biggest stringer of the tournament at 14.53 lbs! All total the team reeled in 20.39 pounds of bass over the course of two days capturing 2nd place and a Skeeter ZX225 powered by Yamaha. They were also the highest finishing team fishing with a qualified Skeeter, winning an additional $5,000 from Skeeter Boats! Lowrance added another $1,000 to their day for a tremendous win. "We would like to give a big thank you to Skeeter and Yamaha. Also to H&W Marine and Dobyn's Rods for their help and support!"
3rd place was won by Randy Despino and Kevin Lasyone with 19.65 lbs. They enjoyed a $6,000 payday.
The 4th place winners John Byler and Matt France won $5,000 for their 18.70 lb total, then the Sportsman's Auto Network added another $2,000 to their win plus they won another $600 from Fun N Sun.
All total Bass Champs paid out nearly $220,000 for this event in cash and prizes to the top 42 teams. The last $1,000 check went to the team of Tom Mocny and Ernest Stumpf III with a two day total weight of 9.85 pounds.
"Everyone at Bass Champs would like to congratulate all of our winners, and thank everyone in all four regions for fishing with us this year," stated Chad Potts, Bass Champs President. "Thanks to all of you and the best companies in the industry sponsoring this tournament trail, it just keeps getting better every year. We are looking forward to seeing everyone in 2018!"
Bass Champs will be hosting one more event in one week – the 12th annual Berkley Big Bass tournament on Lake Fork October 21-22. Twenty places will be paid every hour of this 2-day event, with over $150,000 guaranteed in cash and prizes – including two Skeeter boats! Check out all the details at BassChamps.com and don't miss out, sign up now!
Start marking your calendars – the 2018 Bass Champs schedule is out and kicks off on Sam Rayburn January 20! Visit www.BassChamps.com for all of the details or call 817-439-3274 for more information.