Edwin Evers Partners with TrueTimber Camo
Posted On January 31, 2018
---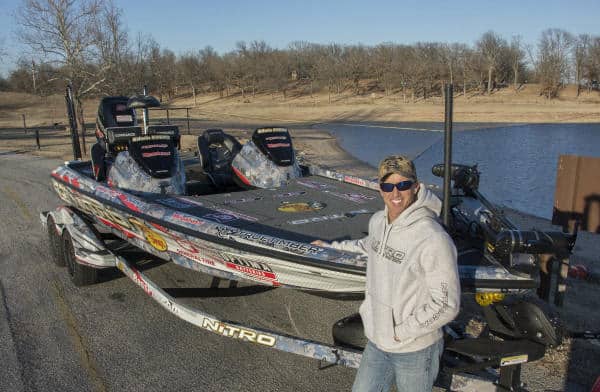 INMAN, S.C. –– TrueTimber is pleased to partner with professional bass angler Edwin Evers as the company prepares to launch a new fishing product line in spring 2018. The TrueTimber fishing line will include a new camouflage pattern, clothing and accessories, and Evers will be a key part of the TrueTimber family moving forward.
"I'm thrilled to partner with TrueTimber," said Evers. "They have shown incredible growth over the last several years, and to help them launch a fishing line is a great opportunity. TrueTimber is different than many other companies out there because they are a fully capable manufacturer. This allows them to ensure unbelievable quality and create the advanced apparel that we need whether on the water or in the woods."
Evers is a 11-time Bassmaster Elite Series Pro, 2-time Major League Fishing winner and the 2016 GEICO Bassmaster Classic champion. During his professional career, he has placed in the top ten in 63 Bassmaster tournaments. Now entering his 21st season as a professional angler, Evers is on track to compete in 11 B.A.S.S. tournaments and three Major League Fishing tournaments this year. He is also an avid outdoorsman and hunter, primarily hunting deer, turkey and duck.
"We're extremely proud to welcome Edwin to the TrueTimber family as we get ready to introduce our new fishing line to customers," said TrueTimber CEO Rusty Sellars. "Not only is he a talented angler, but he shares our passion for the outdoors and the hunting tradition. As we prepare to launch a new pattern and products into a new market, we can't think of anyone better suited than Edwin to help tell our brand's story and propel us forward in the fishing category."
The new fishing products will debut later this spring and will be available across the nation. More information about groundbreaking TrueTimber camouflage offerings, performance hunting apparel and lifestyle clothing, accessories and a full suite of additional services is available atwww.TrueTimber.com.
About TrueTimber
Founded in 2005, TrueTimber is based in Inman, South Carolina and is the most realistic, performance-driven camouflage brand in the industry. TrueTimber offers a wide variety of clothing items and accessories, featuring more than a dozen distinct camo patterns that perfectly blend with their surroundings. The company spends countless hours researching, testing and seeking new technology to produce the most effective and lifelike camouflage patterns possible. TrueTimber products can be found in retailers across the United States and Canada, and it continues to be one of the fastest growing camouflage companies in the world. For more information about TrueTimber, visit www.TrueTimber.com.
---