DuraSafe Leads Marine Security Products Category with Keyed-Alike Capability
New Berlin, Wis. – Oct. 24, 2018 – DuraSafe, a leading marine security products manufacturer, is finding solutions to keep boats, trailers and the marine electronic accessories that accompany these recreational vehicles safe. DuraSafe's Keyed-Alike Capability results in specialty locks custom built to work with the same key, eliminating the need for multiple keys.
In addition to the marine line of Keyed-Alike locks DuraSafe manufactures, (E-LOCK®s and Swivel Mount Locks for marine electronics, Bow Mount Locks for trolling motors, Transom Mount Locks and Quick Release Bracket Locks), they have just announced a new line of trailer locks.  These new locks include receiver locks, coupler locks, a universal spare tire lock, swing away tongue trailer lock, cable lock and chain wheel lock. All with the capability of being built under the same key.
Customers have the flexibility to choose the locks they need and have all locks keyed alike with one key. Additional locks can be purchased at any time and keyed to the locks already owned.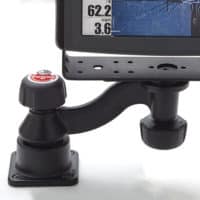 "We aim to provide our customers with innovative products to protect their investments," said Cathy Frantz, CMO. "We create American made locks that are easy to install, keeping expensive outdoor equipment safe, so people can spend more time on the road and on the water and less time worrying."
Keyed-Alike locks and other DuraSafe products are manufactured in the United States and can be found on the company's new website, www.durasafelocks.com.
About DuraSafe
DuraSafe is a family-owned and family-run company founded in 2003. DuraSafe products are manufactured in the United States with high-quality stainless steel and marine grade materials. DuraSafe has been recognized by the National Marine Manufacturers Association for product innovation. DuraSafe has been manufacturing locks and lock components for over 30 years and continues to introduce products that solve problems and save time. For more information on DuraSafe products visit www.durasafelocks.com.