Danny Cross & Derrick Shoffit win the 2019 Anglers Quest Team Championship
Posted On September 9, 2019
---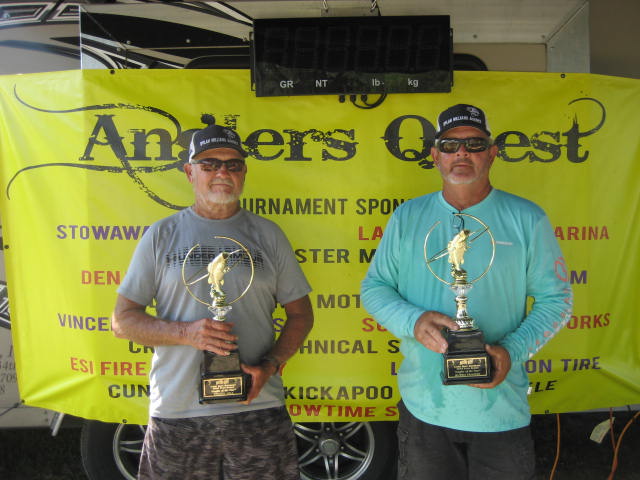 Courtesy of Barbara Long – Anglers Quest Tournament Director
First I would like to Congratulate Tommy Hill & Bubba Frazier for winning Anglers of the Year !!! they will receive Free entries to all 8 of the 2020  AQ Rayburn Team Tournaments.
The Team of Danny Cross & derrick Shoffit won the 2019 Anglers Quest Team Championship against just 13 other teams. They had a two day total of 36.27 lbs. Danny and Derrick reported fishing out of a Phoenix Boat powered by  Mercury. They said that they fished on the north end of the lake in 4-5 feet of water on soft plastics and crank baits. Danny and Derrick took home $4,160.00 for their weekend on the water. Danny & Derrick would like to thank their lovely wives Vallie & Jeanie for all their support.
Robert Davis and Alan Moore came in second place with their two day total weight of 33.61 lbs. Robert & Alan Reported fishing out of a BassCat powered by Mercury. These guys fished mid lake and caught almost all their fish on Big worms in grass and a few deep on crank baits, but mostly all came from the grass. Robert & Alan took home $1,650.00 for their 2 days on the water.
I would like to thank all of you guys that choose to fish with Anglers Quest. We are not the biggest tournament series out there, but I can promise you that myself and Ms. Kathy appreciate each and every one of you.
I'd like to thank all of the Anglers Quest Sponsors; Crawford Technical Services Inc.; Superior Paint Works; Our newest Sponsor Dales Water Wells ; Custom Built Awards; Lake Houston Marina; Cunninghams Kickapoo Bait & Tackle, LakeView RV Grocery & Motel ; Stowaway Marina ; Denali Rods and Larry the Lizard Baits. Without these businesses and their products and services, Anglers Quest would not be….Any time you have a chance to use these Sponsors, please do….. So A BIG shout out to all these Sponsors. Also for Ms. Kathy DeSpain for all her help and the sweets she bakes that we all enjoy. Let her know she is appreciated also…..
---