Costa Sunglasses expands PRO series with launch of Corbina PRO
Corbina, a legacy frame and longtime fan favorite in the bass fishing community, now features six PRO upgrades for long days on the water.
JUPITER, Fla. (MAR. 21, 2023) – Costa Sunglasses, manufacturer of the first color-enhancing all-polarized glass sunglass lens, brings next-level performance to its legacy frame Corbina for spring 2023. The enhanced Corbina PRO features new performance upgrades that keep your frames locked in place and vision clear so you can stay focused on what's most important – finding fish.
For the past 40 years, Costa has supplied anglers with the best sunglasses on the market for long days on the water. In 2021, the brand debuted its PRO Series with the award-winning Blackfin PRO and Fantail PRO. Today, the collection has grown to a family of six with its latest addition, Corbina PRO. The best-selling frame now features an updated style and six added features to help anglers better manage sweat, reduce fogging and keep their frames in place, even when the water gets rough.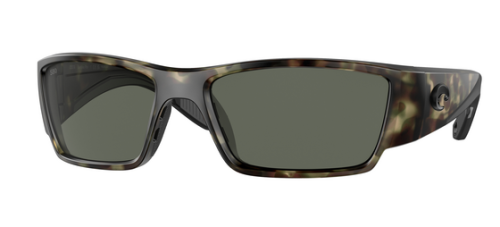 Corbina has been a legacy favorite and sport staple among bass anglers for years. The new PRO frame takes it up a notch with eyewire drains and sweat management channels to move sweat away from your eyes, improved Hydrolite™ grip on the nose and earpiece to keep your frames locked in place, a fully-adjustable and ventilated nose pad for a custom fit and to reduce fogging, hooding and side shields to maximize coverage and metal keeper slots to keep your frames from going overboard.
"Corbina has been my go-to frame for a while now. I always joke that even  if I didn't have them on, you could tell they're my favorites just by my Costa tan," says Justin Lucas, Costa PRO and two time MLF Champion. "I was stoked when the  team reached out to me to test the Corbina PRO. The PRO Series has been a game changer. Having the added features to my favorite frames has been the best of both worlds."
"Bass is one of our largest communities of anglers. With Corbina being so beloved in the bass community, it was a no-brainer to add it to our PRO collection and launch it right before the tour season," says John Acosta, Costa Sunglasses Vice President of Marketing NA. "We're always looking at ways to support the bass community – from making the best performance sunglasses for the water to conserving the resources within. That is the motivation behind our super successful Costa Compete + Conserve program –  rewarding anglers for wearing Costa and raising money for freshwater conservation efforts. When anglers win, they get to choose one of five conservation partners for Costa to donate to.  We hope to see more Costa anglers wearing the PRO Series on the podium this year!"
The Corbina PRO is equipped with Costa's cutting-edge polarized 580® glass lens technology, providing exceptional clarity and color enhancement. These scratch-resistant lenses effectively reduce haze and blur, while boosting essential colors for superior definition. Built with Bio-Resin, Costa's PRO Series frames are lightweight and maintain the durability necessary for any watery adventure.
Starting at $284, Corbina PRO is currently available at local dealers or Costasunglasses.com. For more information about Costa's complete collection of award-winning performance, optical and lifestyle frames, visit Costasunglasses.com.  For more information about Costa Compte + Conserve and to sign up for future tournaments, visit Costacompeteandconserve.com.