Clark & Clark Win Collins Boating Bass for Cash Series Event on Chowan River with over 24 pounds!!!
---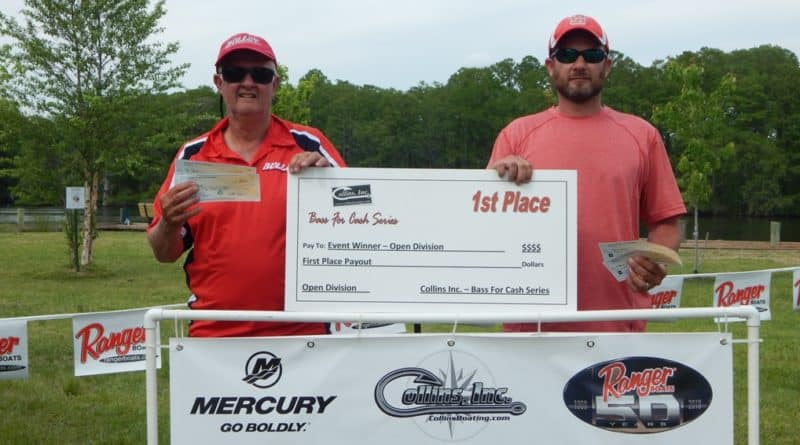 A field of sixty-three teams made their way to beautiful Edenton, NC for the fourth event of the 2018 Bass For Cash Series season.  The weather was pleasant and the bite appeared to be good for the majority of the teams, as forty-nine teams recorded double-digit weights,  with twenty-five teams scoring over 15lbs.  Ron & Ronnie Clark topped the field with their five fish limit catch that weighed in at 24.88lbs.  The duo also claimed the Outdoor Accessories Unlimited lunker award with a nice 7.69 largemouth.  The tandem netted a total of $1930 for the win and another $315 plus a $100 Outdoor Accessories Unlimited gift card for the lunker.
Mike May & Dale Winstead filled the second position with their limit of fish that weighed 22.47lbs.  The pair walked away with $1092 for their effort.
Cliff & Randy Jenkins settled for the third spot, narrowly missing the runner up position by less than 3 ounces, with their catch of 22.30 lbs.  The duo claimed $734 for their limit of largemouth bass.
Cameron Smith & Tyler Jones secured a $600 payday with their fourth place catch of 21.08lbs.
Rounding out the top five was the team of Buster Seabolt & Skeet Bennett with their catch of 19.18lbs, granting the pair a $490 payout.
With only two events remaining in the season, this is a reminder that each "Individual" angler must compete in, at least, four of the six regular season events to be eligible for championship competition.
---