Chris Johnston Maintains Slim Day 2 Lead At St. Lawrence
Posted On August 17, 2019
---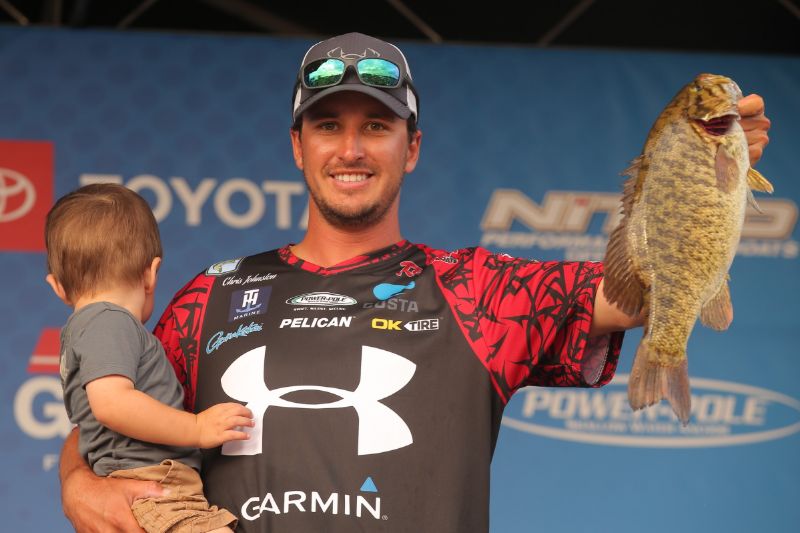 Canadian pro Chris Johnston maintained a slim lead on Day 2 of the 2019 Berkley Bassmaster Elite at St. Lawrence River presented by Black Velvet after weighing 22 pounds, 13 ounces. 
                                                                                                                                                     Photo by Seigo Saito/B.A.S.S.
WADDINGTON, N.Y. — The only thing clearer than the pristine waters of New York's St. Lawrence River is the realization that Elite Series pro Chris Johnston is a force to be reckoned with. The Canadian is known as a smallmouth specialist and earned that moniker after the first two days of the 2019 Berkley Bassmaster Elite at St. Lawrence River presented by Black Velvet. Johnston weighed in 22-13 today, giving him a two-day total of 47-4 and the lead heading into Semi-Final Saturday. Still, Johnston is not overconfident.
"I have been leading on Day 2 on this river for more tournaments than I can count, and have blown it on the third day. So, I'm not going to count my chickens just yet," Johnston said. Plus, the area he has fished relentlessly over the past two days alongside Elite Series pro Shane LeHew may no longer hold enough fish for the win. "I didn't get a lot of bites today and only caught six or seven 4-pound fish there. And I never saw a kicker fish. So, I'm pretty sure I'm going to have to scramble tomorrow. I really believe the guy that wins this event is going to be the one who makes the best adjustments on the fly. I just hope I can figure out those adjustments."
Hot on the trail of Johnston is Elite Series veteran Steve Kennedy, who is only 15 ounces out of the lead. The affable Alabama pro followed up his impressive Day 1 limit of 23-7 with another solid 22-14 worth of smallmouth for a total of 46-5. "I'm living on the edge," Kennedy admitted. "I'm only fishing for seven or eight bites per day. If the weather report is accurate and we get overcast skies tomorrow, I might have to change my game plan."
Kennedy's tactic so far has been to cast a big glide bait to locate fish, then cast to the fish with a swim bait or hair jig. However, if he can't see the fish, his weight could slide south.
"I've caught some of my biggest fish looking at them. I mean, I've had to cast four or five times at the bass to get them to bite. If I can't see them, I may be in trouble."
New Jersey pro Greg DiPalma holds the third-place slot after boating 21-11 on Day 2. His total of 45-1 puts him in solid striking distance of holding the big blue Elite Series trophy at the conclusion of the event, as he is just a couple pounds out of the lead. And unlike Johnston and Kennedy, DiPalma is looking forward to overcast skies tomorrow.
"I'm fishing the 20- to 30-foot zone, so sunshine isn't as crucial." DiPalma also made an important adjustment today, which has him feeling confident going into Semi-Final Saturday. "Yesterday, I basically dragged a jig for all my fish, and I lost a bunch of big ones. Today, I switched to a Carolina rig and only lost one. I'm only sharing my water with one other angler and there are a bunch of bass there, so I'm confident I can duplicate my weight."
The biggest move of the day came from Louisiana pro Caleb Sumrall, who weighed in 23-6, the biggest limit of the day, and vaulted to 11th place with a two-day total of 41-13. Indiana pro Bill Lowen caught the second biggest limit of the day, 23-4, and moved into 5th place with 44-11.
Brian Snowden landed the Phoenix Boats big bass of the day, a 5-13, which gave him a two-day total of 44-7 and 6th place. The St. Lawrence River, name the No. 1 lake in the nation by Bassmaster Magazine, again showed off, as 22 limits exceeding 20 pounds were brought to the scales.
2019 Bassmaster Elite at St. Lawrence Title Sponsor: Berkely
2019 Bassmaster Elite at St. Lawrence Presenting Sponsor: Black Velvet
2019 Bassmaster Elite Series Platinum Sponsor: Toyota
2019 Bassmaster Elite Series Premier Sponsors:  Humminbird, Mercury, Minn Kota, Nitro Boats, Power-Pole, Skeeter Boats, Talon, Triton Boats, Yamaha, Abu Garcia, Berkley
2019 Bassmaster Elite Series Supporting Sponsors: Bass Pro Shops, Carhartt, Lowrance, Mossy Oak Fishing, T-H Marine, Academy Sports + Outdoors
2019 Bassmaster Elite at St. Lawrence Host Sponsors: Village of Waddington
About B.A.S.S.
B.A.S.S. is the worldwide authority on bass fishing and keeper of the culture of the sport, providing cutting edge content on bass fishing whenever, wherever and however bass fishing fans want to use it. Headquartered in Birmingham, Ala., the 510,000-member organization's fully integrated media platforms include the industry's leading magazines (Bassmaster and B.A.S.S. Times), website (Bassmaster.com), television show (The Bassmasters on ESPN2), radio show (Bassmaster Radio), social media programs and events. For more than 50 years, B.A.S.S. has been dedicated to access, conservation and youth fishing.
The Bassmaster Tournament Trail includes the most prestigious events at each level of competition, including the Bassmaster Elite Series, BassPro.com Bassmaster Open Series, TNT Fireworks B.A.S.S. Nation Series, Carhartt Bassmaster College Series presented by Bass Pro Shops, Mossy Oak Fishing Bassmaster High School Series presented by Academy Sports + Outdoors, Bassmaster Team Championship and the ultimate celebration of competitive fishing, the GEICO Bassmaster Classic presented by DICK'S Sporting Goods.
-30-
Media Contacts: Emily Harley, 205-313-0945 (o), 205-253-1114 (c), eharley@bassmaster.com; Mandy Pascal, 205-313-0955, mpascal@bassmaster.com
2019 Berkley Bassmaster Elite at St. Lawrence River presented by Black Velvet 8/15-8/18

(PROFESSIONAL) Standings Day 2
St. Lawrence River, Waddington  NY.

   Angler                   Hometown              No./lbs-oz  Pts   Total $$$

1.  Chris Johnston         Peterborough Ontario CA 10  47-04  100
  Day 1: 5   24-07     Day 2: 5   22-13   
2.  Steve Kennedy          Auburn, AL              10  46-05   99
  Day 1: 5   23-07     Day 2: 5   22-14   
3.  Greg DiPalma           Millville, NJ           10  45-01   98
  Day 1: 5   23-06     Day 2: 5   21-11   
4.  Ray Hanselman Jr       Del Rio, TX             10  44-10   97
  Day 1: 5   22-10     Day 2: 5   22-00   
5.  Bill Lowen             Brookville, IN          10  44-07   96
  Day 1: 5   21-03     Day 2: 5   23-04   
6.  Brian Snowden          Reeds Spring, MO        10  44-07   95
  Day 1: 5   22-01     Day 2: 5   22-06   
7.  Shane LeHew            Catawba, NC             10  44-05   94
  Day 1: 5   23-00     Day 2: 5   21-05   
8.  Keith Combs            Huntington, TX          10  43-14   93
  Day 1: 5   21-05     Day 2: 5   22-09   
9.  Scott Canterbury       Odenville, AL           10  43-02   92
  Day 1: 5   23-08     Day 2: 5   19-10   
10. Chris Zaldain          Fort Worth, TX          10  42-03   91
  Day 1: 5   19-12     Day 2: 5   22-07   
11. Caleb Sumrall          New Iberia, LA          10  41-13   90
  Day 1: 5   18-07     Day 2: 5   23-06   
12. Micah Frazier          Newnan, GA              10  41-05   89
  Day 1: 5   20-11     Day 2: 5   20-10   
13. Matt Arey              Shelby, NC              10  40-10   88
  Day 1: 5   19-04     Day 2: 5   21-06   
14. Matt Herren            Ashville, AL            10  40-03   87
  Day 1: 5   19-02     Day 2: 5   21-01   
15. Jay Yelas              Lincoln City, OR        10  40-01   86
  Day 1: 5   20-10     Day 2: 5   19-07   
16. Randy Sullivan         Breckenridge, TX        10  39-11   85
  Day 1: 5   18-15     Day 2: 5   20-12   
17. Lee Livesay            Gladewater, TX          10  39-02   84
  Day 1: 5   22-00     Day 2: 5   17-02   
18. Stetson Blaylock       Benton, AR              10  39-00   83
  Day 1: 5   19-08     Day 2: 5   19-08   
19. Cliff Prince           Palatka, FL             10  38-13   82
  Day 1: 5   20-13     Day 2: 5   18-00   
20. Derek Hudnall          Baton Rouge, LA         10  38-11   81
  Day 1: 5   17-11     Day 2: 5   21-00   
21. Skylar Hamilton        Dandridge, TN           10  38-09   80
  Day 1: 5   19-14     Day 2: 5   18-11   
22. Rick Clunn             Ava, MO                 10  38-04   79
  Day 1: 5   20-11     Day 2: 5   17-09   
23. Drew Benton            Panama City, FL         10  38-03   78
  Day 1: 5   20-06     Day 2: 5   17-13   
24. Drew Cook              Midway, FL              10  38-02   77
  Day 1: 5   17-07     Day 2: 5   20-11   
25. Robbie Latuso          Gonzales, LA            10  37-14   76
  Day 1: 5   19-15     Day 2: 5   17-15   
26. Jake Whitaker          Fairview, NC            10  37-13   75
  Day 1: 5   21-12     Day 2: 5   16-01   
27. Brandon Lester         Fayetteville, TN        10  37-12   74
  Day 1: 5   19-15     Day 2: 5   17-13   
28. Mark Menendez          Paducah, KY             10  37-11   73
  Day 1: 5   20-07     Day 2: 5   17-04   
29. Jamie Hartman          Newport, NY             10  37-10   72
  Day 1: 5   21-04     Day 2: 5   16-06   
30. Jason Williamson       Wagener, SC             10  37-10   71
  Day 1: 5   16-09     Day 2: 5   21-01   
31. Hunter Shryock         Newcomerstown, OH       10  37-07   70
  Day 1: 5   20-03     Day 2: 5   17-04   
32. Jeff Gustafson         Keewatin Ontario CANADA 10  37-05   69
  Day 1: 5   18-02     Day 2: 5   19-03   
33. Jesse Tacoronte        Kissimmee, FL           10  37-02   68
  Day 1: 5   17-05     Day 2: 5   19-13   
34. Luke Palmer            Coalgate, OK            10  37-00   67
  Day 1: 5   18-13     Day 2: 5   18-03   
35. Seth Feider            New Market, MN          10  36-14   66
  Day 1: 5   21-01     Day 2: 5   15-13   
36. Cory Johnston          Cavan CANADA            10  36-12   65   $5,000.00
  Day 1: 5   15-05     Day 2: 5   21-07   
37. Harvey Horne           Bella Vista, AR         10  36-12   64   $5,000.00
  Day 1: 5   20-08     Day 2: 5   16-04   
38. Mike Huff              Corbin, KY              10  36-10   63   $5,000.00
  Day 1: 5   16-05     Day 2: 5   20-05   
39. Chris Groh             Spring Grove, IL        10  36-08   62   $5,000.00
  Day 1: 5   20-05     Day 2: 5   16-03   
40. Chad Morgenthaler      Reeds Spring, MO        10  36-07   61   $5,000.00
  Day 1: 5   18-09     Day 2: 5   17-14   
41. John Crews Jr          Salem, VA               10  36-03   60   $2,500.00
  Day 1: 5   14-06     Day 2: 5   21-13   
42. Brock Mosley           Collinsville, MS        10  36-02   59   $2,500.00
  Day 1: 5   19-04     Day 2: 5   16-14   
43. David Fritts           Lexington, NC           10  36-01   58   $2,500.00
  Day 1: 5   17-03     Day 2: 5   18-14   
44. Chad Pipkens           Lansing, MI             10  35-10   57   $2,500.00
  Day 1: 5   20-13     Day 2: 5   14-13   
45. Paul Mueller           Naugatuck, CT           10  35-07   56   $2,500.00
  Day 1: 5   20-06     Day 2: 5   15-01   
46. Koby Kreiger           Alva, FL                10  35-05   55   $2,500.00
  Day 1: 5   17-14     Day 2: 5   17-07   
47. Dale Hightower         Mannford, OK            10  35-02   54   $2,500.00
  Day 1: 5   18-14     Day 2: 5   16-04   
48. Garrett Paquette       Canton, MI              10  34-06   53   $2,500.00
  Day 1: 5   20-08     Day 2: 5   13-14   
49. David Mullins          Mt Carmel, TN           10  34-02   52   $2,500.00
  Day 1: 5   16-01     Day 2: 5   18-01   
50. Brandon Card           Knoxville, TN           10  33-15   51   $2,500.00
  Day 1: 5   17-01     Day 2: 5   16-14   
51. Hank Cherry Jr         Lincolnton, NC          10  33-13   50   $2,500.00
  Day 1: 5   15-13     Day 2: 5   18-00   
52. Brandon Cobb           Greenwood, SC           10  33-11   49   $2,500.00
  Day 1: 5   13-08     Day 2: 5   20-03   
53. Tyler Rivet            Raceland, LA            10  32-13   48   $2,500.00
  Day 1: 5   19-04     Day 2: 5   13-09   
54. Bill Weidler           Helena, AL              10  32-13   47   $2,500.00
  Day 1: 5   15-12     Day 2: 5   17-01   
55. Randy Pierson          Oakdale, CA             10  32-06   46   $2,500.00
  Day 1: 5   17-04     Day 2: 5   15-02   
56. Clifford Pirch         Payson, AZ              10  32-02   45   $2,500.00
  Day 1: 5   12-08     Day 2: 5   19-10   
57. Patrick Walters        Summerville, SC         10  32-01   44   $2,500.00
  Day 1: 5   16-02     Day 2: 5   15-15   
58. Kelley Jaye            Dadeville, AL           10  31-14   43   $2,500.00
  Day 1: 5   14-07     Day 2: 5   17-07   
59. Tyler Carriere         Youngsville, LA         10  31-08   42   $2,500.00
  Day 1: 5   17-01     Day 2: 5   14-07   
60. Carl Jocumsen          Queensland TX AUSTRALIA 10  31-02   41   $2,500.00
  Day 1: 5   10-05     Day 2: 5   20-13   
61. Frank Talley           Temple, TX              10  31-02   40   $2,500.00
  Day 1: 5   18-10     Day 2: 5   12-08   
62. Kyle Monti             Okeechobee, FL          10  30-07   39   $2,500.00
  Day 1: 5   17-06     Day 2: 5   13-01   
63. Bernie Schultz         Gainesville, FL         10  30-05   38   $2,500.00
  Day 1: 5   10-13     Day 2: 5   19-08   
64. Brett Preuett          Monroe, LA              10  30-04   37   $2,500.00
  Day 1: 5   18-03     Day 2: 5   12-01   
65. Clark Wendlandt        Leander, TX             10  30-01   36   $2,500.00
  Day 1: 5   13-13     Day 2: 5   16-04   
66. Brad Whatley           Bivins, TX              10  29-10   35   $2,500.00
  Day 1: 5   12-10     Day 2: 5   17-00   
67. Todd Auten             Lake Wylie, SC          10  29-08   34   $2,500.00
  Day 1: 5   15-08     Day 2: 5   14-00   
68. Yusuke Miyazaki        Forney, TX              10  28-15   33   $2,500.00
  Day 1: 5   13-13     Day 2: 5   15-02   
69. Gary Clouse            Winchester, TN          10  27-13   32   $2,500.00
  Day 1: 5   16-07     Day 2: 5   11-06   
70. Shane Lineberger       Lincolnton, NC          10  27-11   31   $2,500.00
  Day 1: 5   12-09     Day 2: 5   15-02   
71. Clent Davis            Montevallo, AL          10  26-05   30   $2,500.00
  Day 1: 5   10-14     Day 2: 5   15-07   
72. Rick Morris            Lake Gaston, VA         10  25-09   29   $2,500.00
  Day 1: 5   12-02     Day 2: 5   13-07   
73. Quentin Cappo          Prairieville, LA         9  23-01   28   $2,500.00
  Day 1: 5   14-07     Day 2: 4   08-10   
74. Rob Digh               Denver, NC              10  22-06   27   $2,500.00
  Day 1: 5   08-09     Day 2: 5   13-13   
75. Ed Loughran III        Richmond, VA            10  21-12   26   $2,500.00
  Day 1: 5   07-15     Day 2: 5   13-13
---