Carson Wins ABA Florida South Event on Lake Okeechobeen with over 26 pounds!
ATHENS, Ala. –  Keith Carson won the American Bass Anglers Open Series Florida South tournament, held March 24th on Lake Okeechobee.
Running out of Scott Driver Park in Okeechobee, FL the Palm Harbor, FL angler caught five bass weighing 26.44 pounds including a 6.85-pound kicker. For the Boater Division victory, Keith took home a check for $5000.
"I was sight-fishing in the monkey-box. I was casting at isolated reeds that I fished a month ago when the water was up. Since the water has dropped some, I noticed that I could see beds in the holes in the eel grass.
I caught my fish on flukes and senkos and I lost a few fish that would have helped me bust 30-pounds today." Carson said.
In second for the boaters, Gary Milicevic of Labelle, FL landed a five-bass tournament limit going 21.43 pounds. He collected $1250 for the effort.
"I caught my fish on the north end of the lake on a frog. Yesterday during practice, I had a couple of good bites on the frog so I threw it all day today. I was able to cull two fish but I missed three on that frog." Milicevic said.
Buck Durrance of Okeechobee, FL took third for the boaters with five bass going 20.70 pounds. He earned $900 for his catch.
"I caught my fish on a Carolina-rig today on the north end of the lake. I probably caught 50-fish throughout the day today." Durrance said.
Finishing fourth, Greg Jones of Sarasota, FL landed a five-bass limit for 19.24 pounds.  Gary Niemi of Lake Placid, FL rounded out the top five boaters with five-bass limit for 18.63 pounds topped by a 9.47-pound kicker that won the big bass award of $640.
"I caught that fish on a Zara Spook around 3:00 pm today. "Niemi said.
In the Co-Angler Division, Eric Andrews of Davenport, FL won with three bass going 14.29 pounds including a 6.67-pound kicker. He pocketed a check for $1500 for his win.
"I was fishing a speed-worm all day. I caught about fifteen fish today but the bigger fish were about five hours apart. I am happy that I finally won an event after placing third several times."  Andrews said.
Taking second for the co-anglers, John Smith of Orlando, FL brought in a three-bass division limit weighing 12.53 pounds. He collected $500 for the effort.
"I caught my fish today on a frog and a speed-worm. I lost one about six pounds on a frog that would have helped me win this event. I had a lot of bites but only caught seven fish today." Smith said.
Irving Mercado of Davenport, FL placed third among the co-anglers with three-bassgoing 10.78 pounds. He earned $400 for his catch.
"I was fishing in the open water dragging a speed-worm,"  Mercado said.
In fourth place among the co-anglers, Kyle Wieczorek of Nokomis, FL brought in three-bass for 10.59 pounds. Bobby Poncev of Boca Raton, FL rounded out the top five co-anglers with three bass at 10.42 pounds.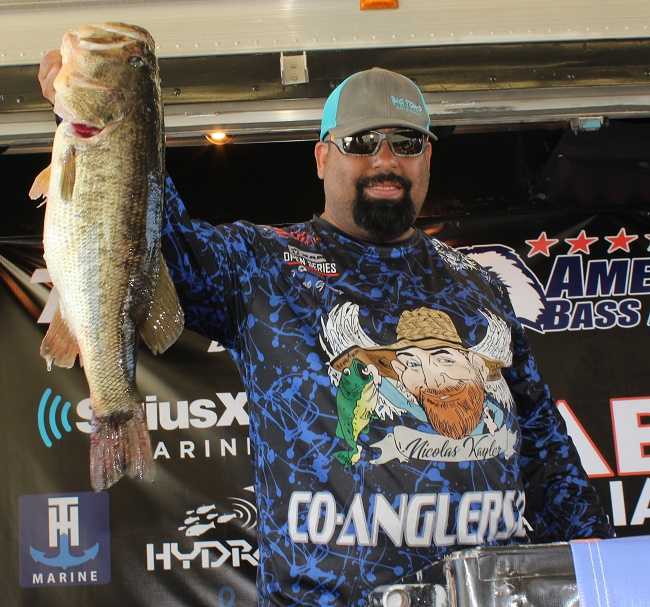 Finishing sixth for the co-anglers was Tomas Gomez of Kissimmee, Fl that brought in three-bass for 10.22 including a big bass that weighed 7.44 pounds. Gomez pocketed a check for $200 for his finish and an additional $255 for that big bass
"I caught that big bass on a chatter-bait about fifteen minutes after our first stop this morning,"  Gomez said.
Slated for May 12th, the next tournament will be held on Lake Okeechobee out of Roland Martin Marina & Resort in Clewiston, FL. At the end of the season, the best anglers from across the nation advance the 2019 Ray Scott Championship to be held at Lake Eufaula in Eufaula, Alabama, April 2019.
For more information on this tournament, call Billy Benedetti, tournament manager, at 256-230-5632 or ABA at 256-232-0406. On line, see www.abaopenseries.com .
About American Bass Anglers: American Bass Anglers is committed to providing low cost, close to home tournaments for the weekend angler and at the same time offer each competitor an upward path for individual angler progression. For more information about American Bass Anglers, the ABA Open Series, the American Fishing Tour or the American Couples Series, visit www.americanbassanglers.com.