Courtesy of Vance McCollough
Whether it's grownup gizzard shad on TVA lakes, big bluegill all across the deep South or foot-long shiners in the Sunshine State, big baitfish top the menu for quality bass.
And a bass doesn't have to be a trophy class fish in order to eat bream that would pass as table fare for humans. Think 'three-pounds-and-up'. In fact, most days, a two-pounder will crush as big a lure as you dare to throw. This is especially true for Florida strain largemouth, which according to a recent study by fisheries biologists in numerous states, in conjunction with Auburn University, have historically been far more widespread across the South than previously believed.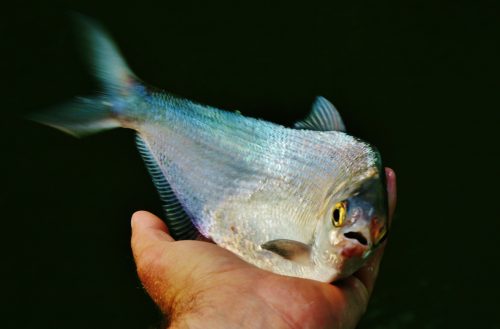 Dan Dorosheff of the Florida Fish and Wildlife Conservation Commission once shed some light on this subject for me. "We did studies to determine the maximum size of prey a largemouth can safely consume. Shape has a lot to do with it. For round fish, such as bluegill, we found that a bass can eat one about a third the length of its body. For long, slender prey, such as shiners, they can eat one about half the length of their body."
While the above guidelines indicate the size of prey a bass can reasonably digest, it's worth noting that bass don't have the ability to reason, nor to be reasonable. They often attack animals as big as themselves, bigger sometimes, simply to defend their territory. 
We've all seen pictures of a bass with an almost equal sized bass stuffed mostly down its gullet, both floating dead. 
So, how big is too big when it comes to lure selection? 
You decide. 
But first, consider this example, shared by Chris Zaldain from the 2019 Bassmaster Classic held on Tennessee's Ft Loudon Lake in mid-March – a most unlikely place and time to throw a big swimbait – from my post-tournament report on AnglersChannel.com:
Zaldain Goes Big to Scare the Classic Field
The magician revealed his secret, but I was sworn to keep it such until the tournament was over. On Day 2 of the 2019 Bassmaster Classic Chris Zaldain caught what was easily the biggest bag of the 3-day event at 21 pounds, 12 ounces.
"I did it the way I love to fish, man," said Zaldain. "A big swimbait. That's how I roll."
In a tournament on Tennessee's Ft Loudon/Tellico Lakes that was dominated by small crankbaits, spinnerbaits and bladed jigs, Zaldain rebounded from a slow start in the opening round to become a contender by throwing a 6-inch Megabass Magdraft swimbait on the 2nd day.
"I didn't do it yesterday. The conditions weren't right. And I got led off by a 6-pounder I caught in practice way up Tellico, so I did that Day 1."
Zaldain had spent most of his practice looking for a swimbait bite. When conditions got right for the technique on the 2nd day of competition, he knocked their lights out doing it.
"Today I threw a swimbait along bluff walls with laydowns."
While the big bait may seem an odd choice, Zaldain was actually matching the hatch – at least as far as the big female bass were concerned, and those are the type of fish that make a difference in a major tournament.
"Large profile bait because they're eating gizzard shad."
A slight change in conditions opened the bite window for a swimbait. Zaldain was ready. "The biggest factor is the water is clearing so I replaced the big Jason Christie single Colorado spinnerbait that we used in practice – because of the mud – and replaced that with a big ol' swimbait because the water cleared up and those big fish love that bait."
Zaldain also threw the Magdraft just to give the fish a different look. "Here on the Tennessee River people still don't throw the big swimbait. They just don't do it. The fish have seen a million spinnerbaits, a million squarebills and DT6's. So when you introduce a big ol' piece of plastic, mixed in with the big, 9-inch gizzard shad that they're eating, that bait just imitates them so well. And they haven't seen it. I really think those big fish see a spinnerbait and shy away from it, but that swimbait – they connect every time."
As for his set up, Zaldain always swims the 6-inch Magdraft on 15-pound Seaguar InvizX line paired with a 7:1 reel and a 7'2" Megabass Orochi XX Perfect Pitch jig rod.
Zaldain is happy with the stock hooks that come on the Magdraft. 
Swimbait aficionados will tell you that most important thing to know about a swimbait is when to put it down, especially if you're tournament fishing. Zaldain was committed to take the Classic title with his favorite lure but conditions on the final day did not help him. He cobbled together a pair of smallish bass and placed 12th. 
But for a day, he smashed them with the swim bait.